These Are the Elaborate Homes of Joanna Gaines, the Property Brothers, and Your Other Favorite HGTV Stars
Drew. Scott. Chip. Jo. David. Sarah.
Week after week, we watch the TV personalities who renovate people's homes and transform outdated eyesores into covetable dream spaces in 60 minutes or less. But when it's time to put down the hammer, what kind of spaces do these design experts call home?
It's not shocking to discover that Joanna Gaines' walls are covered in shiplap. But did you know Vern Yip's dogs have their own room? Read on to get a glimpse inside the exceptional homes of the HGTV hosts you know and love, including a look inside Chip and Joanna Gaines' stylish farmhouse (page 9).
1. Jonathan and Drew Scott of The Property Brothers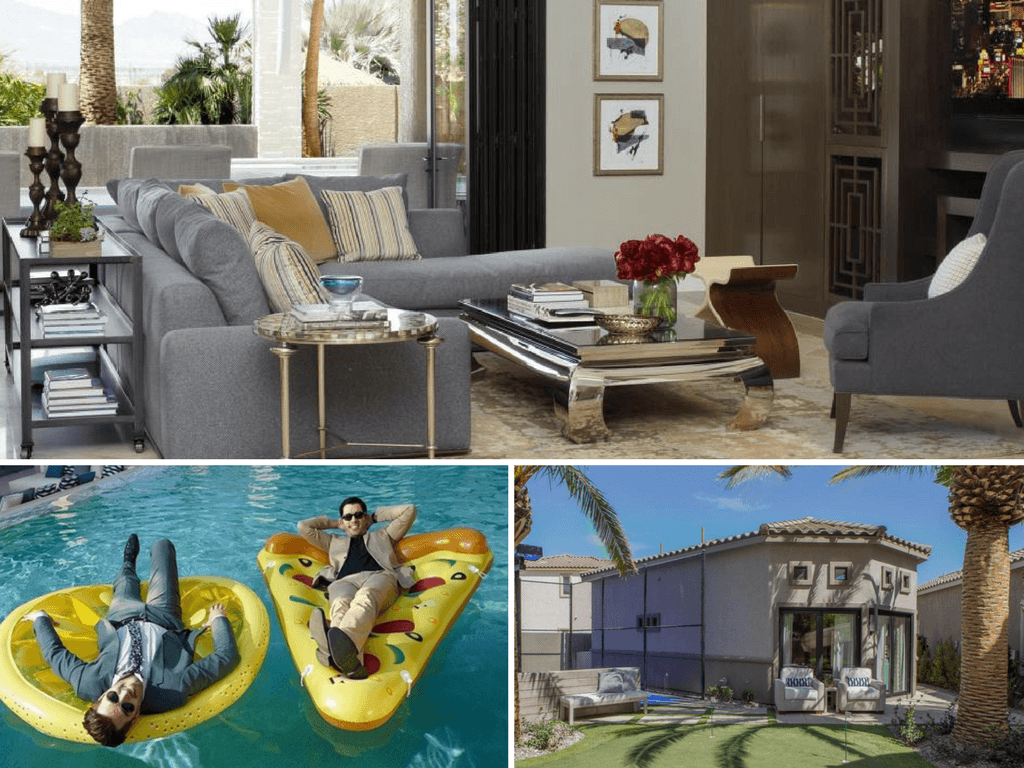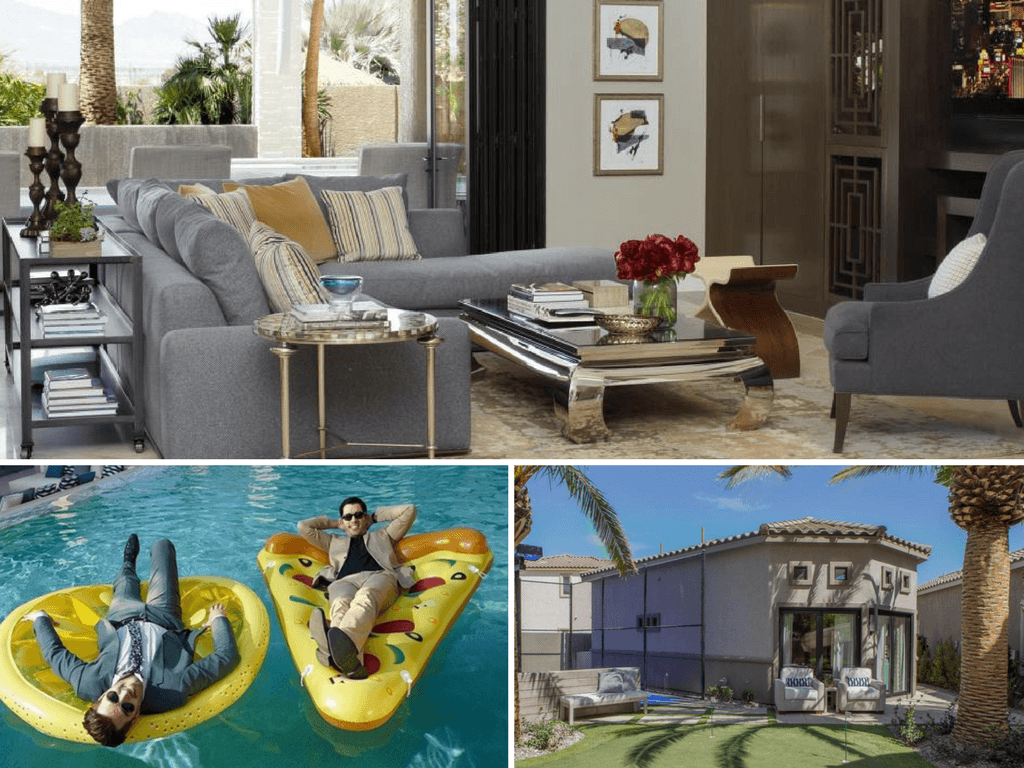 Jonathan and Drew Scott focus on family and fun. | HGTV
Median home value in Las Vegas: $247,700
Drew and Jonathan Scott sought a place to relax with family. Jonathan told HGTV: "Having a place where we can all come together means the world to us." Drew agreed: "The closeness of our family will never change, no matter what happens. If it did, our mother would kick our butts."
The twin brothers bought a 4,000-square-foot foreclosure in Las Vegas — it was a great deal and their brother JD lives nearby. The property includes outdoor living spaces, a game room with a wet bar and billiards table, and an open-concept living space. The pièce de résistance, however, is the resort-caliber pool. The "mini water park" has a hot tub, swim up bar, and waterslide.
It's clear Drew and Jonathan care about their parents. They built a Southwestern-style guest house next to their home for their parents. The house has everything they need, including a full kitchen, spacious living room, and cozy glam bedroom.
Next: This HGTV star has special rooms for both his fur babies and real babies.
2. Vern Yip of HGTV Star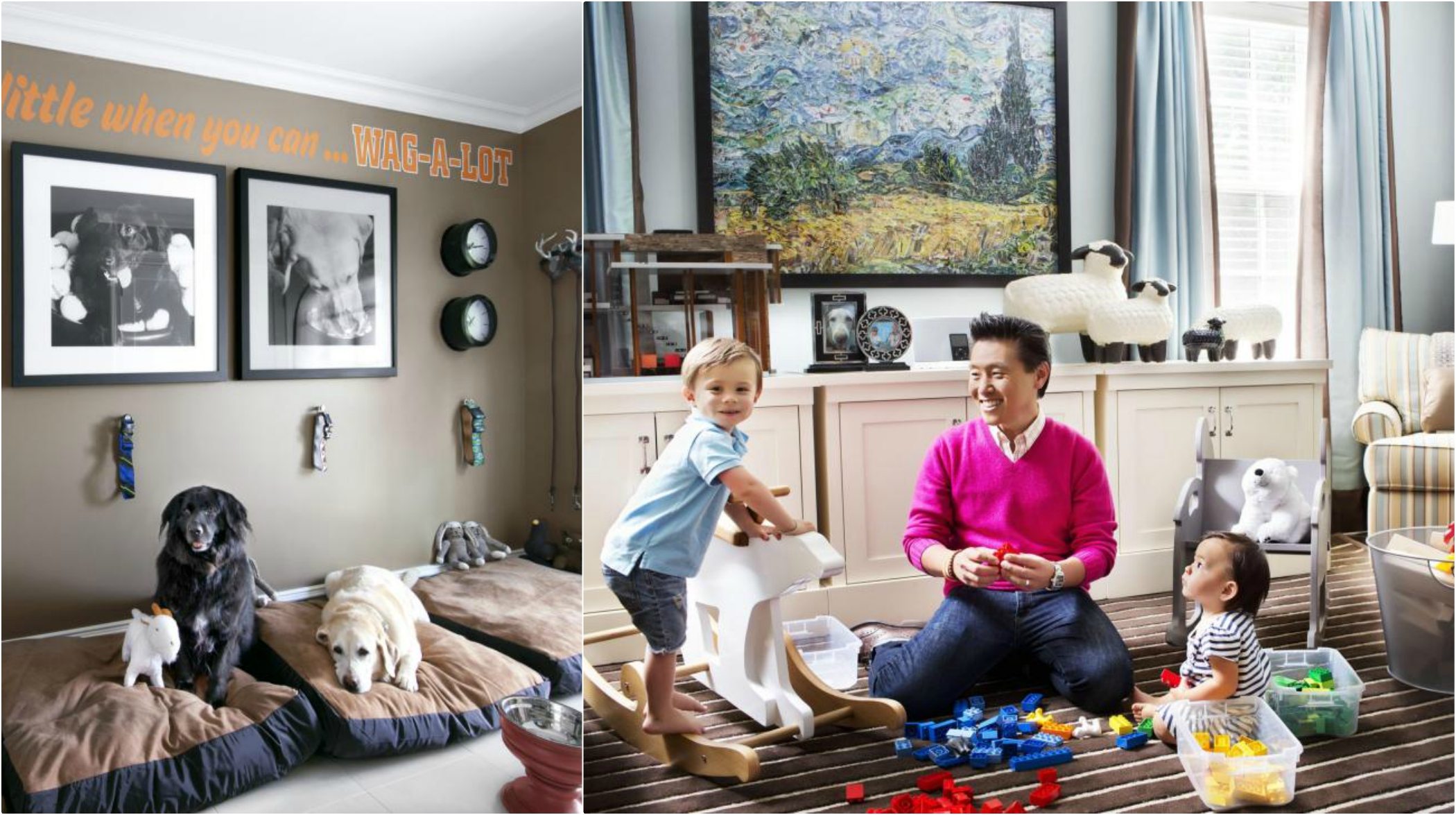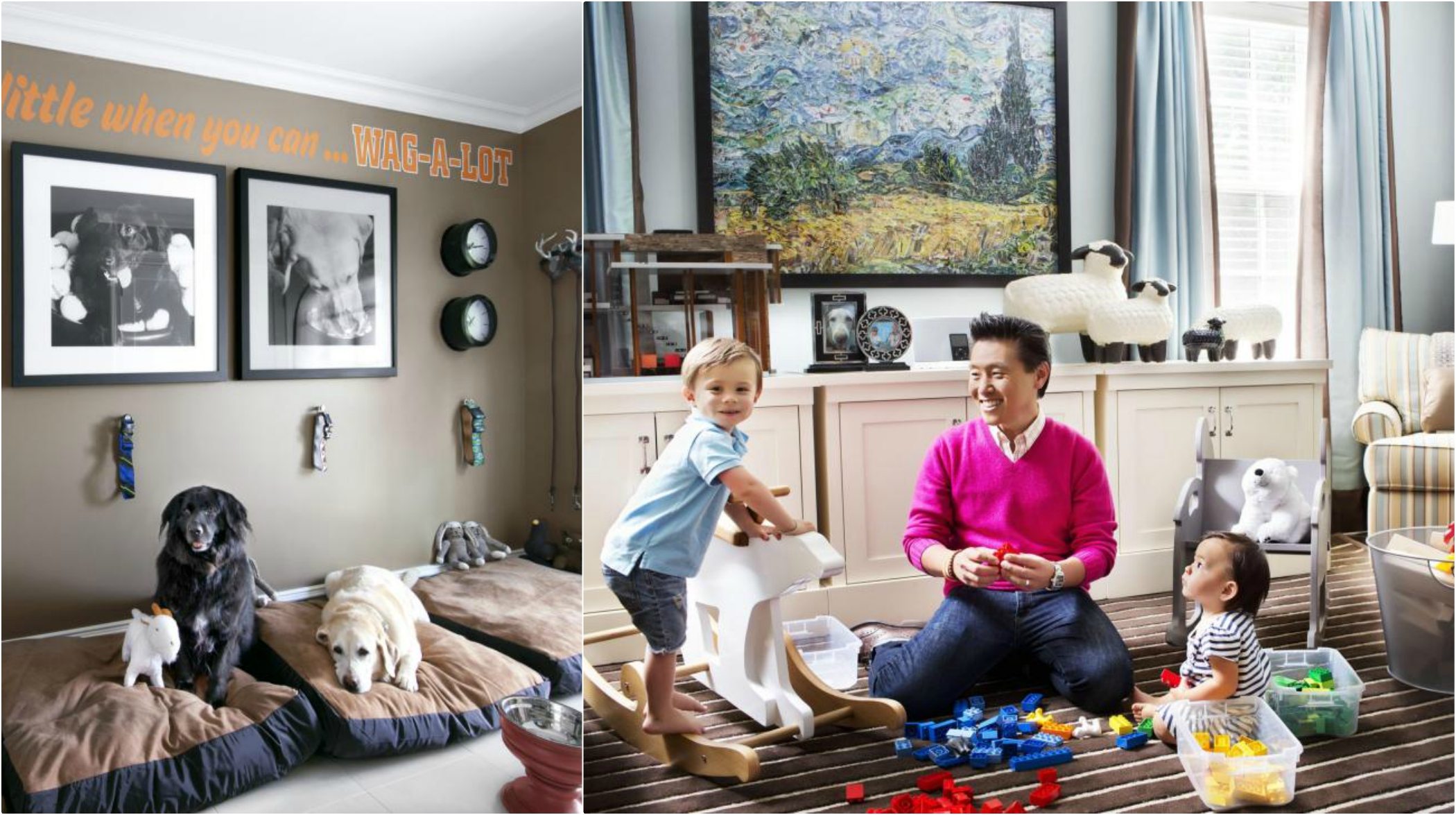 Vern Yip has a beautiful family and home. | HGTV
Median home value in Atlanta: $225,800
HGTV Star's Vern Yip has a penchant for elevated style, but he also has a family at home in Atlanta. Somehow he manages to keep things classy yet practical, with a refreshingly chic kids' room. Going the upscale route is actually smart because even as the kids get older, the furniture and color palette will still work well in the space.
At Yip's place, being in the doghouse isn't such a bad thing. His pups have their own personal den complete with framed photos, a line of cushy dog beds, and glass jars filled with tasty-looking dog treats.
Next: This "rehab addict" makes old things new in her own home, too.
3. Nicole Curtis of Rehab Addict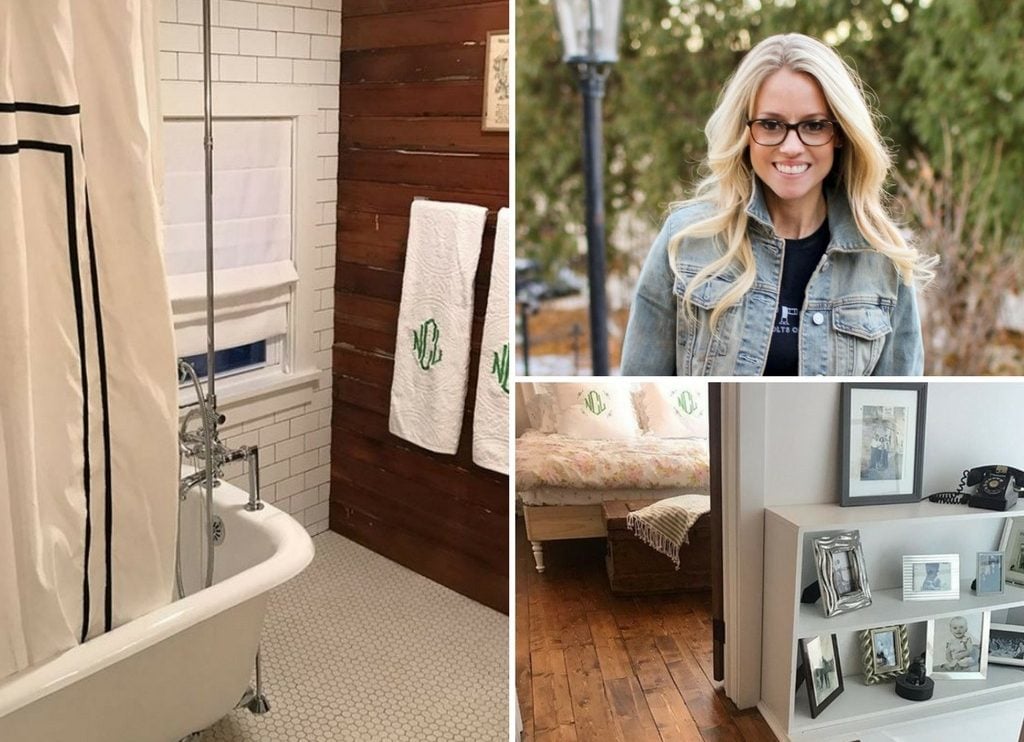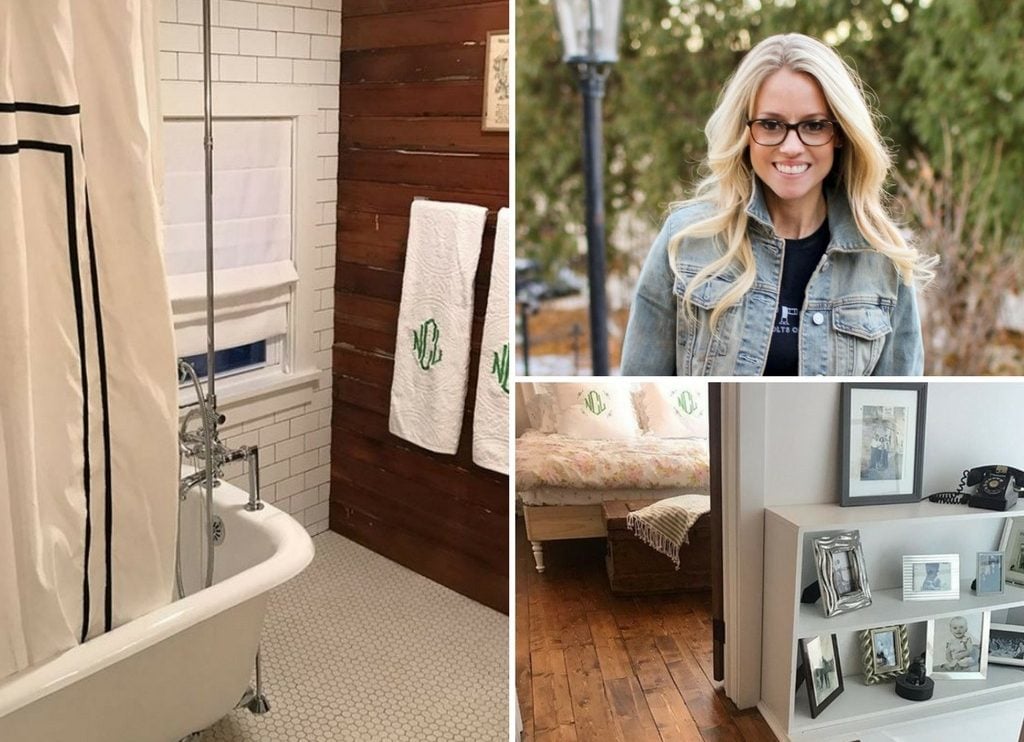 She's a big fan of monograms. | HGTV
Median home value in Detroit: $44,600
Even before an emotional custody battle for her second son landed this HGTV star in the tabloids, Nicole Curtis did her best to be a private person. The mom of two has shared just a few pics of her own home in Detroit via her Instagram, which gives us a better idea of how she lives.
The Detroit Metro Times noted Curtis's home is decorated similarly to the houses she renovates on Rehab Addict, in "her signature thrift store 'shabby-chic' style." Her design mantra, "original is best," is evident in the original hardwood floors and antique furniture. Curtis also believes in keeping it simple, forgoing bolder colors and numerous decor items for a thrifty, understated look.
Next: This Miami condo is splashed with color.

4. David Bromstad of Color Splash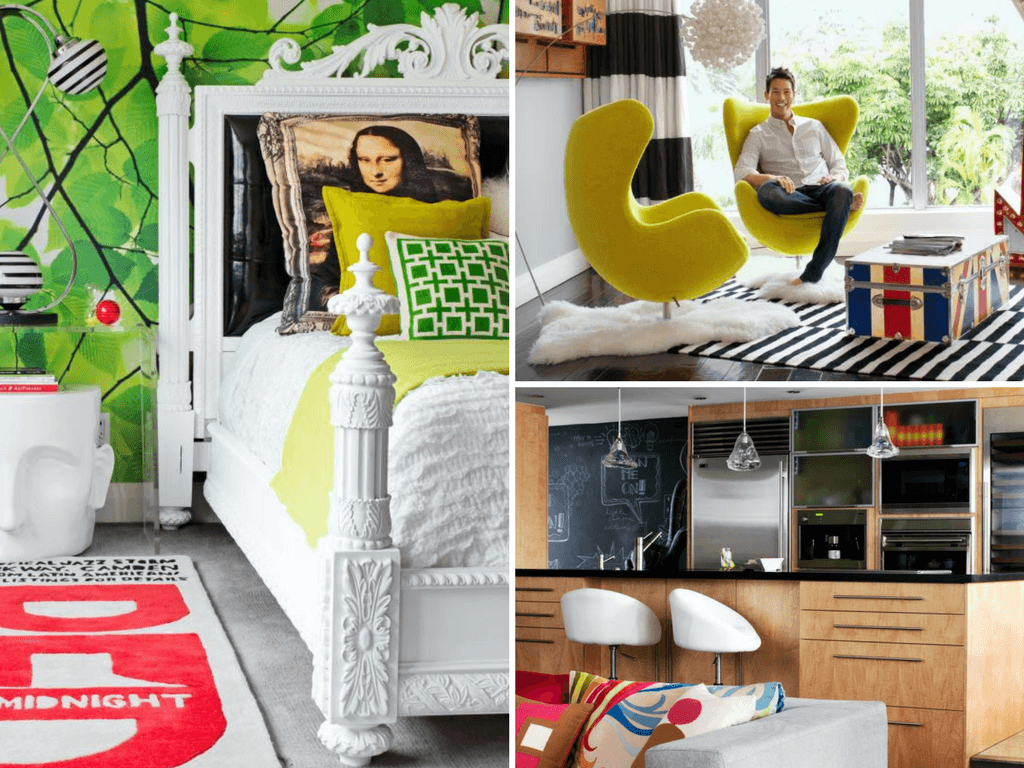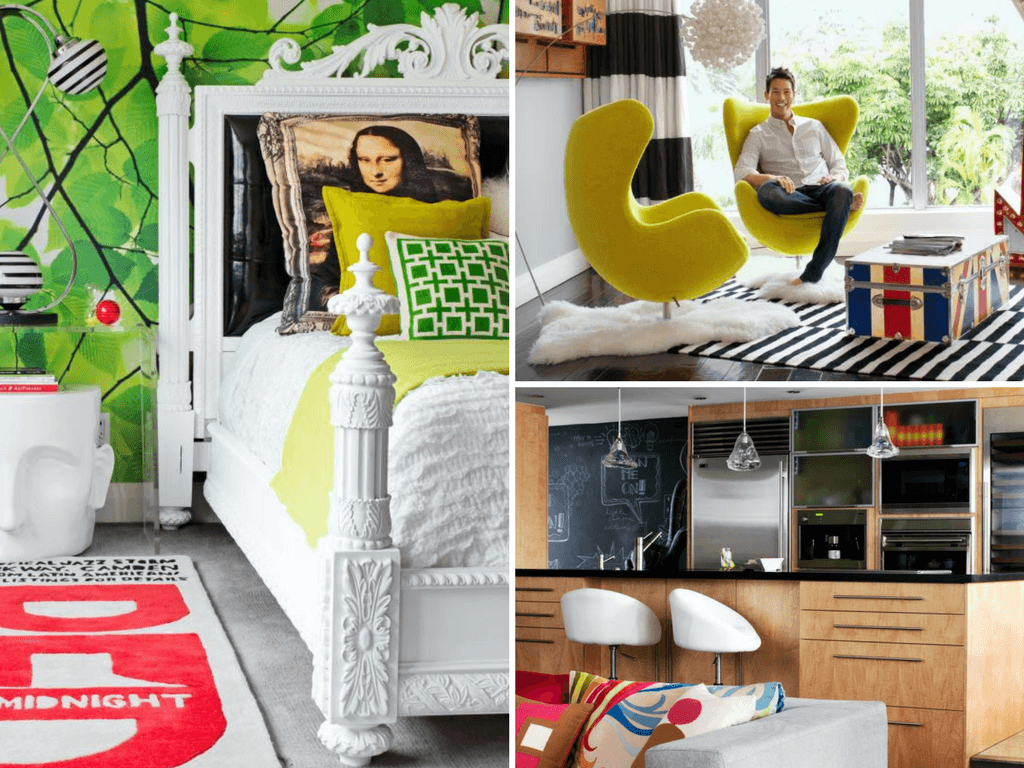 His fun style is apparent throughout the apartment. | HGTV
Median home value in Miami: $312,700
With a show called Color Splash, it's no wonder David Bromstad's Miami condo is a study in bold accent hues and daring pattern mixing.
Although, he does admit he's toned it down a bit from when he purchased the place. "When I first moved in, I tried to create a whole 'Mr. Color Splash' look. I painted the living room walls turquoise and put an orange cover on the couch with red pillows. Then I stopped, looked around and said, 'I can't live like this.' It was the ugliest thing I'd ever done," says David. "So I returned 80 percent of the stuff I bought, painted the room white and added some 'Mr. Color Splash' touches."
Next: The wall color of this host's living room will surprise you.
5. Genevieve Gorder of Dear Genevieve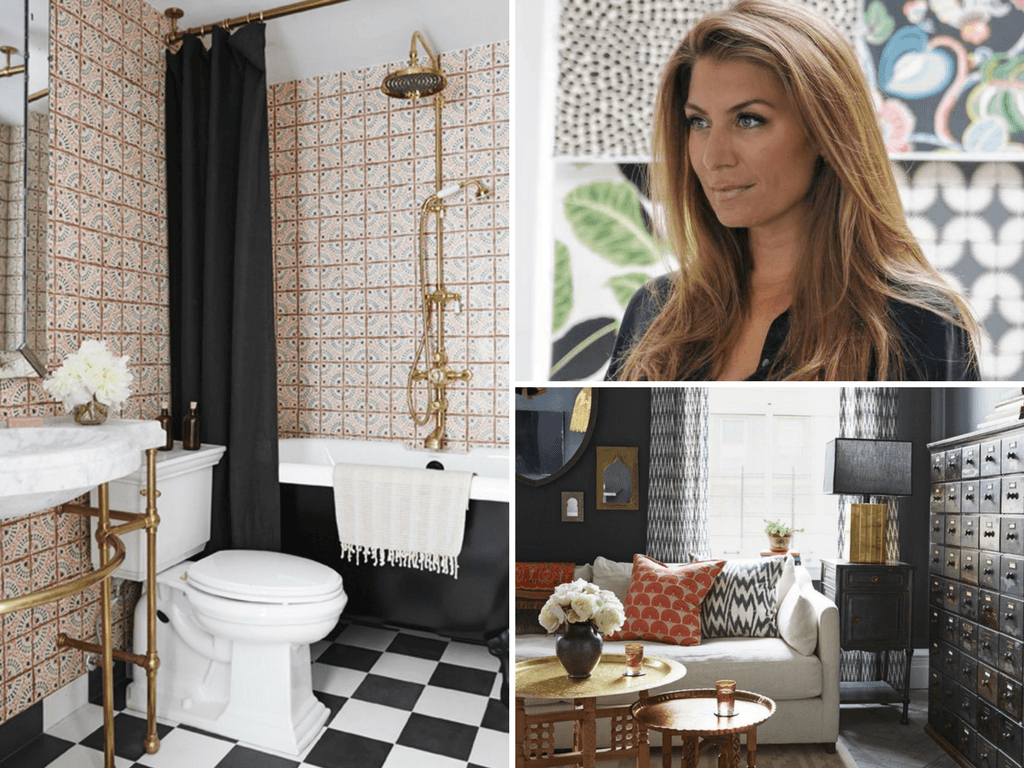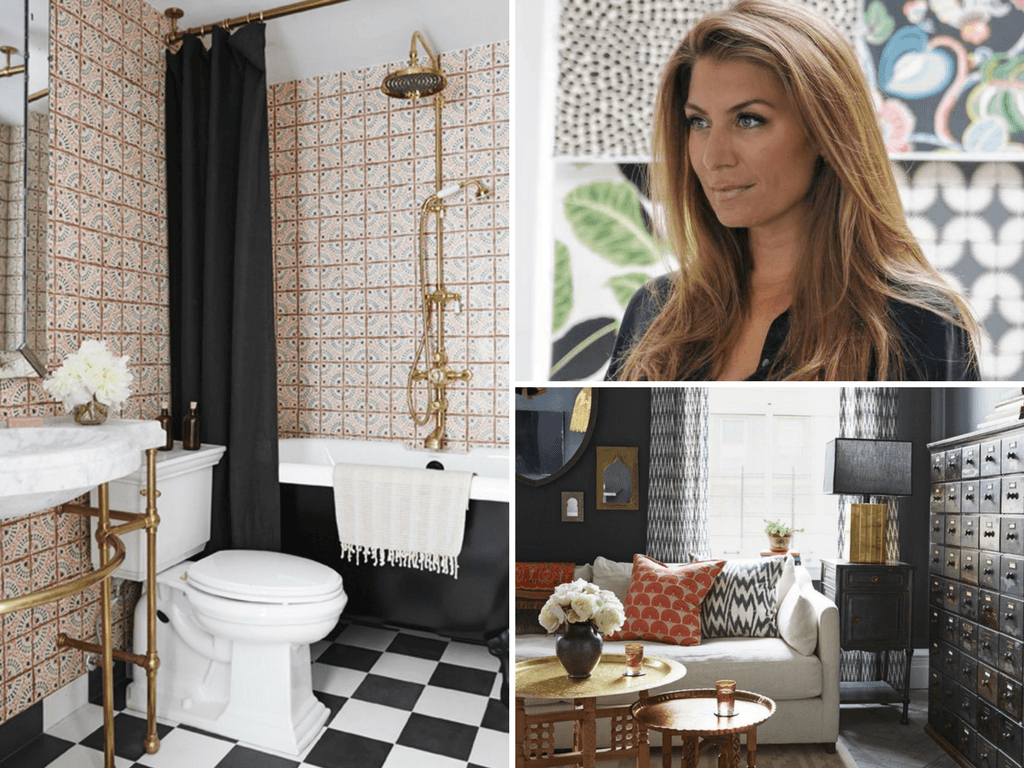 The HGTV designer got an exotic look as a lower cost. | HGTV/Genevieve Gorder via Facebook
Median home value in Manhattan: $1,323,500
Genevieve Gorder painted her Manhattan apartment walls black — a bold move even for an experienced decorator. But she claims it makes all the furniture stand out, and with 14-foot-high ceilings and equally tall windows, she can get away with making the room a little darker.
Gorder's space proves you can add international appeal with spending a fortune on imports. The tiny guest bathroom is done in tiles that look Moroccan, but they really come from Arizona. Her daughter Bebelle's room also features a Moroccan print pouf, leaf-print wallpaper, and most notably, a swing mounted from the ceiling.
Next: You won't believe this HGTV host's sprawling mansion.

6. Scott McGillivray of Income Property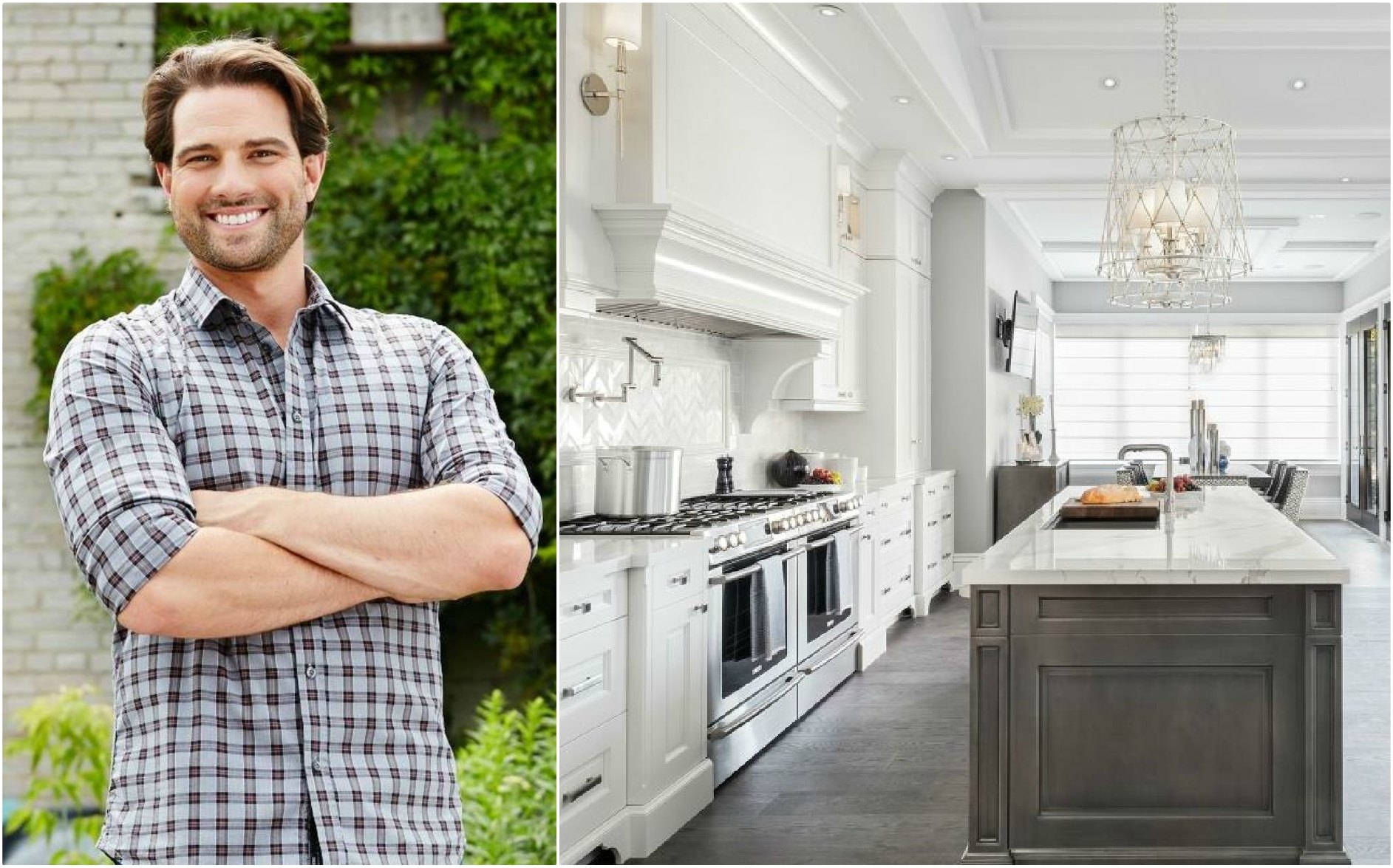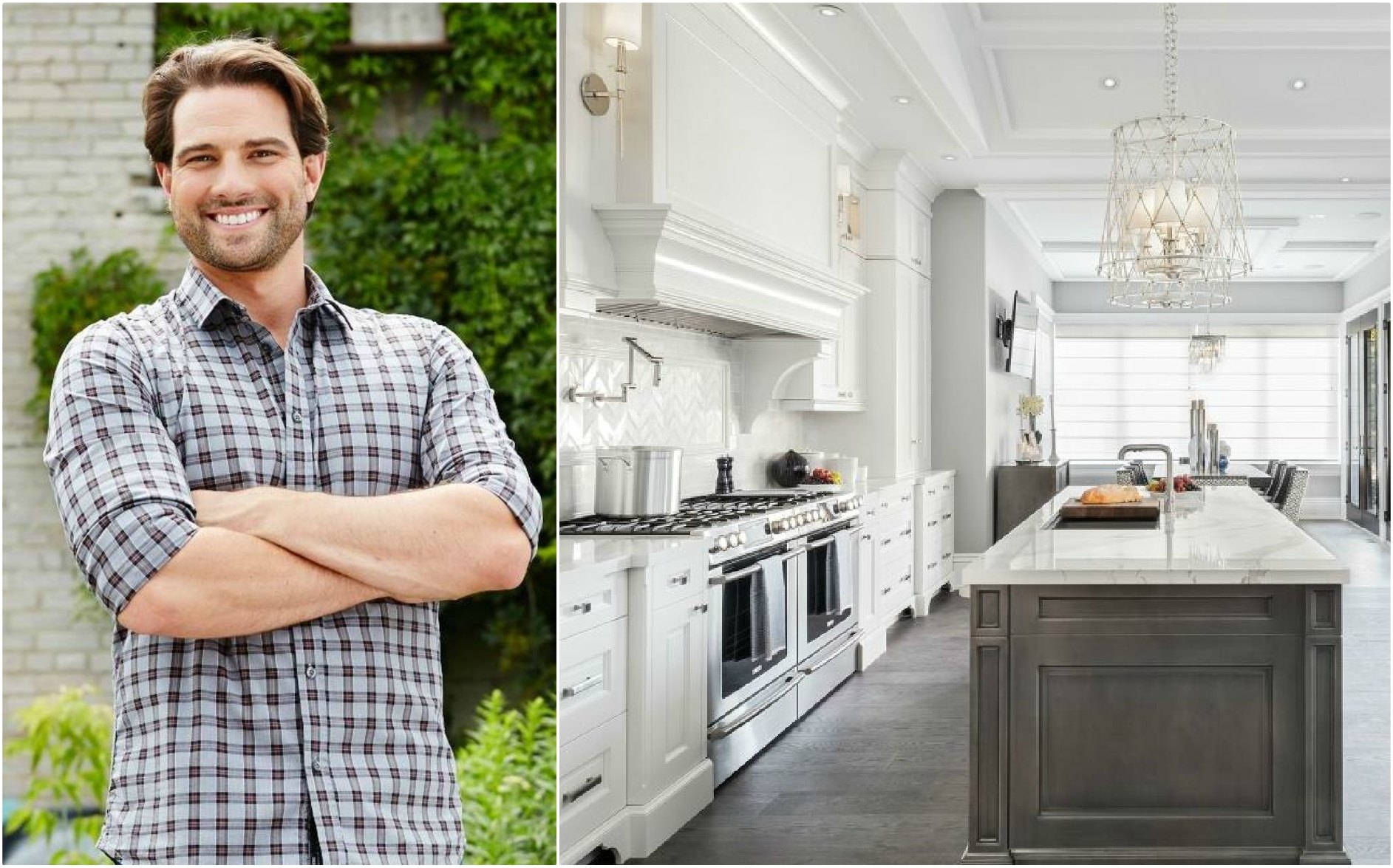 The stunning kitchen is just one of the gorgeous features. | Scott McGillivray via Facebook/HGTV Canada
Median home value in Toronto: $1,205,262
The handsome host of the popular renovation show recently moved his whole family into a Canadian mansion that's absolutely stunning. After renovations (naturally), the home boasts a huge kitchen, a "femme-den" along with a dream closet for his wife, a playroom for the kids, and a workshop for Scott. The whole thing is done in a neutral color palette that won't go out of style anytime soon.
Next: This HGTV blonde changed it all after her divorce.
7. Christina El Moussa of Flip or Flop
Christina El Moussa's bedroom echoes her new outlook on life. | Christina El Moussa via Instagram/Elle Decor via Instagram
Median home value in Orange County, California: $714,300
Out with the old, in with the new! With ex-husband Tarek out of the picture, Christina El Moussa "wanted to change everything" about her Orange County house, she said in an interview with Elle Decor. Christina stated that "before, the style was a lot of beige, brown (and) travertine."
Embracing her own "rustic glam" style, El Moussa completely revamped the house with a classic black, white, and gray palette. Fans of her hit show Flip or Flop would easily recognize her personal style from the rustic, reclaimed wooden beam to the glamorous, mirrored chandelier. The master bedroom looks out onto the backyard, which includes a grotto and a water slide.
Next: This divorcee wasn't planning on buying a home — until he saw this place.
8. Tarek El Moussa of Flip or Flop
HGTV's Tarek El Moussa is moving on with his life in more ways than one. | Tarek El Moussa via Instagram
Median home value in Costa Mesa, California: $774,800
The former Flip or Flop co-star and ex-husband of Christina El Moussa — they finalized their divorce in January 2018 — bought a random $2.28 million house he spotted while driving through Costa Mesa, California. Tarek El Moussa explained via Instagram, "I knew it was the one! Within hours I was writing an offer and negotiating the deal."
The 3,010-square-foot, turn-key home boasts four bedrooms and four baths, with the master suite opening out to a spa, swimming pool, and deck area. The HGTV star spared no expense for his bachelor-pad-meets-dad space; the garage has an electric charging station and the center courtyard has a firepit and built-in BBQ.
Next: The Fixer Upper couple's exquisite interior
9. Chip and Joanna Gaines of Fixer Upper
Chip and Joanna Gaines have an organized space for their big family. | HGTV/Joanna Gaines via Instagram
Median home value in Waco, Texas: $177,408
No one's surprised that Chip and Joanna live in a former fixer upper. They purchased their 1895 farmhouse in 2012, intending to turn it into a family homestead for their brood. And with 40 acres of land in Waco, Texas, they had plenty of room to do it.
This former 2-bedroom house was lovingly restored into the welcoming space you see today. It features an open floor plan on the main level, a vintage-inspired white kitchen with open shelving and an island, and shiplap absolutely everywhere.
Joanna Gaines doesn't believe in decorating just for the sake of beauty, preferring practical designs that work well for real life. Everything is designed with daily use in mind, from the sturdy built-in bunk beds in the boys' room to the craft space in the attic. The Gaines' house proves that gorgeous décor and young children can successfully coexist.
Next: Bright, cheerful colors make this house a happy home.
10. Tanika Ray of HGTV'd
The bright colors mesh together perfectly. | HGTV/Tanika Ray via Instagram
Median home value in Los Angeles: $671,000
The host of HGTV'd has a love for bold colors — and she's not afraid to show it. Tanika Ray's real-life living room is a blend of pretty patterns with deeply saturated hues, but the effect is somehow soothing and homey.
Next: Almost everything in her living room was rescued from secondhand stores.
11. Emily Henderson of Secrets from a Stylist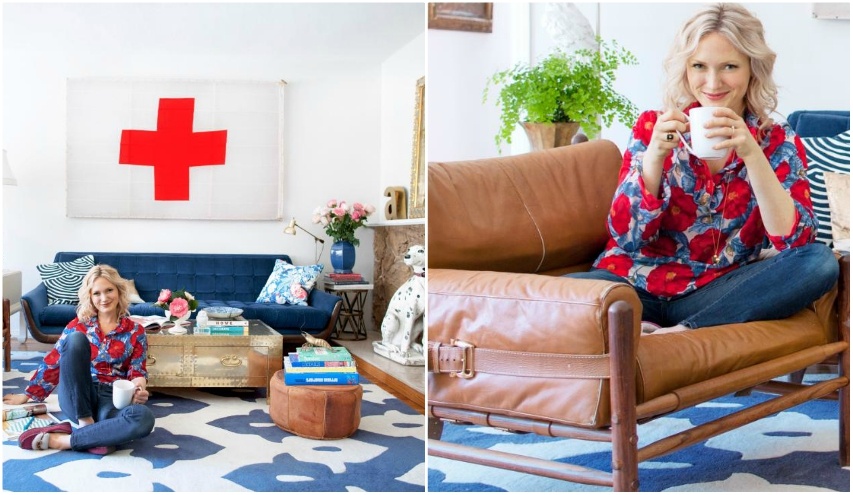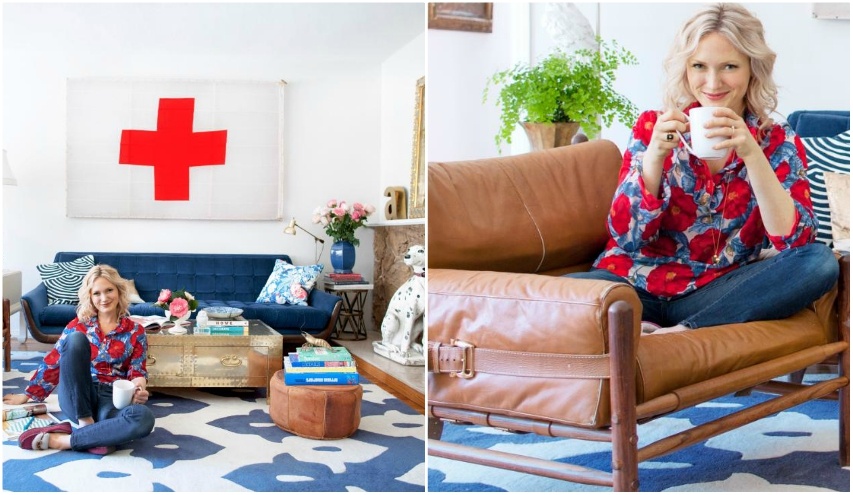 The charming style is an eclectic mix. | HGTV
Median home value in Los Angeles: $671,000
This host would much rather rescue treasures from flea markets than shop at popular retailers. Emily Henderson's living room is a combination of vintage store and thrift shopping, giving it a simultaneously eclectic yet chic look and feel. One of her most prized finds is a '70s leather safari chair, which looks like a million bucks but didn't cost anywhere near that much.
Next: Her weekend home is proof that mixing patterns can work.
12. Sarah Richardson of Sarah 101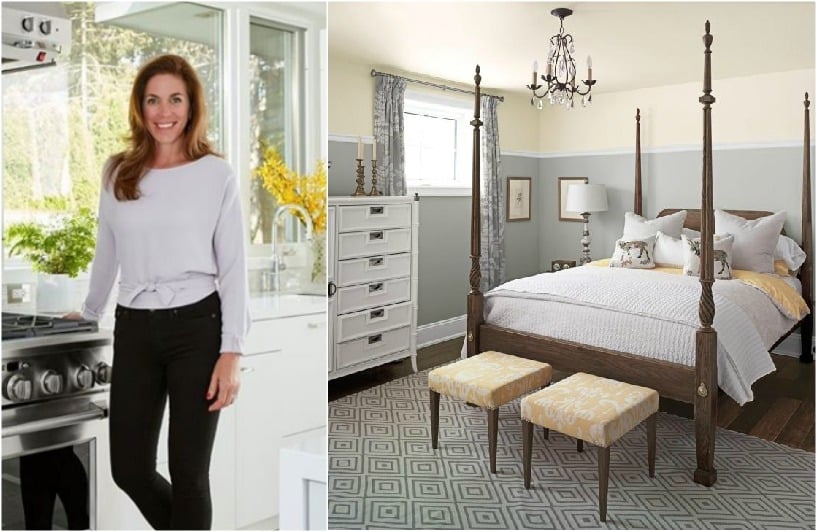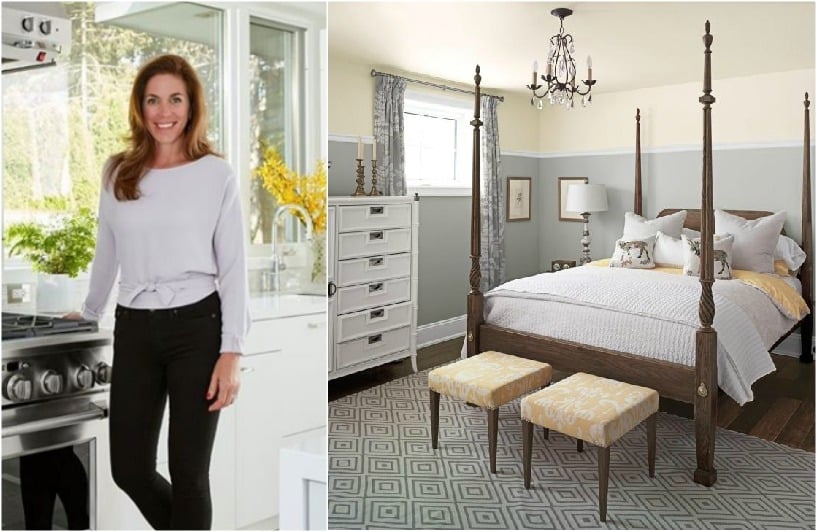 The cozy space is perfect for chilly weekends. | Sarah Richardson via Facebook/HGTV
Median home value in Creemore, Ontario: $562,000
This host has a few design tricks up her sleeve, including a liberal use of bold colors and her impeccable pattern matching skills.
Sarah Richardson's vacation home in Creemore, Ontario was designed for cozy weekends of winter activities. Even the mudroom is drop dead gorgeous, with thoughtful details even in the most utilitarian space.
Next: This self-described neat freak keeps her apartment spotless.
13. Sabrina Soto of The High Low Project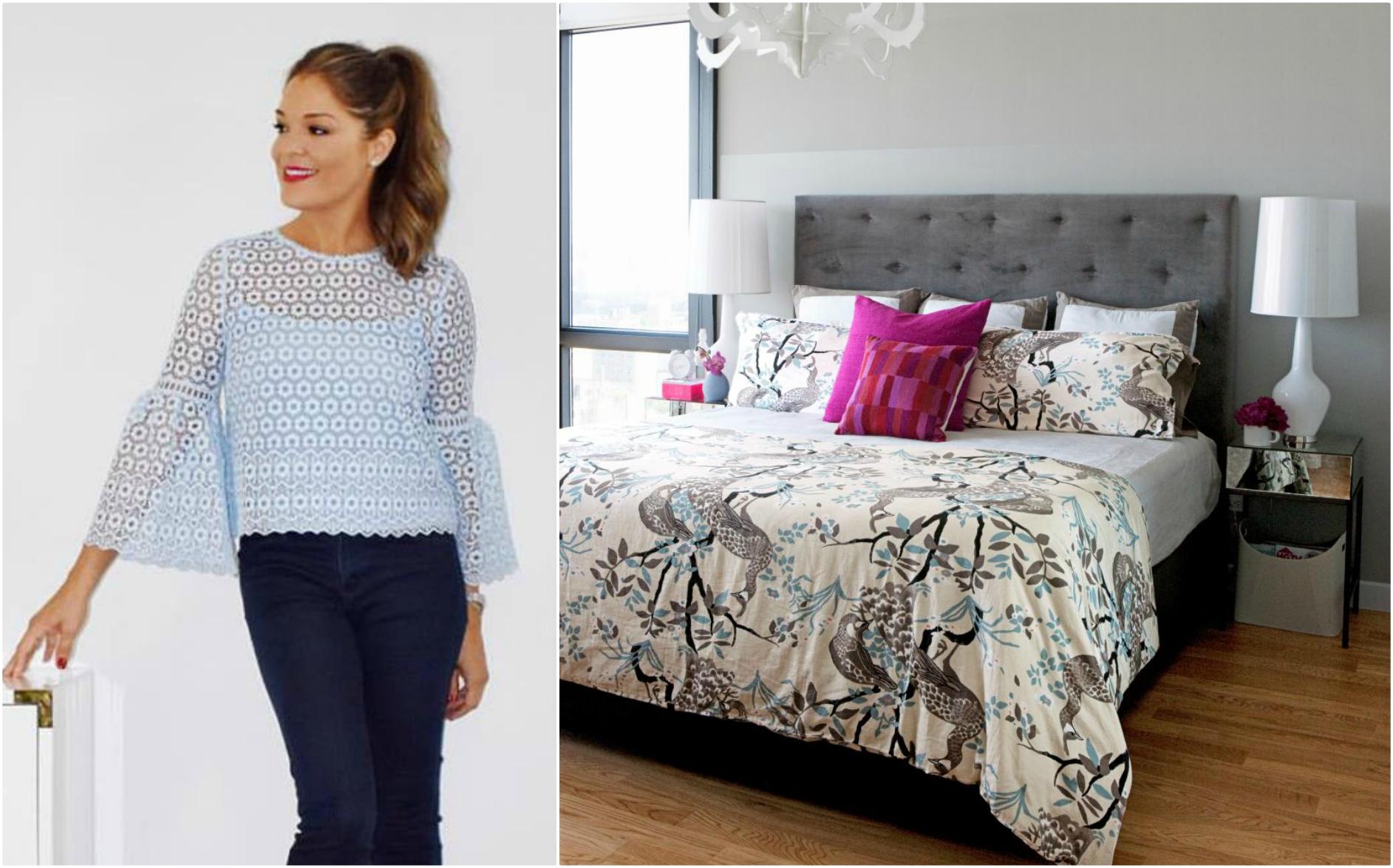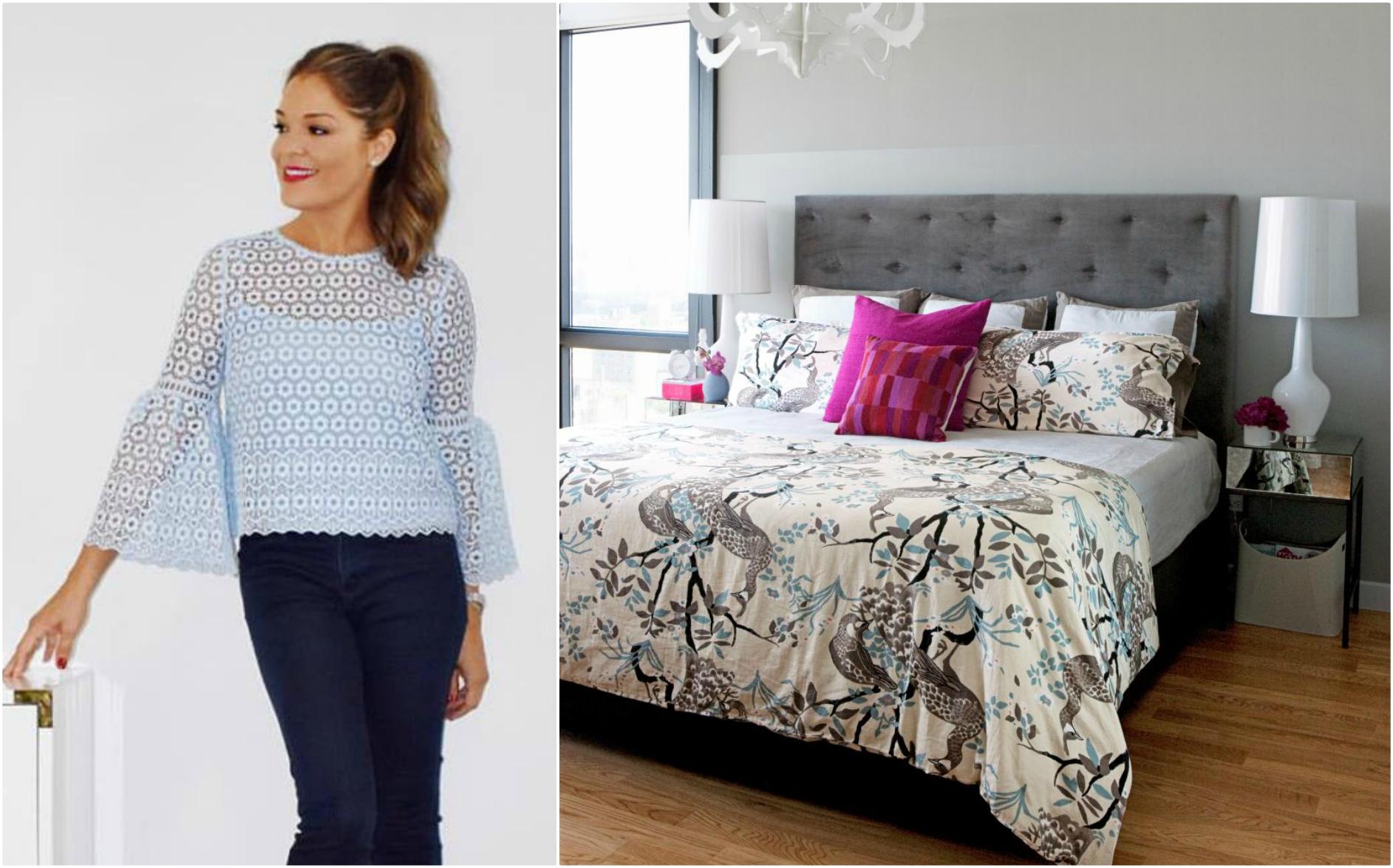 Her glamorous style gets some cheer with colorful accents. | Sabrina Soto via Facebook/HGTV
Median home value in Manhattan: $1,323,500
It's practically impossible to watch Sabrina Soto on The High Low Project without smiling, and the same can be said of her bright and happy NYC space. The bold orange and white striped rug is really made out of practical carpet tiles, which are easier to keep clean (a must for a neatnik like Soto).
Read more: The Most Hated HGTV Hosts to Have Shows on the Network
Check out The Cheat Sheet on Facebook!
Additional reporting by Ali Harrison.
Source: Read Full Article