Kim and Kanye's Ridiculous Real Estate (and Other Elaborate Kardashian Homes)
The Kardashian-Jenner clan is arguably the most famous family to ever grace the small screen, and therefore, they're one of the wealthiest, too. So, what exactly does one do with all that fame and fortune? Dip into his or her bottomless bank account and venture out on a real estate spending spree, of course!
Boasting enough houses to make any real estate mogul green with envy, Kim and Kanye aren't the only ones trying their hands at the real estate game. From pimped out pads to sprawling Southern California properties, the Kardashian-Jenners are no strangers to extravagant homes. So, prepare to pick your jaw up off the floor; these are the elaborate homes you need to see to believe.
1. Kim's Beverly Hills home
Kim visiting her old house
A post shared by Kim Kardashian Snapchats (@kimkardashiansnap) on
Purchased for: Not publicized
Let's kick things off with the Kardashian queen herself, at least in her own mind. From the very start, Kim Kardashian West was undoubtedly the most famous of the siblings. (Her sisters have given her a run for her money in recent years, but we'll get to them in a minute.) Back in her bachelorette days, Kim took up residence in a Mediterranean-style Beverly Hills mansion, although the house now seems unimpressive compared to her current digs. Once Kim and Kanye decided to get a place of their own in 2013, she sold the Beverly Hills home.
But the strangest part? The current owners still have most of Kim's furnishings, including some of her bed linens. Unsurprisingly, the reality TV star didn't seem all too shocked when she discovered these details during the tour of her former home, which she captured on Snapchat.
Next: The power couple's first home together
2. Kim and Kanye's Bel Air mansion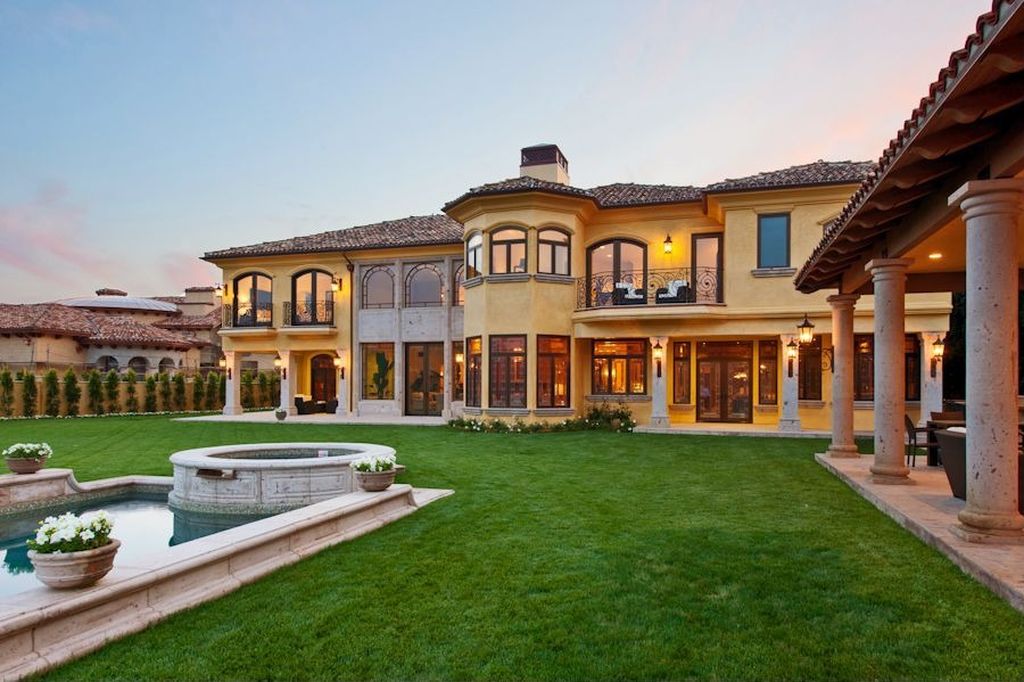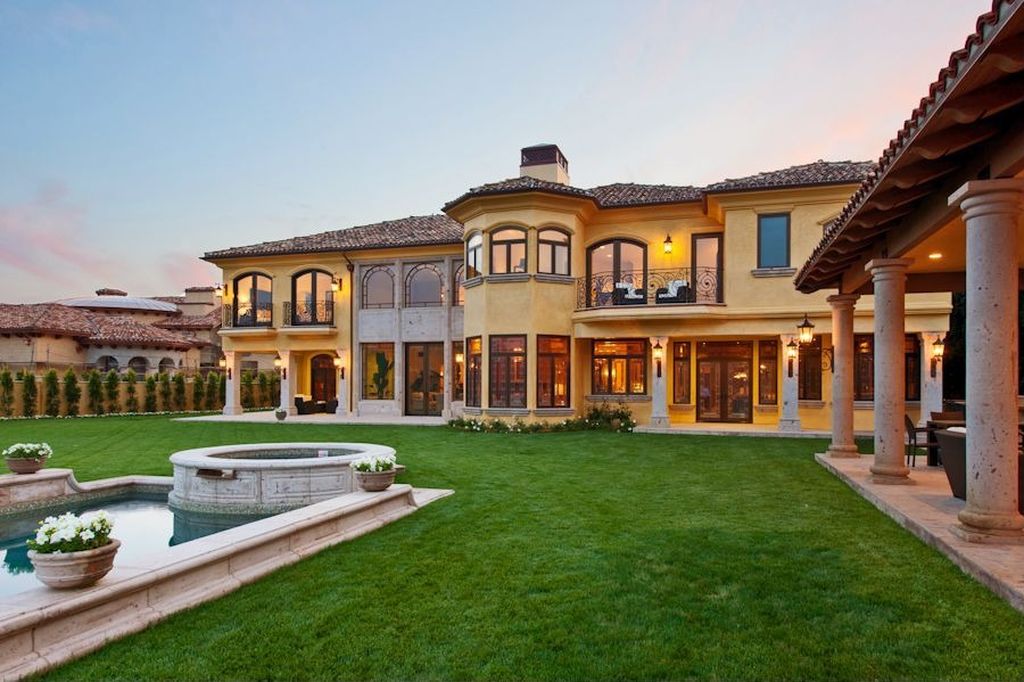 They notoriously lived with Kris while renovating the house. | Zillow
Purchased for: $11 million
Continuing on Kimye's journey down real estate lane, the two purchased a 9,000 square-foot home in Bel Air. Clearly, they're not born house-flippers, as they eventually called it quits mid-renovation. Their original plan? To gut the obviously imperfect house and turn it into a 14,000 square-foot Italian-style-villa.
However, Kimye's inability to settle for anything less than their idea of absolute perfection got the best of them, and the couple ended up living with Mama Kris for about two years. Eventually, they deemed the unlived-in home too big a headache, so Kim and Kanye soon decided to seek out another option.
Next: The Bel Air mansion simply wouldn't do. 
3. Kimye's Hidden Hills mansion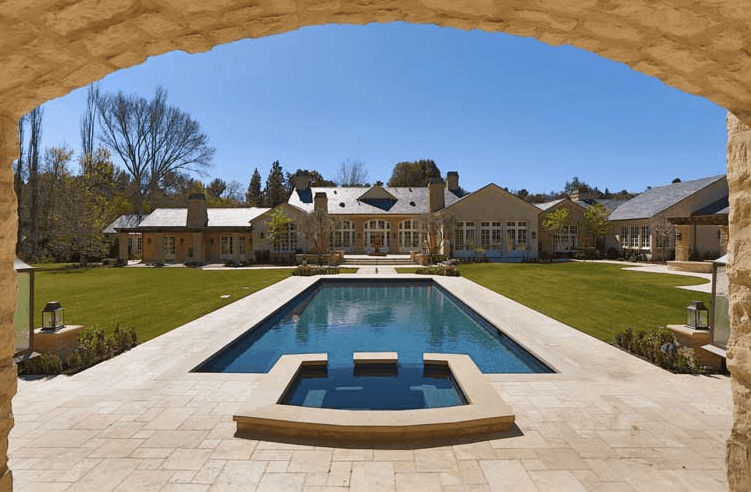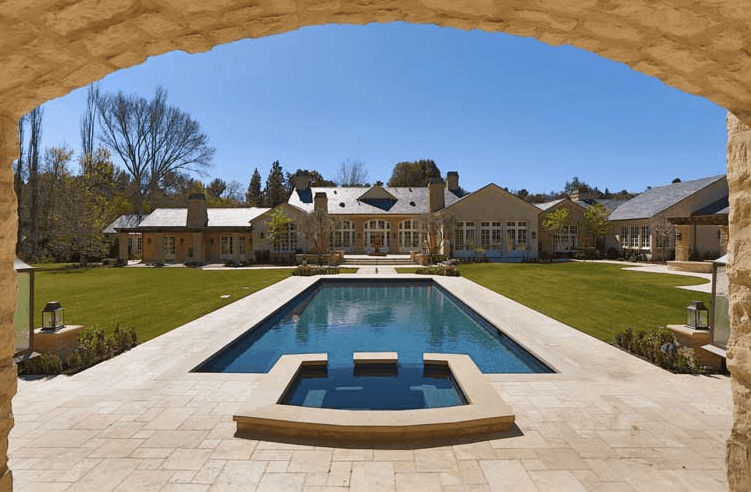 The home has lots of land and even a vineyard. | Sotheby's International Real Estate
Purchased for: $20 million
Almost doubling the purchase price of the Bel Air home, Kimye opted for a more move-in-ready property the second time around. After ditching their previous mansion, Kim and Kanye bought this Hidden Hills mansion in 2014. The 15,000 square-foot French country-style estate sits on three acres and was brand spanking new when they bought it.
Complete with eight fireplaces, his and her bathrooms, and a kitchen with not one, not two, but three islands, it's no wonder the couple has finally found a home they're happy with. Oh, and let's not forget about the home's very own vineyard and two pools.
Next: Who needs neighbors anyway? 
4. The house next door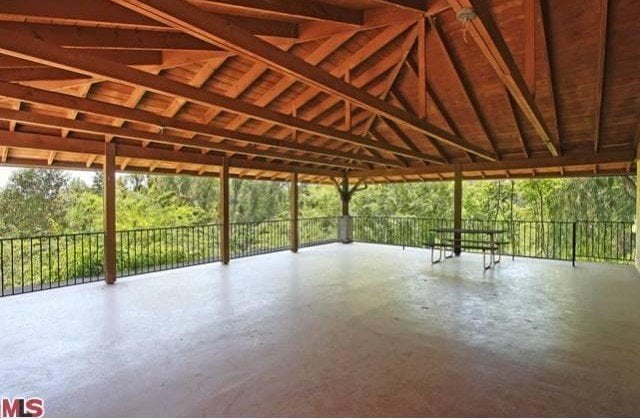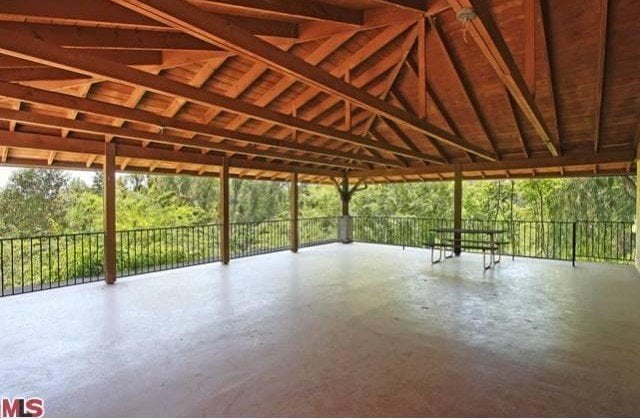 This "fixer upper" will probably face demolition. | The MLS
Purchased for: $2.9 million
It may seem that privacy doesn't exactly top Kim's list of priorities. After all, she's made her fortune by putting her life on display for millions to see, and she absolutely loves being the center of attention. Despite that, it seems Kimye wanted even more privacy after purchasing the aforementioned $20 million estate. In fact, to guarantee it, the power couple scooped up the home right next door to their $20 million pad.
According to a source at Trulia, this home is "a total tear-down." Still, exactly what the couple will do with the second property remains to be seen. "Should Kanye and Kim combine the two properties, they will end up owning just under 4.5 acres in the coveted hills of Calabasas," E! News reported.
Next: Let's see where the lady in charge lays her head. 
5. Kris Jenner's Hidden Hills mansion
The best time of the year!!! Happy Holidays, everyone! @archdigest @jeffleatham #blessed #happyholidays #christmasmagic #besttimeoftheyear
A post shared by Kris Jenner (@krisjenner) on
Purchased for: $4 million
Despite the grandeur of this mega-mansion, it seems the original price of Kris's abode pales in comparison to other Kardashian-owned homes. Her home, which was made famous by E! Network, still serves as the backdrop for sibling rivalry scenes aplenty. (Shots featuring the home's exterior, however, were just a ploy — the network used a stand-in home located in Studio City for safety reasons.) In 2010, Kris bought the six bedroom, eight bathroom LA home for almost $4 million.
Next: Kris ventures outside her comfort zone. 
6. Kris' L.A. condo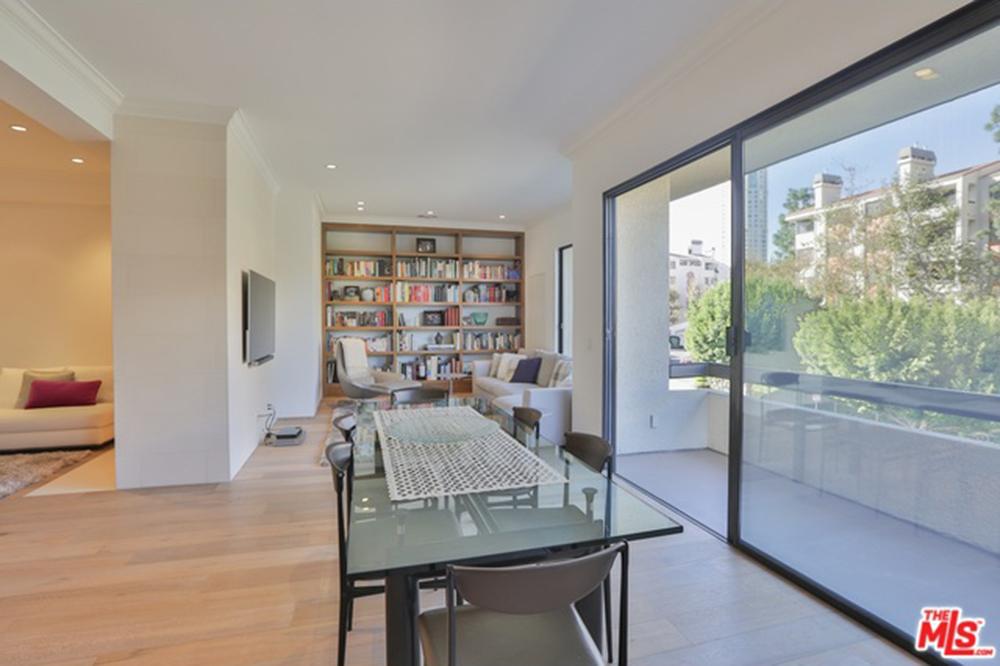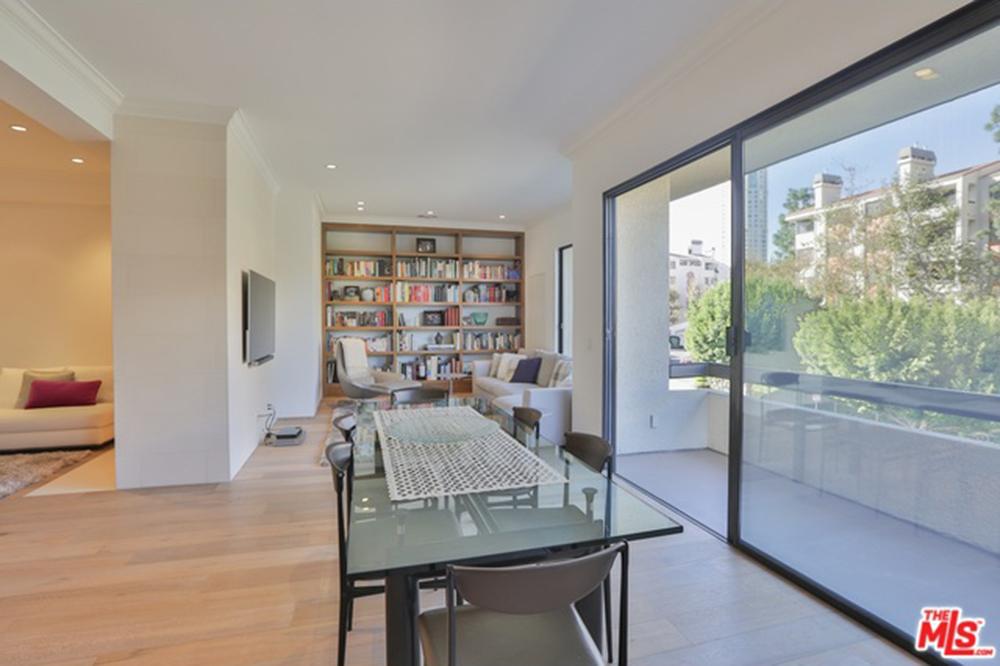 A change of pace for the momager | The MLS
Purchased for: $1.6 million
In 2015, Jenner decided to branch out. While typically preferring mega mansions over sensibly small spots, the famous momager decided it was time to dabble in a different kind of property. But lest we be naive here, Jenner was hardly slumming when she bought this place. Located in the Westwood/Century City neighborhood, the two bedroom, four bathroom condo set Jenner back a measly (for her, anyway) $1.6 million.
Next: The self-described interior design expert of the family
7. Kourtney Kardashian's Calabasas mansion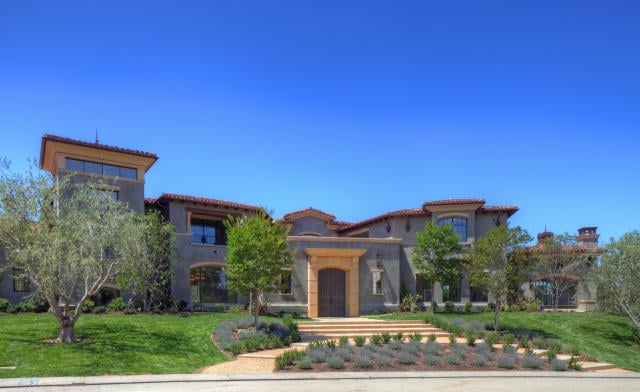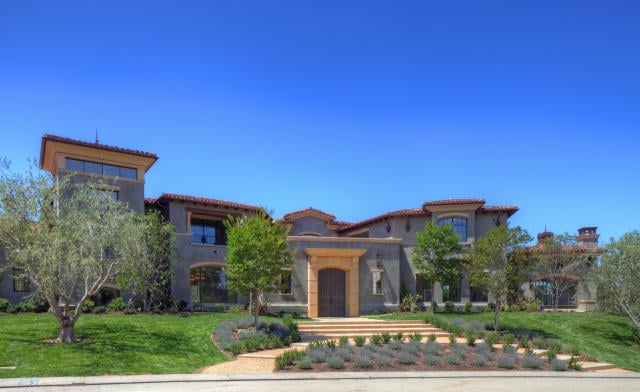 Her former home was getting too small for her growing family. | Trulia
Purchased for: $8.5 million
In 2014, back when Kourtney and long-time boyfriend Scott Disick were still together, the couple bought former NFL pro Keyshawn Johnson's Tuscan-style mansion in the family's favorite area, Calabasas. Complete with six bedrooms, a game room, basketball court, pool, and even a massage room, it's no wonder this place is the ideal forever home for a growing family. And of course, Kourtney spared no expense in decorating.
Next: Everybody's favorite Kardashian
8. Khloe Kardashian's Calabasas mansion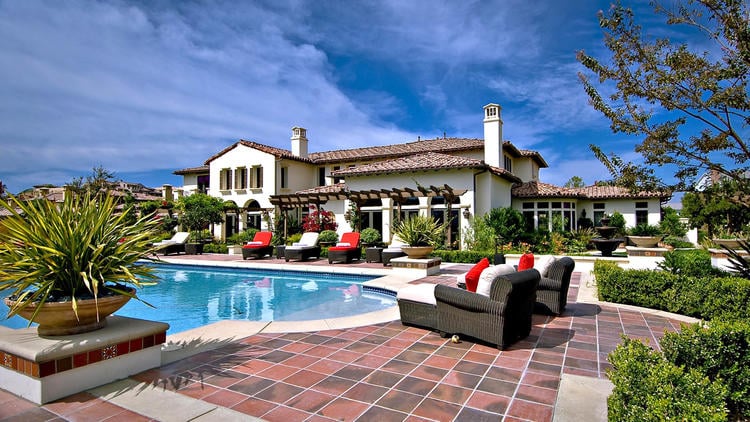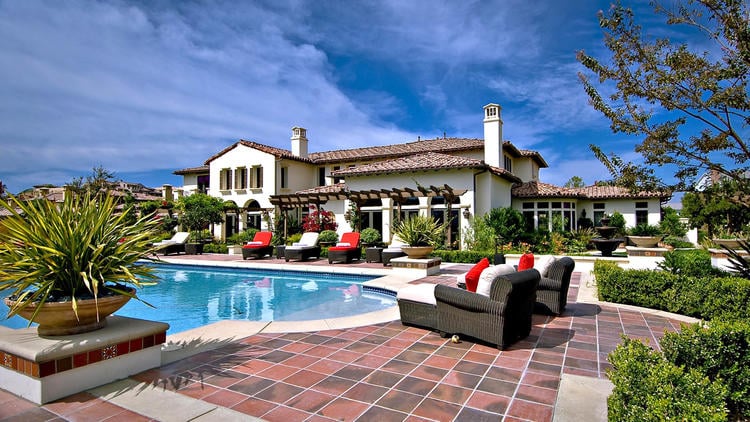 She's nice and close to her sister Kourtney. | Doyle Terry Photography/Courtesy Hurwitz James Co.
Purchased for: $7.2 million
In the same year that Kourtney bought her Calabasas home, favorite sister Khloe decided she wanted a piece of the pie, too. So, she bought a six bedroom, 9,214 square-foot Mediterranean-style home in the very same neighborhood. The house, which Khloe purchased from Justin Bieber (he wasn't exactly a fan favorite in the neighborhood), boasts a wine cellar, an elevator, a swimming pool, plus a casita with its own kitchen.
Next: Yet another Calabasas abode 
9. Kris' (maybe Rob's) modest Calabasas home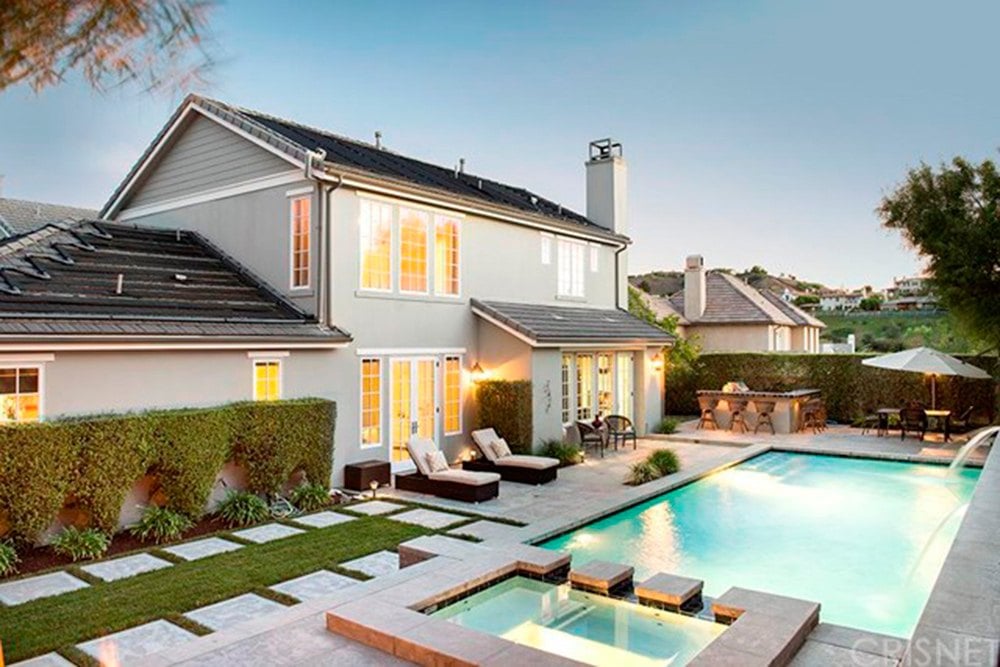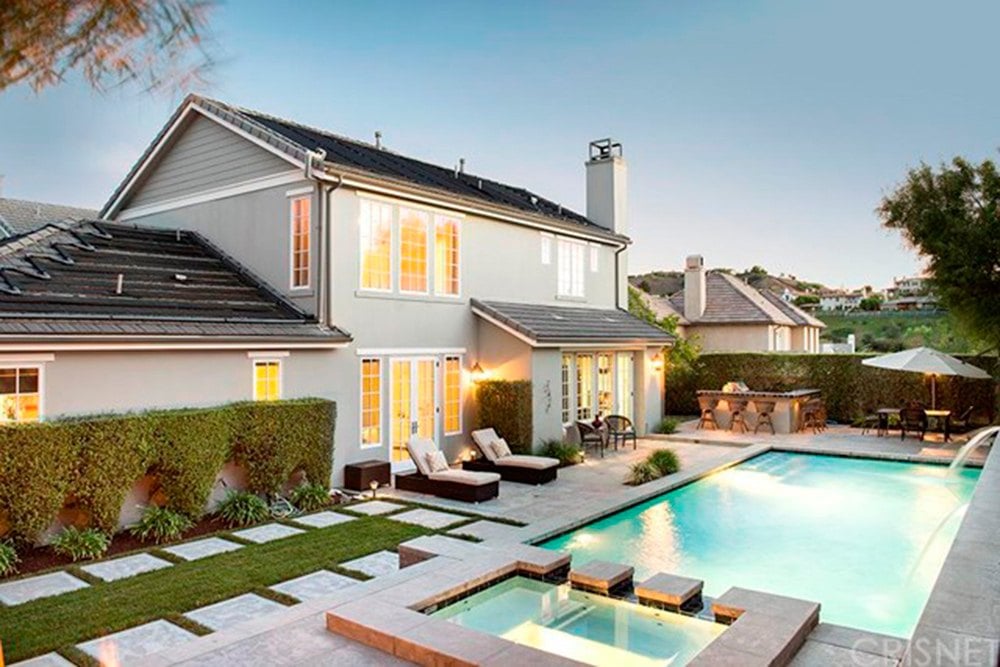 Who knows whom it belongs to? We just know it's nice. | Trulia
Purchased for: $2.3 million
Continuing to expand her ever-growing portfolio of real estate, Kris scooped up yet another Calabasas home. According to Trulia, Kris bought the four bedroom, five bathroom East Coast-style pad for $2.285 million in 2016. Some reports claim the 4,256 square-foot property belongs to Rob, but given his track record, we're willing to bet his generous mother bought the house for him and allowed him to call it his own.
Next: The youngest child spreads her wings.
10. Kylie Jenner's 'starter home'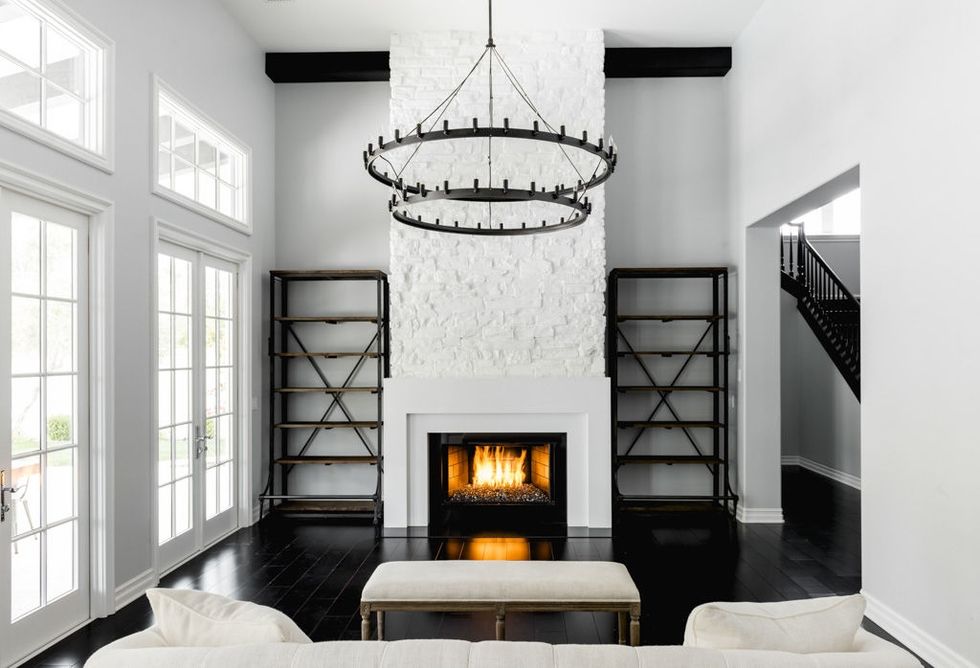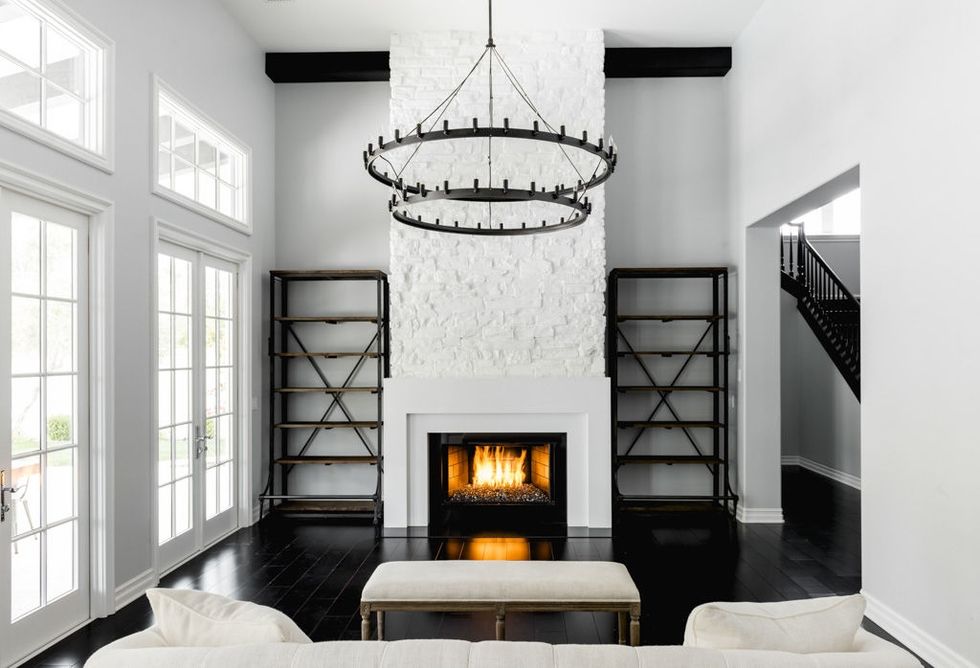 We're guessing this isn't what most starter homes look like. | Zillow
Purchased for: $2.7 million
At the ripe age of 17 years, the youngest of the clan snagged her very first home for a cool $2.7 million back in 2015. Totally normal for a teenager, right? Nope. But for Kylie Jenner, it was just the beginning of her journey into ridiculous real estate purchases.
In an effort to ditch her mom's abode, the teen decided to relocate to a place of her own — just a few short blocks down the road. Jenner posted up in a modest 4,851 square-foot mansion, which she later sold in 2017 for just over $3 million. "The house, which is 24 miles from Hollywood, has a spa, five bedrooms, an indoor theatre, and a whole host of other celebrity nonsense amenities that should keep the youngest Kardashian occupied," Curbed reported.
Next: One is never enough. 
11. Kylie's Hidden Hills home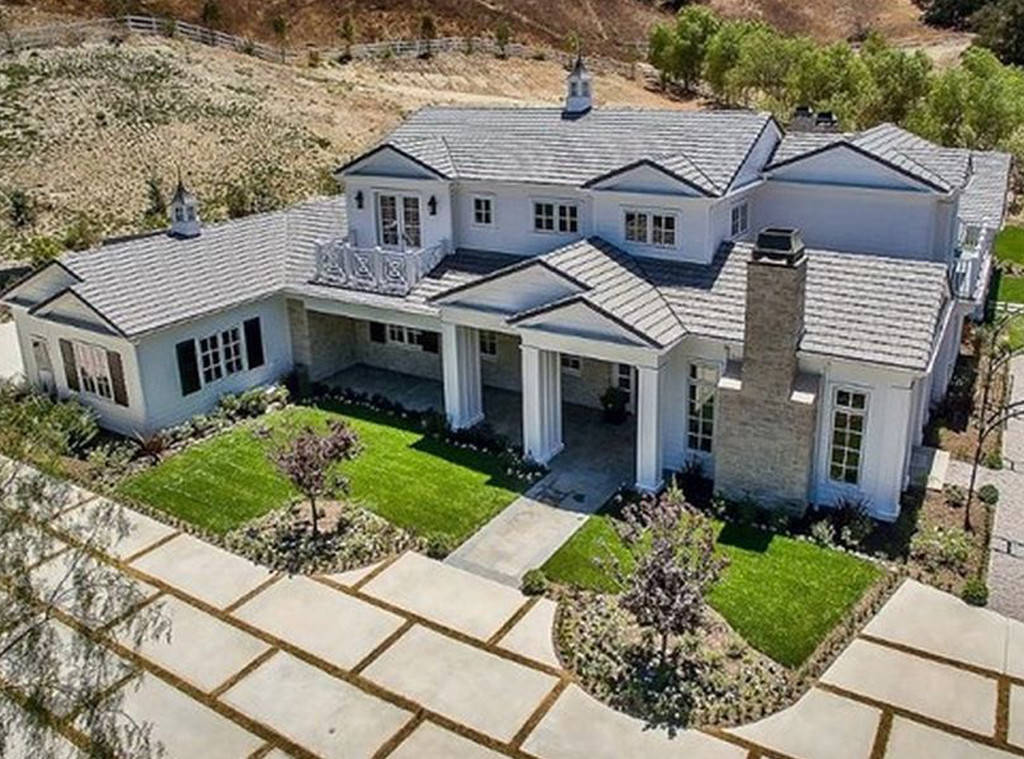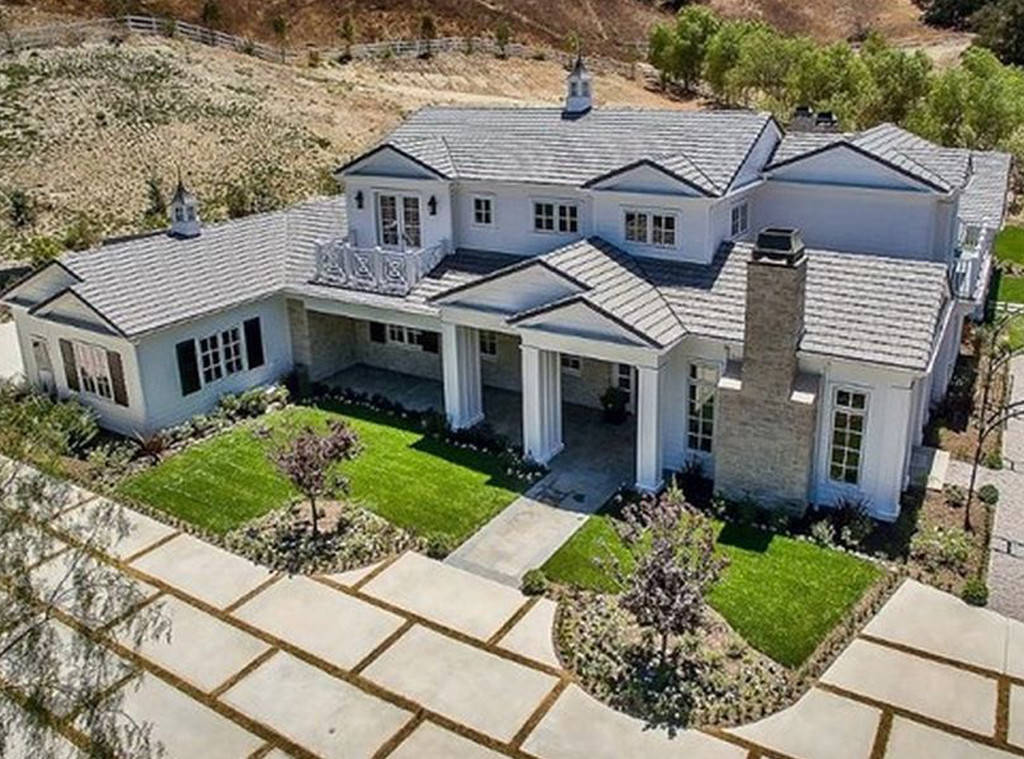 The Hidden Hills home had more room. | Zillow
Purchased for: $6 million
Apparently, the starter home was no longer doing it for Kylie, so she had to get her hands on another property. For $6 million, Jenner scored a 7,040 square-foot home complete with six bedrooms and seven bathrooms. Purchased in 2016, just one year after she bought her first home, it's apparent that the then 18-year-old's beauty empire was on the up-and-up. And yes, her second mansion is every bit as luxurious as all the others owned by the family.
Next: Once again, there's no time for neighbors.
12. Kylie's house next door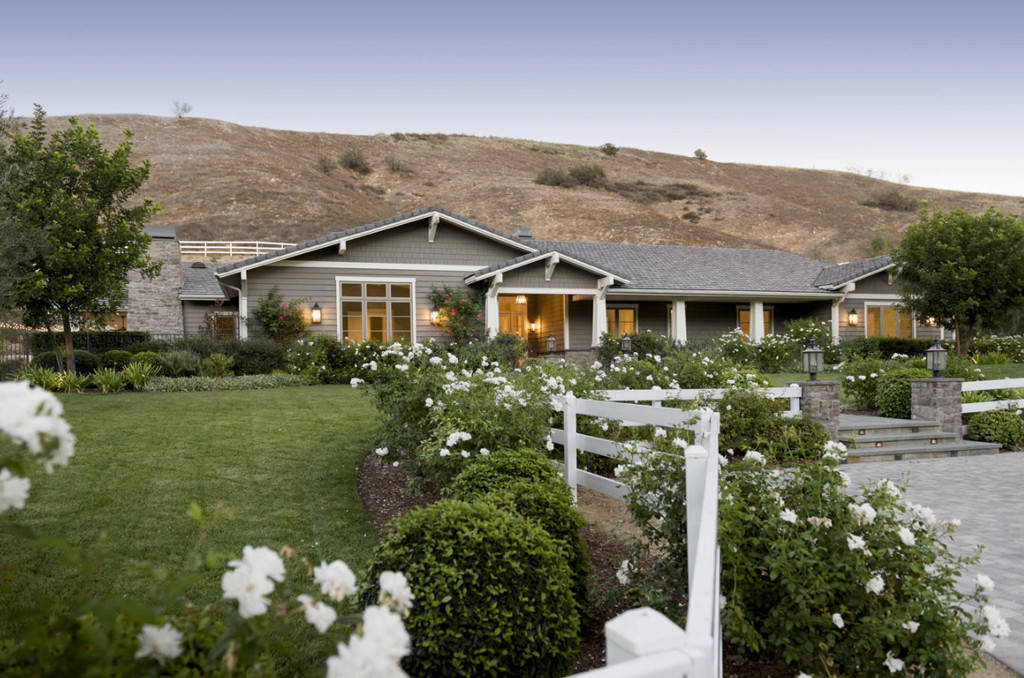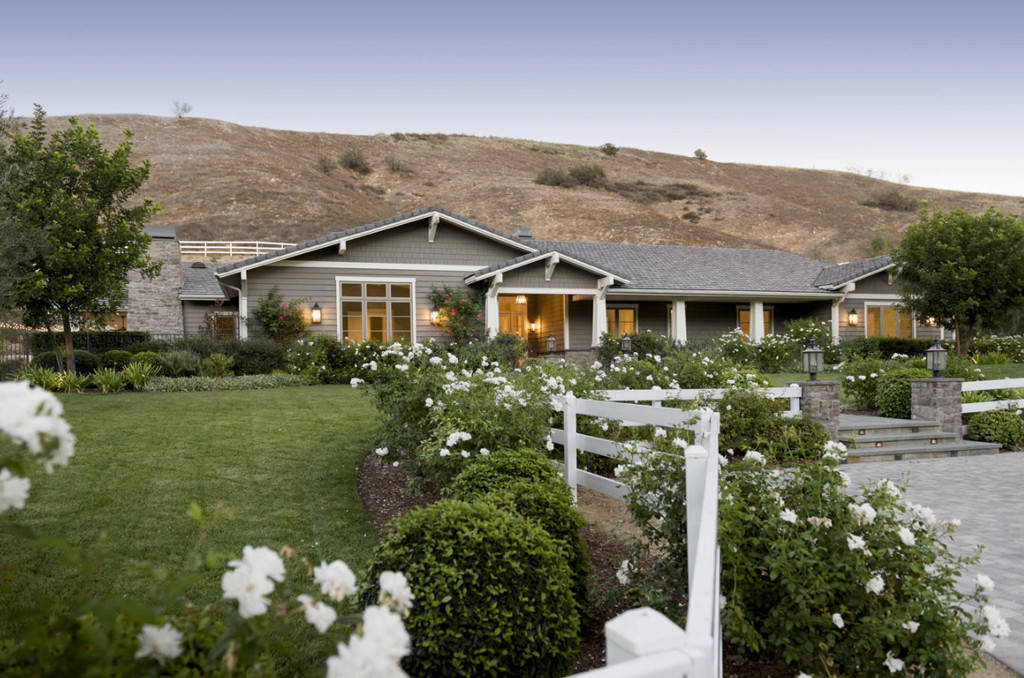 Did Kylie learn this trick from Kim or vice versa? | Zillow
Purchased for: $4.5 million
What kind of world are we living in where one home in the same neighborhood isn't enough? Apparently, a world where famous people have never heard of fences and clever landscaping. It's clear that the Kardashian-Jenner clan have secured a monopoly on the exclusive Calabasas region of LA because, once again, a member of the famous family decided one home wasn't enough. In 2016, Kylie threw down another $4.5 million so she could have the 5,154 square-foot house right next door. Fast forward to December 2016, however, and the four bedroom, 3.5 bathroom home was back on the market for $5.4 million.
Next: No, we're still not finished with Kylie's homes. 
13. Kylie's Cape-Cod style mansion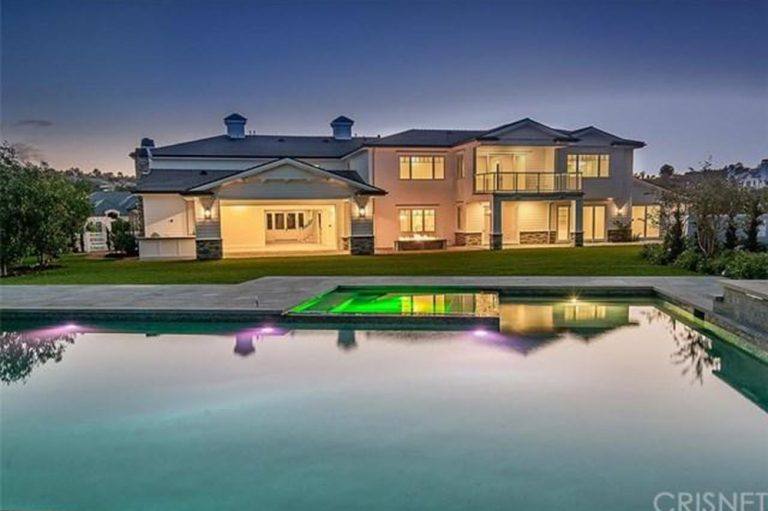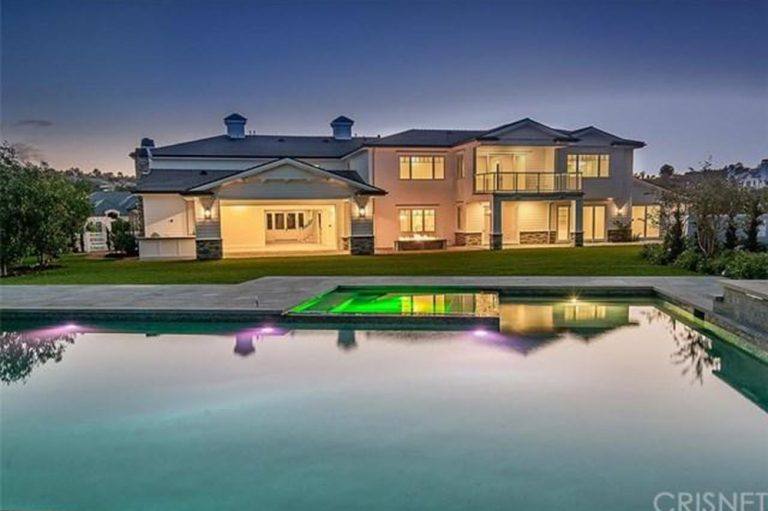 The Cape Cod style mansion is another step up for the makeup mogul. | Trulia
Purchased for: $12 million
Rounding out her collection of properties — at least for now — Kylie's most recent purchase is a stunning 13,200 square-foot Cape Cod-style home set on 1.4 acres in — you guessed it — the Hidden Hills neighborhood. Her latest project includes eight bedrooms, 11 bathrooms, a home theater, game room, pool, and massage room. In case you lost track, this is Kylie's fourth home in two years, all purchased before she can legally drink a glass of champagne to celebrate.
Next: The more reserved Jenner is up next. 
14. Kendall Jenner's Westwood condo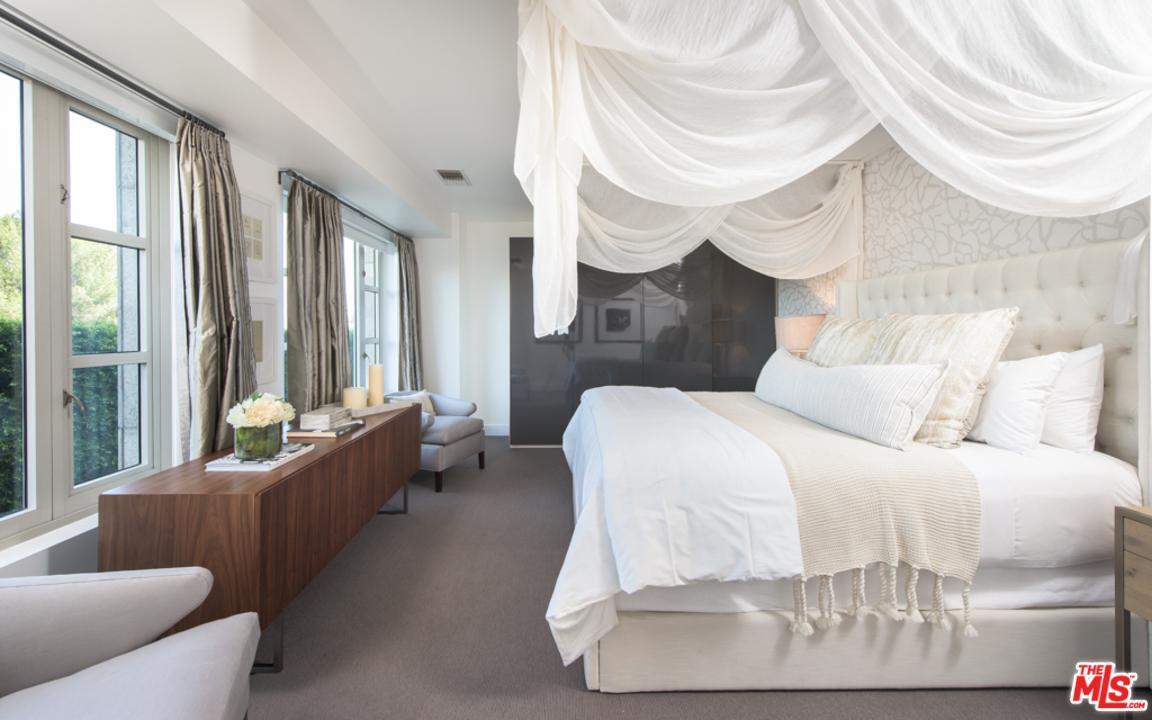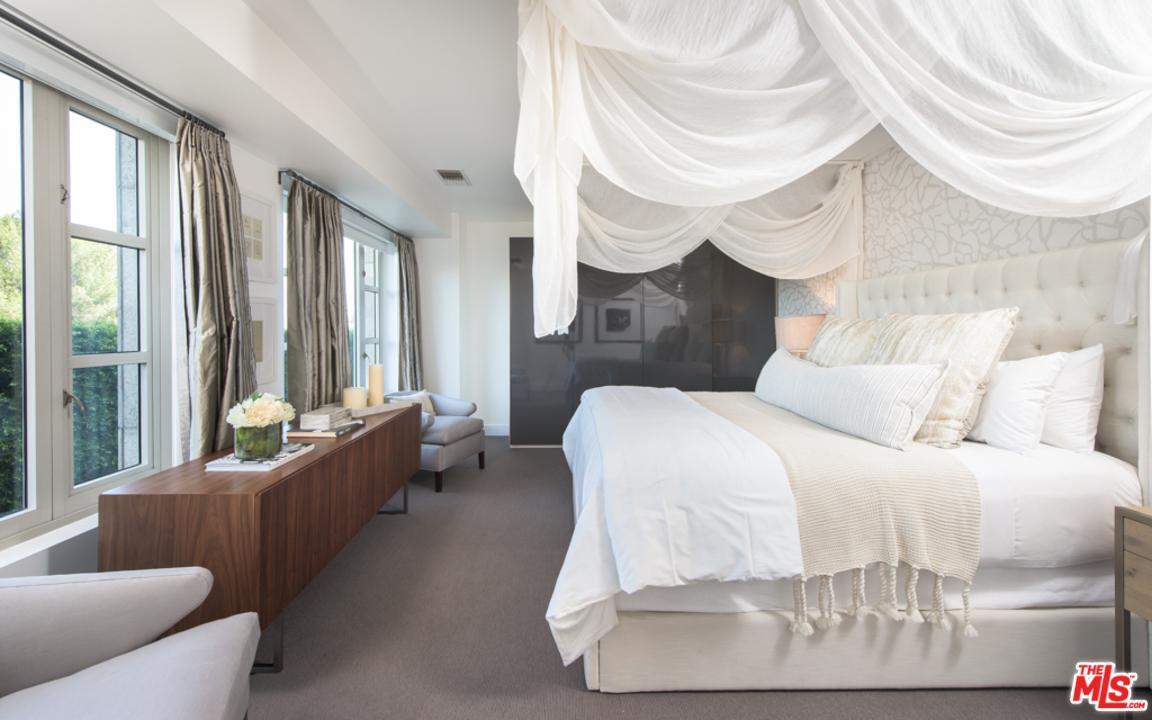 Not too shabby as starter homes go. | Trulia
Purchased for: $1.4 million
There's something likable about Kendall Jenner. She has a wildly successful modeling career, yet she doesn't feel the need to own multiple homes on the same block. How noble! Located in Westwood, Kendall's first condo was lavish, yet fairly modest — relatively speaking, of course. At about 2,000 square feet, the condo, which Jenner purchased in 2014, features all the amenities you'd expect at a luxury apartment building, like a fitness center, heated pool, and 24-hour valet.
Next: Kendall swaps her condo for some upgraded digs. 
15. Kendall's Hollywood Hills mansion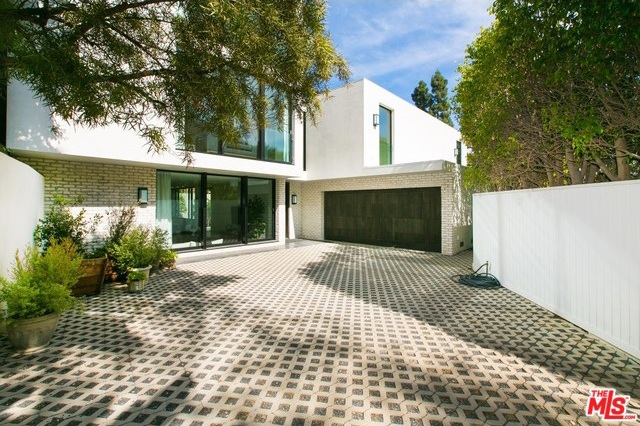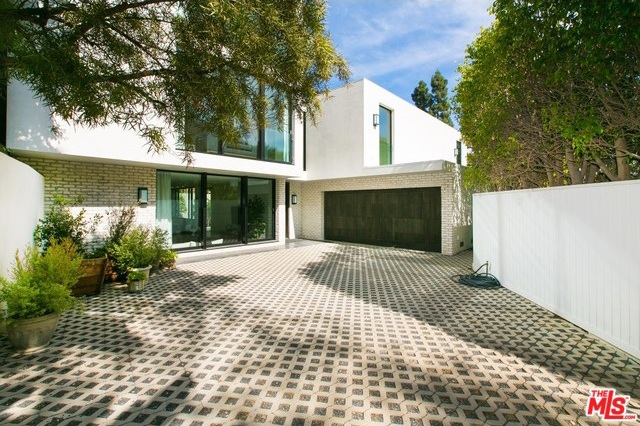 She is one of the few Kardashians to keep their properties to a minimum. | Westside Estate Agency Inc./The MLS
Purchased for: $6.5 million
The demanding schedule of a model can be grueling. And with all that globe-trotting, it's no wonder Kendall was ready to swap her city condo for a bit more privacy. In 2016, the supermodel snagged Emily Blunt and John Krasinski's former West Hollywood home for $6.5 million. With three floors, six bedrooms, five bathrooms, and plenty of trendy outdoor space, we bet the supermodel has no problem catching up on her beauty sleep at this enviable property.
Read more: The Most Expensive Celebrity Houses
Source: Read Full Article