You Won't Believe What Chip and Joanna Gaines' Kids Can't Have Until College
Fixer Upper stars Chip and Joanna Gaines share much of their life on the show and on social media. Frequent viewers of the hit TV series get to see some of what their life is like while they raise a family and run multiple businesses. But there's still a lot that goes on behind the scenes that would interest viewers and non-viewers alike, particularly when it comes to the couple's four adorable kids.
Let's take a quick look at 16 fascinating Gaines family facts, including what the kids aren't allowed to have until college (No. 6).
1. Chip thought the HGTV offer was a scam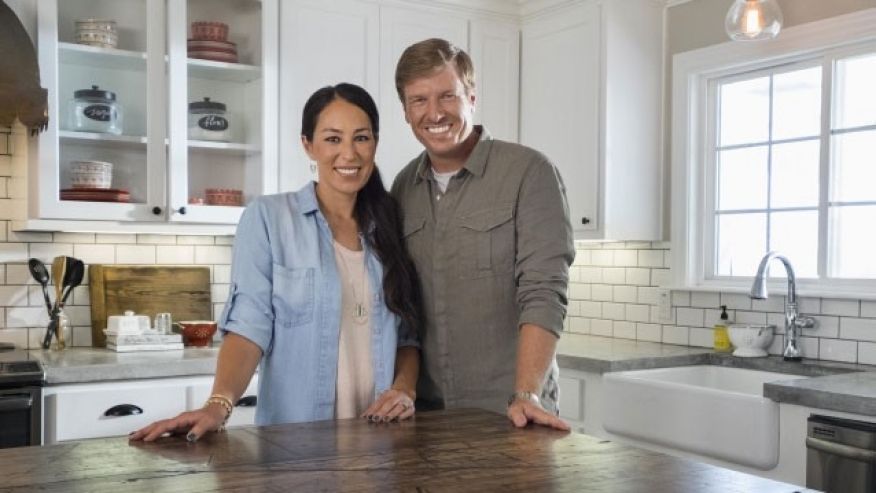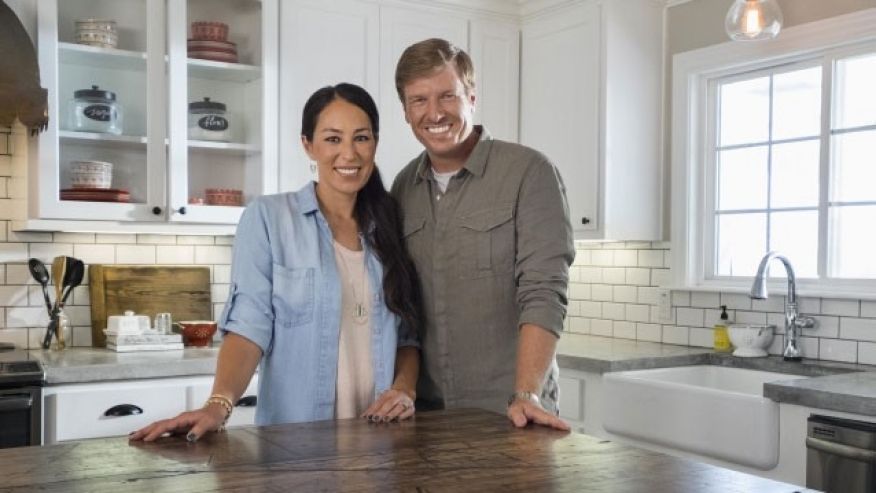 Thankfully, they gave it a shot. | HGTV
A producer at HGTV first saw Joanna's design work when she stumbled upon her blog. After seeing her potential, the producer called Joanna and expressed her interest in creating a show for the network. Interestingly, when Joanna gave Chip the news, he thought it was a hoax. But, even though her husband was skeptical, Joanna returned the HGTV producer's call, and Chip and Jo were filming Season 1 of Fixer Upper just a few months later.
2. 60 animals live on the Gaines' farm
No two days are the same with @joannagaines. #farmlife
A post shared by Chip Gaines (@chippergaines) on
Goats, horses, chickens — you name it, the Gaines' have got it. The audience can even catch glimpses of the kids caring for animals on the farm during some episodes of Fixer Upper. Whether on or off-camera, farm life is a big part of the family's day-to-day schedule. And because Chip constantly brings home new animals, the farm just keeps on growing.
3. The kids help with renovations
I've got my little helper today to help me finish up this #fixerupper… we've been working on decorating two reveal houses this week with completely different styles. One is vintage modern while the other is mediterranean modern… let's just say my design brain is ready for the weekend! #teakwood #behindthedesign
A post shared by Joanna Stevens Gaines (@joannagaines) on
The Gaines' kids often make appearances on Fixer Upper. So, you've probably seen them helping their mom with decorating or visiting Clint Harp of Harp Design Co. with their dad. Most often, they bring Joanna cupcakes the night before a home's big reveal.
4. The family lives in an old farmhouse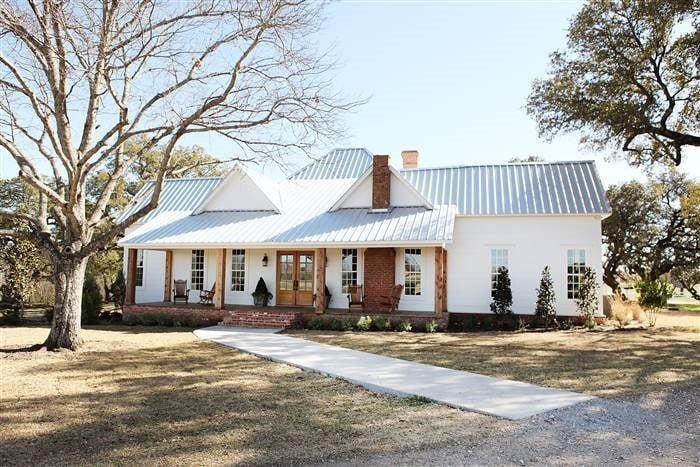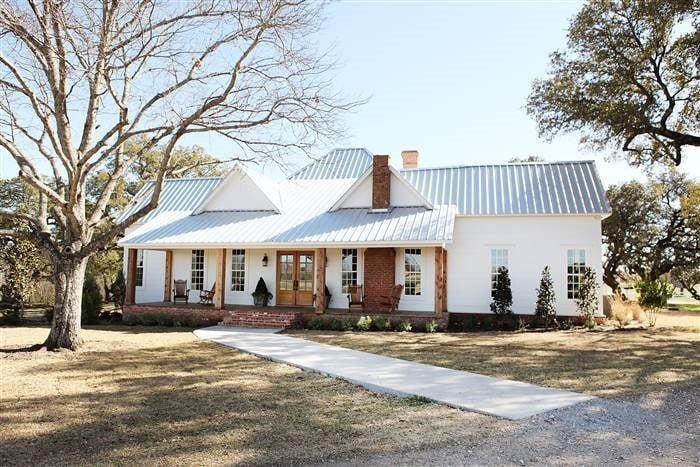 They had to fix up their own house, too. | Magnolia Market
Chip and Joanna purchased their current home in 2012 after falling in the love with the oak trees surrounding the property. It was only after they began renovating the home did they realize how old it was. "No one really knew what year the house was built, but when we started tearing off the vinyl siding on the exterior we found paperwork from 1895," Joanna said in a blog post. The family moved into the home in October 2013.
5. Ella's the intellectual one
I told her she would get a new plant every month if she keeps up with all her little cuties. We are running out of space. #futureplantladyofamerica
A post shared by Joanna Stevens Gaines (@joannagaines) on
"She's my creative one," Joanna told People magazine. In fact, Ella was the first of the Gaines' kids to go to work with Joanna. She's shown an interest in design and even helped Joanna on an episode of Fixer Upper. And according to Joanna's description in a 2016 Magnolia blog post, it's not unusual for the 9-year-old to curl up with a book in the family's library. Ella herself said, "Sometimes I don't want to go outside because I want to finish a book."
6. The kids won't have phones until college
Nothing like a good game of hide-and-go-seek in the corn fields #texasforever
A post shared by Joanna Stevens Gaines (@joannagaines) on
As Joanna told People magazine, "We keep telling our kids they don't get a phone until they go off to college." Technology is few and far between in the Gaines household. There are no video games or televisions. "I think I'm like, a quarter Amish," Chip said. "I've got some glitch in me [where] I don't like normal technological advances."
7. The kids are in most camera shots out of sight
My little work buddy. #fixerupper
A post shared by Joanna Stevens Gaines (@joannagaines) on
What you don't see when Chip and Joanna are giving viewers a rundown of a project on camera is that their kids are usually just outside of the frame sitting at their feet. Even with the busy lives their parents lead, the Gaines' kids spend as much time with their mom and dad as possible.
8. Chip and Joanna both attended Baylor but didn't meet there
@joannagaines and I hanging with Bruiser at Baylor Homecoming. Let's go Bears. #sicem
A post shared by Chip Gaines (@chippergaines) on
Chip and Joanna never crossed paths while attending college at Baylor University. The pair actually didn't meet until Chip got his brakes fixed at the car repair shop that Joanna's dad owned. "Her dad made the mistake of putting a pic of the family behind the counter at his [automotive] shop," Chip told PopSugar. "I knew I'd marry her one day just by the picture on the wall."
9. Joanna and Chip turn off business talk
It was windy up here but loved the view of downtown Waco. You see the Silos in the background?! #magnoliasilos #ALICObuilding @chippergaines
A post shared by Joanna Stevens Gaines (@joannagaines) on
"We have the weekly date nights where we try our hardest not to talk business," Joanna told PopSugar. Date night is very important to Chip and Joanna. Since they got married 12 years ago, they've had a standing date night every week. On one of those nights, they even got to meet Bono backstage at a U2 concert!
10. Drake was left home alone twice in one week
Love when I get to take the boys to work – There's always lots to learn during #DemoDay. Don't miss tonight's episode of #FixerUpper 9/8CT on HGTV.
A post shared by Chip Gaines (@chippergaines) on
When their oldest son, Drake, was six weeks old, Joanna decided to begin exercising again. She left Chip at home with Drake to go for a jog. When she returned, Chip had made her a big breakfast, mentioning that he went to the grocery store. "He was in that dang swing that just made him perfectly silent," Chip said. "I felt terrible. It had only been for a few minutes."
Later that week, Joanna was out jogging again when Chip drove off to work, leaving baby Drake home alone once again. "I didn't go for another run for the whole first year of Drake's life," Joanna told Country Living.
11. The family has dinner together as often as they can
We got all Fixed Up to wish you a Happy Thanksgiving! Lots of love from our family to yours. ❤️ (photo courtesy @Hgtv )
A post shared by Joanna Stevens Gaines (@joannagaines) on
After getting home from work at 5:30 p.m., Joanna cooks dinner for the family with help from the kids in the kitchen (her favorite room in the house). The kids are happy to help out their mom who loves to cook and bake, but Jo does have to separate the kids or else they get too rambunctious.
12. The family has a greenhouse
A bouquet of zinnias to celebrate the weekend ❤️
A post shared by Joanna Stevens Gaines (@joannagaines) on
Life on the farm means doing lots of activities you wouldn't otherwise get the opportunity to take part in. One of the those activities is growing plants in a greenhouse. Joanna and her daughters, Ella Rose and Emmie Kay, keep all sorts of plant life in their greenhouse. They've picked flowers for Valentine's Day and grown succulents for their farmhouse. The best part? The greenhouse is a hand-me-down from a client of Chip and Joanna's.
13. Duke can catch fish with his bare hands
A boy and his dog. #dukeman #rover
A post shared by Joanna Stevens Gaines (@joannagaines) on
It seems Duke inherited his dad's affinity for odd talents (Chip can climb trees). The youngest son in the family can catch fish with his bare hands. "He's our quiet, silent type," Chip told People magazine.
14. Emmie is Chip's mini-me
Emmie loves when he makes her wiggly tooth even wigglier. I love how tough she is and that she trusts her dad even though losing a tooth can be a bit scary. #toothfairyneedstoruntotheatm #thatsmilethough ❤️
A post shared by Joanna Stevens Gaines (@joannagaines) on
While Chip's other kids are concerned with wearing helmets when they ride bikes, his youngest, Emmie, is not. In Chip's words, "She's the most like me." You can find her climbing on counters, swinging from the highest swing, and playing dress up on Chip and Joanna's Instagram feeds.
15. Joanna's parents have been married for 45 years
Happy 45th Anniversary to these two! My parents met in 1969 when my dad was stationed in Korea and their story is one you hear about in the movies. All the odds were against them but they fought through and became an example of how to love, fight for, extend grace to, and honor each other amidst all their many differences. Here's to many more years! ❤️
A post shared by Joanna Stevens Gaines (@joannagaines) on
Joanna's parents met in Korea while her dad was serving in the Vietnam War. After returning home to California, Joanna's dad proposed to her mom, and the two have been married ever since. This past June, Joanna shared kind words about her parents' 45-year marriage in a sweet Instagram post.
16. The Gaines kids have many talents
Father's Day is the perfect chance for me to brag on my kids. I love that each has their own "thing"—photography, fishing, gymnastics, sports….they never stop making me laugh. I'm so proud of each of them! #FathersDay
A post shared by Chip Gaines (@chippergaines) on
One look at Chip or Joanna's Instagram feeds will tell you their children have talent. Among other things, these kids can sew (they gifted their mom a handmade quilt), garden, and paint. Chip couldn't help but dote on his kids about their interests in a Father's Day post on Instagram, captioning the photo with, "I love that each has their own 'thing' — photography, fishing, gymnastics, sports … they never stop making me laugh. I'm so proud of each of them!"
Source: Read Full Article