More than 100 die in powerful India storm
New Delhi: More than 100 people were killed and scores injured in northern India after a powerful squall and thunderstorms hit Rajasthan and Uttar Pradesh states.
Wednesday night's storm, accompanied by high-speed winds, lightning and thunder, felled trees and electricity poles, started fires and brought down roofs and temporary structures.
A dust storm envelops the city in New Delhi after a powerful rain storm swept parts of north and western India.
At least 73 deaths were reported from Uttar Pradesh, 43 of them in Agra district, Achal Srivastav, an official at the disaster control room in state capital Lucknow, said. The toll could rise with information still coming in from remote areas.
Meanwhile, at least 36 people died in Rajasthan's eastern districts of Alwar, Dholpur and Bharatpur, according to Hemant Gera of the Rajasthan government's Disaster Management Department. Agra and Bharatpur districts share a border.
Most of the deaths were caused by house collapses and uprooted trees, the officials said.
Summer dust storms accompanied by strong winds are common in northern India but the casualties are usually not so high. Officials said the high number of casualties was probably because people were asleep in their homes when the storm struck.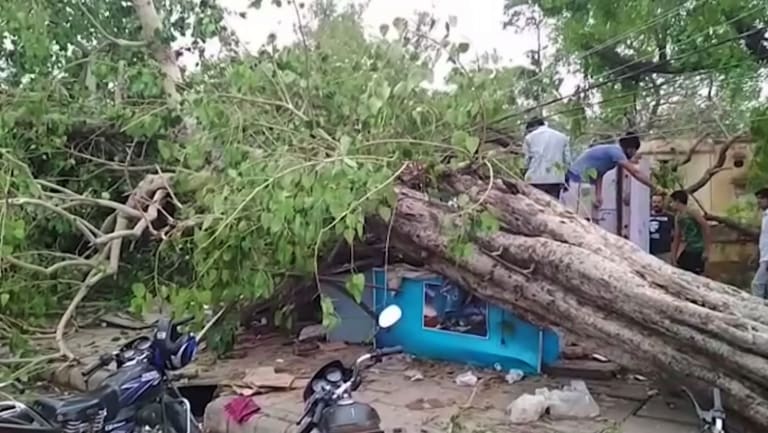 The rain storm caused damage in the western Indian state of Rajasthan.
A majority of the people affected belonged to poorer sections of the community living in semi-permanent structures where tin roofs blew off and mud walls collapsed, they said.
The governments of both states have announced a compensation fund of 400,000 rupees ($8000) for the families of the deceased.
Electricity poles were uprooted in several areas, cutting off power supplies. In many areas, fallen trees were blocking roads.
Disaster management teams were at work and relief materials were being distributed, officials said.
Further thunderstorms with gusty winds were expected over the next four days across northern, eastern and northeastern India, the Meteorological Department said.
PA
Source: Read Full Article