20 people killed in limousine accident in upstate New York, authorities say
Twenty people were killed in a limousine accident in upstate New York, police said Sunday.
Interested in New York?
The deadly crash happened Saturday afternoon in Schoharie, which is about 40 miles from Albany, and led to several people killed, according to the New York State Police. The department did not say how many died.
The National Transportation Safety Board is sending a team to investigate. It said a limousine was one of the vehicles involved in the crash.
"NTSB launching go-team today to limo crash near Albany, NY. More details to come," the agency announced on Twitter Sunday morning.
The "go-team," which is full team of investigators, is expected to arrive about noon, according to the NTSB. Chairman Robert Sumwalt and Bruce Landsberg, the agency's vice chairman, are expected to hold a briefing Sunday afternoon.
New York State Police announced the number of fatalities Sunday morning. None of the names were released pending notification of the victims' families.
The Associated Press reported that 18 of the victims were in the limo and two victims were bystanders.
The crash occurred just before 2 p.m. Saturday at the intersection of State Route 30 and State Route 30A, police said. In addition to police, the town's sheriff's office and fire and EMS teams responded to the accident, state police said.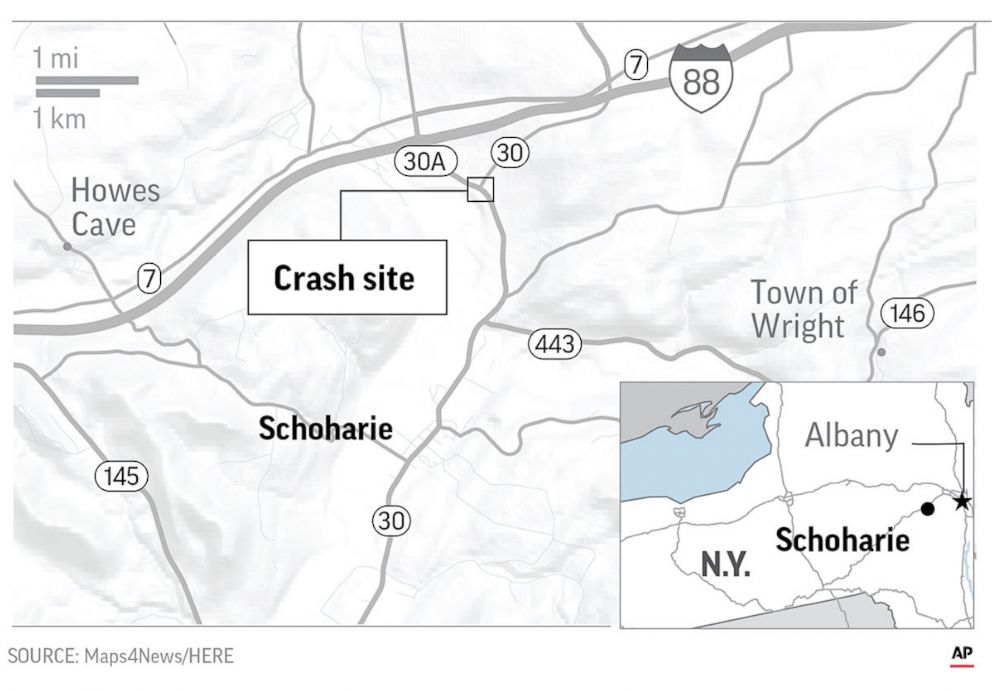 "What we can tell you at this point is that it is a two-vehicle, multi fatalities as a result of this crash," Captain Richard O'Brien of the New York State Police told ABC station WTEN Saturday. "The investigation is very preliminary. It's in its infancy stages."
O'Brien told the station that police are reconstructing the scene to figure out what led to the crash.
"We have several units here investigating the details from the New York State police, including our reconstruction unit. We have used our drone this evening and our facial identification unit as well," he said Saturday evening.
The accident led to road closures in the area that lasted several hours, police said.
There have been other deadly limousine accidents in recent years. In 2013, a limo in San Francisco caught fire and passengers were trapped without an accessible exit.
The next year in New Jersey, a limo bus carrying actor Tracy Morgan collided with a tractor-trailer; one passenger died and Morgan and another passenger were injured.
And back in 2005, a 7-year-old girl in a wedding limousine died in Long Island, New York, after a drunken driver plowed into them head-on. The limo driver was also killed in the crash.
In 2015, the NTSB, at the urging of New York Sen. Chuck Schumer, made a commitment to investigate more stretch limousine accidents on a case-by-case basis.
ABC News' Ben Stein contributed to this report.
Source: Read Full Article