6 Army bases named after Confederate leaders get dates for new names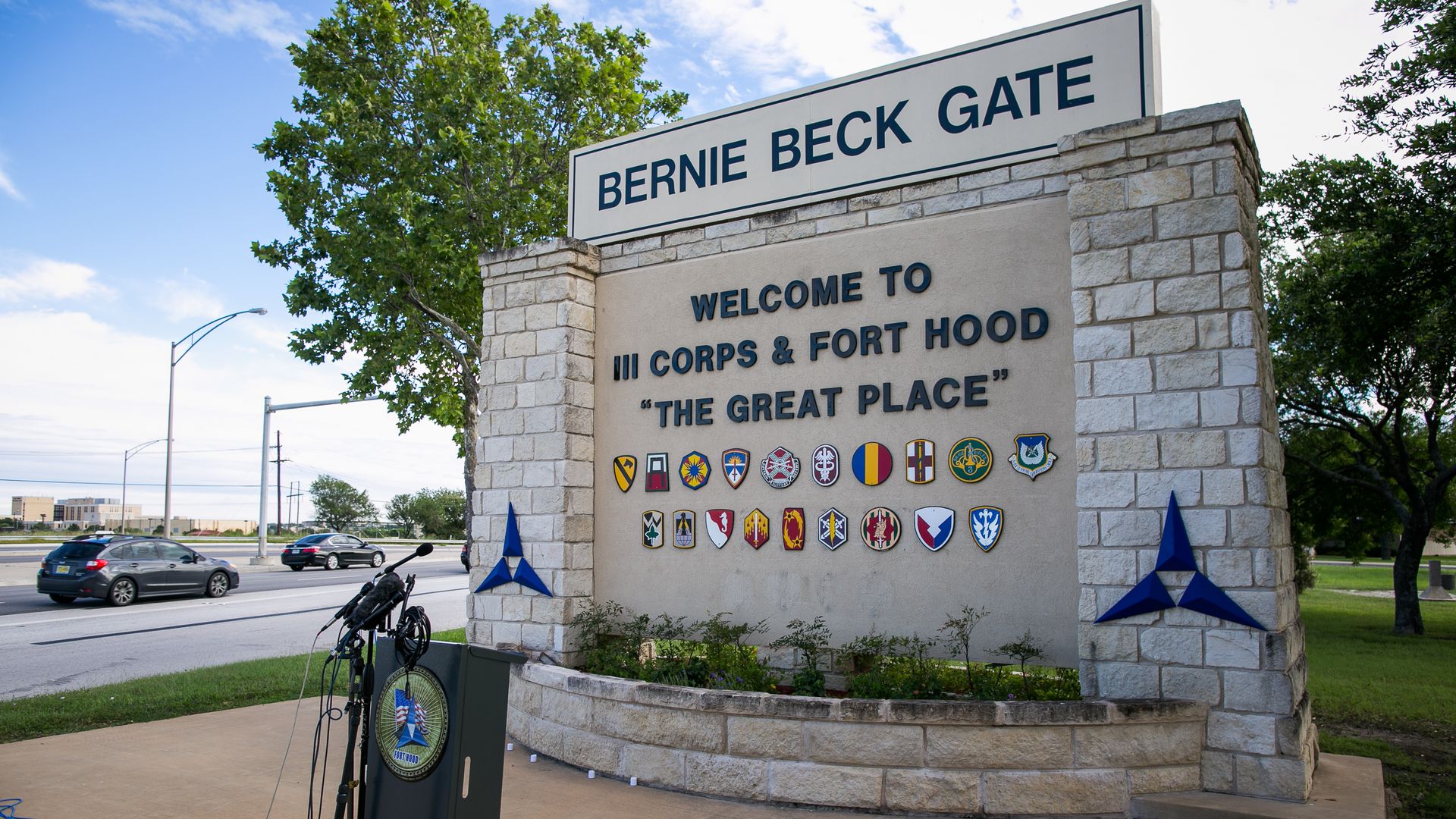 The Bernie Beck gate at Fort Hood. Photo: Drew Anthony Smith/Getty Images)
Several U.S. Army bases will officially get their new names in the coming months as the military seeks to redesignate bases that currently honor Confederate leaders.
Driving the news: Fort Hood, the major Army base in central Texas, will be redesignated as Fort Cavazos on May 9, the base announced Friday.
The new name honors Gen. Richard Cavazos, the first Latino four-star general and first Latino brigadier general. The base is currently named for John Bell Hood, a Confederate general.
Fort Pickett in Virginia was renamed Fort Barfoot on Friday.
Why it matters: The Naming Commission, which was appointed by Congress, recommended nine different Army bases for redesignation back in May 2022.
The committee proposed that nine U.S. Army bases be redesignated and remove all "names, symbols, displays, monuments and paraphernalia" that honor the Confederacy.
What's next: Fort Rucker in Alabama will be renamed Fort Novosel on April 10 as a way to honor Michael Novosel, an Army chief warrant officer who earned the Medal of Honor for his service in the Vietnam War.
Fort Lee in Virginia will be renamed Fort Walker on April 27, per local news reports. The base is honoring Dr. Mary Edwards Walker, a former prisoner of war and surgeon.
Fort Benning in Georgia will be renamed Fort Moore on May 11 to honor Hal Moore, a U.S. commander during the Vietnam War and Julia Moore, an Army Community Service advocate.
And on June 2, Fort Bragg in North Carolina will become Fort Liberty.
Yes, but: Fort Gordon, in Georgia, Fort A.P. Hill in Virginia, and Fort Polk in Louisiana do not have dates yet for their renaming, per the Military Times.
Go deeper: See the proposed new names for Army bases that honor Confederate soldiers
Source: Read Full Article