'Coming here with nothing, and nowhere to go': Biden under pressure to tackle US migrant crisis
By Farrah Tomazin
A bus carrying migrants from Texas arrives at Port Authority Bus Terminal.Credit:AFP
New York: It used to be known as the "Lullaby of Broadway" – a swanky hotel in the heart of Manhattan's theatre district, one block away from the neon lights and digital billboards of Times Square.
But three months ago, the 28-storey Row Hotel was transformed into an emergency relief centre for migrants relocated from Texas, Arizona and other states struggling to cope with a record influx of people crossing the US-Mexico border searching for a better life.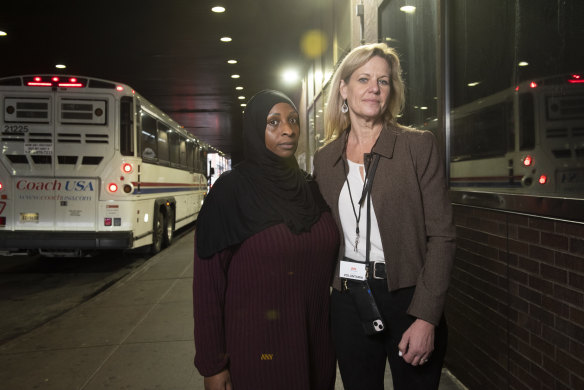 Team TLC NYC volunteer Ilze Thielmann and immigration activist Adama Bah at New York's Port Authority Bus Terminal, where they greet migrants arriving from the southern border.Credit:Alex Towle
The former $US400-a-night ($573) venue is now one of several New York hotels being used to house some of the 36,000-plus migrants who have been bused to the Big Apple since August, after making the painstaking journey from crisis-hit countries such as Venezuela, Nicaragua and Cuba.
Republican Texas Governor Greg Abbott started the contentious policy last year, saying it would give Democrat-controlled cities a taste of what border towns have had to deal with under the strain of President Joe Biden's "broken" immigration system.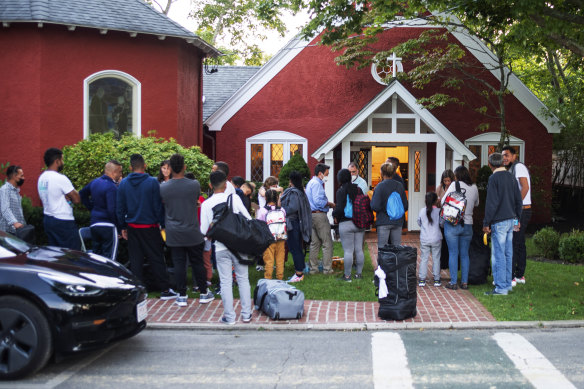 Immigrants gather with their belongings outside a church on Martha's Vineyard.Credit:AP
Since then, other governors and mayors have followed suit, orchestrating surprise drop-offs in Democrat-controlled cities such as Chicago, Martha's Vineyard and Washington DC, the nation's capital, where busloads of people regularly arrive outside the residence of Vice President Kamala Harris.
Ilze Thielmann is one of many volunteers who have been greeting the migrants since they started showing up at New York's Port Authority Bus Terminal, about two blocks away from the Row Hotel, often with little or no warning.
Many come with nothing but the clothes they are wearing, she says; some have even been separated from family members who were placed on buses that have ended up in other cities.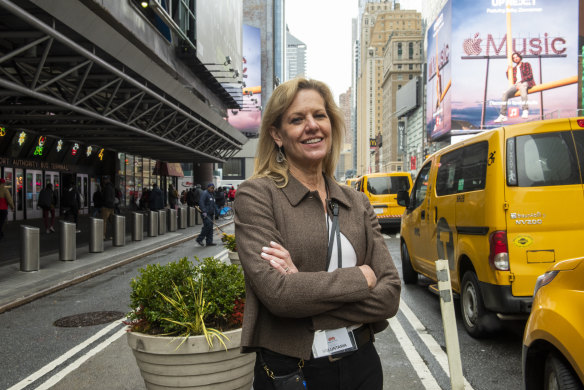 Ilze Thielman, pictured outside Manhattan's Port Authority Bus Terminal.Credit:Alex Towle
Indeed, so many people are now being transported from the border to New York that a section of this bustling terminal has been cordoned off and is manned by National Guards so that volunteers can have their own designated space to help new arrivals with food, donated clothes, and legal assistance.
"Years ago we'd get a few asylum seekers who were on their way to meet up with their family or their sponsor, so we would just help them along the way by giving them food, diapers, Advil, or a smile – whatever they needed to make their journey easier," says Thielmann, a retired lawyer with the non-profit group Team TLC NYC.
"Now we've got entire bus loads of people as opposed to one or two families. They're not on their way to see a sponsor. They're coming here with nothing, and they have nowhere to go. And the first thing they say when they get off the bus is: can you help us get a job?"
The answer, technically, is no – which underpins part of the longstanding problem with America's immigration system. While many of the migrants are hoping to apply for asylum after fleeing poverty, violence, or authoritarian rule in their own country, the process of getting through the courts to validate their asylum claim can take months, if not years.
And for much of that time, they aren't allowed to legally work (although many find "unauthorised" employment to make ends meet).
Initially, though, the migrants are sent to taxpayer-funded emergency shelters across New York and provided with social services, school support, and food as they await their day in court.
Four of the emergency shelters are Manhattan hotels – the Row, the Stewart, the Wolcott and the Watson – but the council has also rented out dozens of other smaller hotels to meet the demand, and some volunteers have even taken migrants into their homes while they resettle.
The Row Hotel in New York is one of several now used to house migrants.Credit:Farrah Tomazin
A tent city was also constructed at Randall's Island in October, but it was shut down after Biden and the Mexican government struck an agreement that required many Venezuelans trying to enter the US to apply for asylum in Mexico first.
"It's been an incredible challenge – and terrifying to be honest with you – but what has been amazing has been the outpouring of support by the people of New York City," Thielmann tells me.
"They've donated money and clothing; we have a church nearby called the Holy Apostles that delivers food every single day; and we have all these other groups doing whatever they can to help: clothing drives, fundraising, hosting Christmas parties. It's been really inspiring to see how this city has stepped up."
But even in New York, where the Statue of Liberty is a poignant reminder of America's proud tradition of welcoming foreigners, and where every person in need of housing has a unique legal right to shelter, the crisis has become untenable.
An NYC Emergency Management official during a tour of a new migrant holding centre on Randall's Island in New York.Credit:Bloomberg
For months, Mayor Eric Adams, a Democrat, has warned his city is at breaking point and has pleaded with the Biden administration to do more to control the influx at the border, where more than 2.3 million migrants were apprehended over the past year, easily surpassing the 1.7 million who arrived the year before.
In October, Adams issued a state of emergency and he recently asked his federal colleagues for $US1 billion in extra funds, after the city estimated it would spend $US596 million for one year's worth of services, based on the number of people who had arrived by mid-November. So far, he's reportedly only received $US8 million.
"It's completely unsustainable," says Muzaffar Chishti, a senior fellow at the Migration Policy Institute. "We are a nation of immigrants, but the welcoming impulse has suddenly met the reality of what it costs to resettle people."
A child sleeps on the shoulder of a woman as they prepare to board a bus to San Antonio moments after a group of migrants, many from Haiti, were released from custody upon crossing the US-Mexico border in search of asylum in Del Rio, Texas, in September.Credit:AP
There are also health and safety concerns, and a simmering resentment from parts of the community. This week, for example, Row employee Felipe Rodriguez appeared on Fox News' late-night show The Ingraham Angle sharing videos of food rotting in trash bags because "the migrants don't want to eat them". He also claimed the hotel had descended into "chaos" with some migrants drinking or using drugs, starting fights or having sex in fire-exit stair wells.
Elsewhere, at least two suicides have been reported at migrant shelters in Queens: one involving a 26-year-old from Venezuela; another a Colombian woman who came to the US last year to seek asylum with her two children.
America's border crisis is a polarising minefield that spans across successive governments and is influenced by shifting migration patterns. However, Biden has come under sustained fire for policies that critics say have made things worse, from halting construction of his predecessor Donald Trump's border wall on his first day in office, to suspending a Trump-era policy requiring some asylum-seekers to be sent back to Mexico to await immigration proceedings.
Last week, as illegal crossings continued to soar, fuelling a humanitarian crisis in Texan border communities such as El Paso, Del Rio, and McCallen, the president finally pivoted to the political centre.
In his most aggressive deterrent policy to date, Biden announced that people from Cuba, Nicaragua, Venezuela and Haiti would be denied the chance to apply for asylum if they crossed the Mexican border between official ports of entry without authorisation.
US President Joe Biden made an unannounced stop along the 18-foot border wall that separates El Paso from Juárez, Mexico, talking to Border Patrol agents as he strolled.Credit:AP
"These four countries account for most of the people now travelling into Mexico to try to start a new life by crossing the border into the United States of America" he said. "We anticipate this action is going to substantially reduce the number of people attempting to cross our south-west border."
Whether it's enough to fix such a longstanding problem is another story.
Asked what needs to be done to tackle the US border crisis, Chishti tells The Age and Sydney Morning Herald: "The first thing we must recognise in a bipartisan way is that we have a crisis."
Second, he says, the federal government should set up a reimbursement scheme for states and localities that are resettling migrants with housing, food and other services.
"Right now, Republicans want to paint this issue as a border out of control and Democrats want to paint this completely as the inhumane impulse of Republicans," he says.
"But the buck-passing has to stop at some point. This is a national crisis – a 50-state problem, which needs a 50-state solution."
Back in Manhattan's Port Authority, Thielmann says that while there will never be an easy fix, "we need to face the reality that people are desperate, and they're going across the border".
"The way we deal with that unalterable fact is to enable them to take care of themselves by enabling them to earn a living," she says. "They don't want to live in a shelter, they don't want to come and get sandwiches from me every day. They want to buy their own food and support their own families.
"We have a worker shortage in this country, and these people desperately want to work. So we should do whatever needs to be done to change the law so they can get to work sooner."
Get a note directly from our foreign correspondents on what's making headlines around the world. Sign up for the weekly What in the World newsletter here.
Most Viewed in World
Source: Read Full Article