'Our government is cheating the citizens': Malaysians vote
Kuala Lumpur: Alex Lum points to the ink stain on his left index finger and offers a wry smile.
"I'm going to try and wash it off. Last time it came off immediately, with a bit of shampoo."
He's talking about the supposedly indelible ink designed to ensure that no Malaysian can vote twice these parliamentary elections, the country's 14th.
Alex Lum, left, and KC Yum holding up their inked fingers after voting in Selangor, Malaysia.
Five years ago, in 2013, there were widespread reports of the ink coming off within an hour – and widespread vote rorting as a result.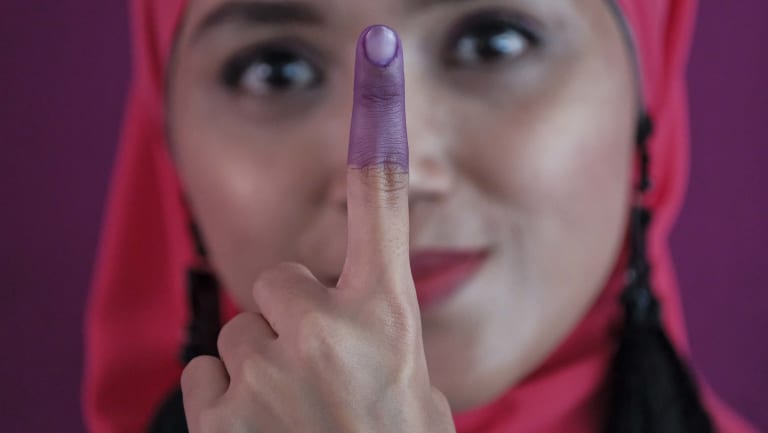 A Malaysian woman shows her inked finger after casting her ballot during the voting day of general elections on Wednesday.
As Malaysians headed to the polls on Wednesday – in what is shaping up as a possible cliffhanger election, with the result too close to call – millions of people were hoping for change.
But the odds were stacked against them.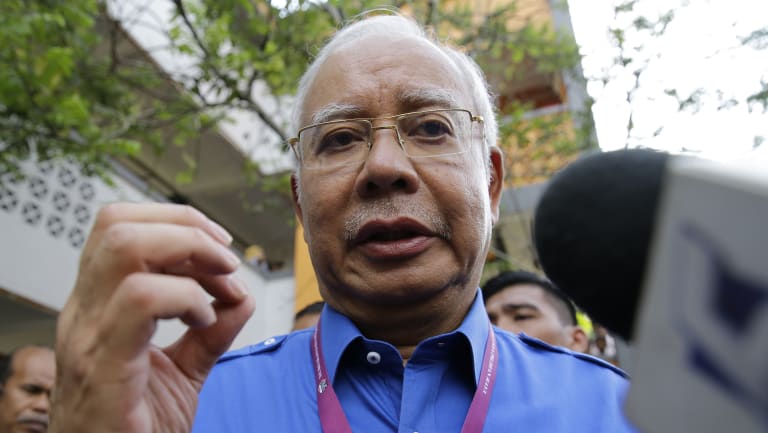 Malaysian Prime Minister Najib Razak talks to reporters after voting.
The ruling Barisan Nasional (National Coalition), led by Prime Minister Najib Razak, is desperate to extend its 61-year rule, which dates back to independence from Britain in 1957.
A dodgy electoral re-distribution which has increased already-gerrymandered electorates, new "fake news" laws designed to shut down discussion of Najib's involvement in the 1MDB sovereign wealth fund scandal and friendly mainstream media are among the factors that could ensure the governing coalition hangs on to power.
Dirty tricks are a regular feature of Malaysian elections. Indeed, on Wednesday, both the government and main opposition party complained of receiving non-stop spam phone calls designed to disrupt their ability to communicate with party organisers.
Overseas Malaysians, including many from the 160,000-strong diaspora in Australia, flooded back to the country of their birth to vote. Facebook groups were set up to coordinate the hand-delivery of precious postal votes by returning expats which may otherwise not have made it back in time.
Former Malaysian strongman Mahathir Mohamad shows his finger after voting on Wednesday.
Lum and Yum are hoping that Pakatan Haripan, led by the 92-year-old former prime minister Mahathir Mohamad – who has defected to the opposition and predicted a "Malay tsunami" will sweep the opposition to power – can make history.
Mahathir, a former mentor to Najib, shocked Malaysians by coming out of retirement and teaming up with Anwar Ibrahim – who served as his deputy prime minister in the 1990s, before the pair fell out spectacularly and Anwar was jailed on trumped-up sodomy charges.
Now, Mahathir has promised to stand aside for Anwar (who is serving the final days of a second stint in prison on trumped-up sodomy charges) to become prime minister if the opposition wins.
But polling from the respected Merdeka Centre indicates that at best, the result is too close to call.
In results published on election eve, Merdeka suggested Barisan Nasional would win 100 seats, Pakatan Harapan 83 seats, Islamic party PAS – which leans towards the government and has created a series of three-cornered contests – would win two seats, and 37 were too close to call.
The number required for a majority in the 222-member parliament is 112 and, on balance, analysts suggest Barisan Nasional's return is the most likely outcome.
The opposition, for its part, is hoping to claim 100 of the 166 seats in play in Peninsular Malaysian, and then sneak over the line if the opposition in the eastern states of Sabah and Sarawak can claim enough of the 56 seats up for grabs.
Across town from Pandan Indah, in the government-held seat of Titiwangsa, Barisan Nasional voter Jamil bin Abdul Manap says he wants Najib returned to power.
His reasons?
"The current government is ok. I am hopeful the government is returned because of their management of the economy and for national unity, Jamil says, proudly displaying the his inked finger.
On the ground in Titiwangsa, Barisan Nasional's superior resources are obvious everywhere. The polling station is blanketed in pro-government banners, people are handed free water and badges after they vote and, Jamil says, he only had to wait 15 minutes to vote.
Polls were due to close at 7pm AEST on Wednesday, and a result was expected later into the evening.
If the opposition manages what was almost unthinkable a decade ago and claims government on Wednesday, Malaysians will then await the answer to the next question.
After 61 years, will Najib and Barisan Nasional actual let go of power if they lose?
Source: Read Full Article