Gunman on run after killing four at Tennessee restaurant
Police are looking for a man who they said opened fire at a Waffle House restaurant near Nashville early on Sunday morning, killing four and injuring several.
The man arrived at the restaurant just before 3:30am and shot two people outside with a rifle, killing them, Metro Nashville Police Department spokesman Don Aaron told reporters. The man then went inside and fired several more shots, killing a third person, Aaron said.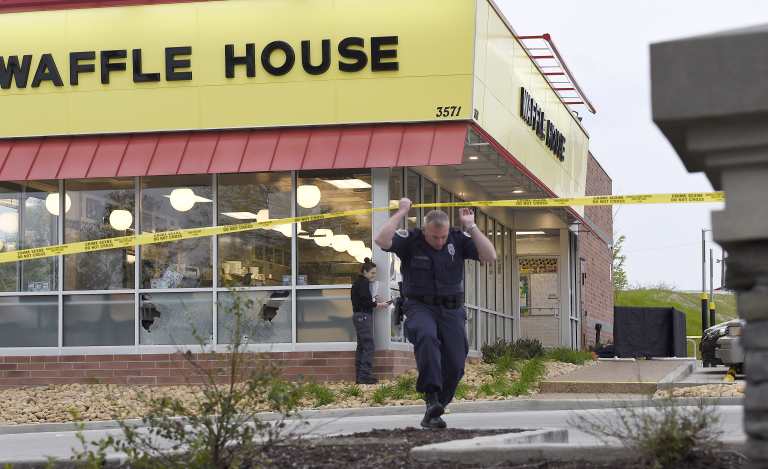 Law enforcement officials work at the scene of the fatal shooting.
Police later identified the suspect as 29-year-old Travis Reinking.
At one point, Aaron said, a customer saw the gunman struggling with the rifle and wrestled the weapon away from the suspect and tossed it across the counter. The shooter ran away, taking off a green jacket a short distance from the restaurant and apparently walking nude in the area.
Police said that a man believed to be Reinking was last seen in a wooded area near an apartment complex less than 2km from the Waffle House. He was seen wearing black pants and had no shirt on.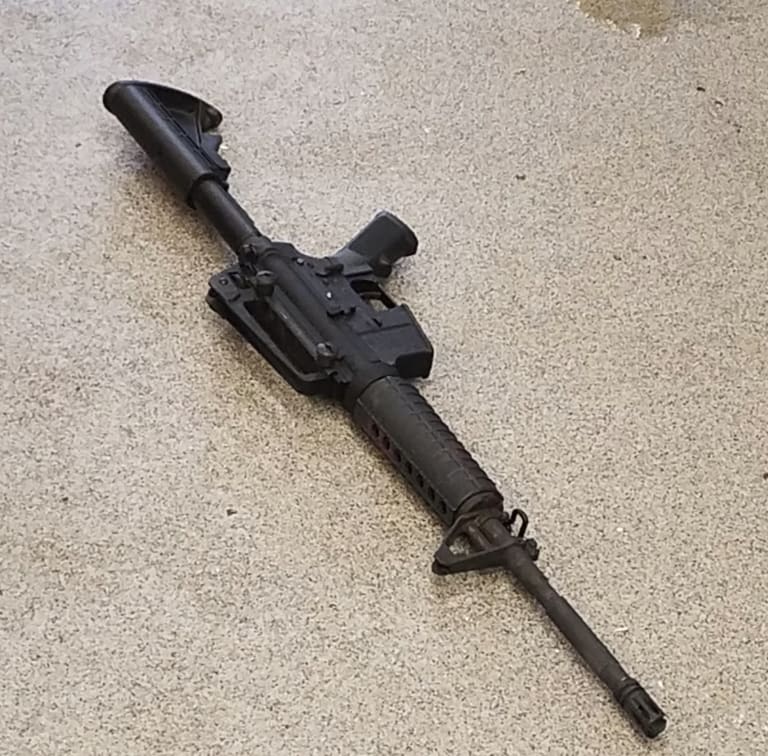 The rifle used in the deadly shooting.
A total of six people were shot, Aaron said. One of them – the fourth fatality – later died at Vanderbilt University Medical Center. Two others remain in critical condition at the medical center, hospital spokeswoman Jennifer Wetzel said.
Southern Hills Medical Center treated two other people associated with the shooting for minor injuries, and they have been released. Hospital spokeswoman Katie Radel said she can't say how the two were injured.
Police initially identified Reinking, of Morton, Illinois, as a person of interest, but Aaron told reporters that witnesses' description of the gunman matched Reinking's picture.
"No warrants have been issued, but I think it's safe to say that person of interest and suspect in this matter is synonymous," he said.
Police have not detailed a motive for the shooting.
Witness Chuck Cordero told the Tennessean that the gunman arrived and immediately began shooting.
"He did not say anything," Cordero said. "He pulled up, got out of his car and was all business."
The 50-year-old said the man who wrestled the rifle from the shooter saved lives.
"Had that guy had a chance to reload his weapon, there was plenty more people in that restaurant."
Nashville Mayor David Briley said in a tweet on Sunday that it was a tragic day for the city "anytime people lose their lives at the hands of a gunman."
"My heart goes out to the families & friends of every person who was killed or wounded in this morning's shooting. I know all of their lives will be forever changed by this devastating crime," he said.
The Washington Post
Source: Read Full Article