Ivanka Trump's new Chinese trademarks raise questions
Beijing: China this month awarded Ivanka Trump seven new trademarks across a broad collection of businesses, including books, housewares and cushions.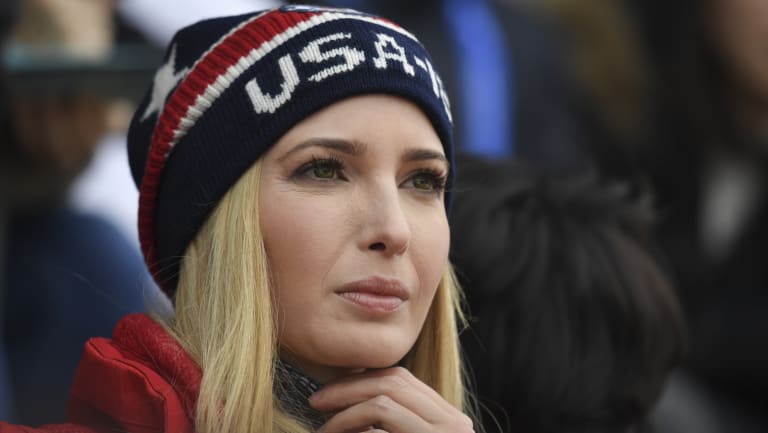 Ivanka Trump, daughter of U.S President Donald Trump, watches the men's Big Air snowboard competition at the 2018 Winter Olympics in Pyeongchang, South Korea.
At around the same time, US President Donald Trump vowed to find a way to prevent a major Chinese telecommunications company, ZTE, from going bust, even though the company has a history of violating American limits on doing business with countries like Iran and North Korea.
Coincidence? Well, probably.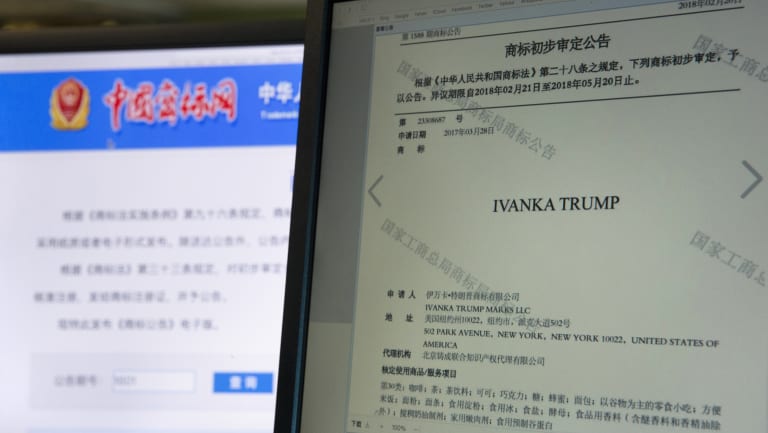 A computer screen on Monday displays an announcement on the Chinese Trademark Office website approving of the Ivanka Trump trademark to be used in wide variety of products from beverages to instant noodles and spices.
Still, the timing is raising questions about the Trump family's businesses and its patriarch's status as commander-in-chief of the United States. Even as Trump contends with Beijing on issues like security and trade, his family and the company that bears his name are trying to make money off their brand in China's promising market.
In total, China has approved 13 Ivanka Trump trademarks in the last three months and granted provisional approval for eight more, the Associated Press reports.
This month's slew of approvals appear to have been granted along the same timeline as Ivanka's previous requests, experts said. But more broadly, they said, Ivanka's growing trademark portfolio in China and the family's business interests there raises questions about whether Chinese officials are giving the Trump family extra consideration that they otherwise might not get.
Famous company: Donald Trump and Chinese President Xi Jinping, with their wives, first lady Melania Trump and Chinese first lady Peng Liyuan, Ivanka Trump, and her husband, White House senior adviser Jared Kushner, left, at dinner at Mar-a-Lago, last year.
These critics say the foreign governments that do business with Ivanka Trumpthey are dealing with the President's daughter — a person who also works in the White House.
"Some countries will no doubt see this as a way to curry favour with President Trump," wrote Fred Wertheimer, president of Democracy 21, and Norman Eisen, chairman of Citizens for Responsibility and Ethics in Washington, two non-profit watchdog groups.
Eisen's group reported on the trademarks on Saturday.
"Other countries may see the business requests made by his daughter's company as requests they cannot refuse," they said.
Taking her father's seat at the G20 meeting in Hamburg last year, Ivanka Trump, seated between Xi Jinping and Britain's Theresa May.
Ivanka's representatives have said that there is nothing improper about Trump's trademarks and that they prevent individuals from profiting off her name.
Abigail Klem, president of the Ivanka Trump brand, said in a statement on Monday that the brand's protection of trademarks was "in the normal course of business," especially in countries where trademark infringement was rampant.
"We have recently seen a surge in trademark filings by unrelated third parties trying to capitalise on the name," Klem said, "and it is our responsibility to diligently protect our trademark."
Chinese trademark officials didn't respond to a request for comment on Monday.
In total, Ivanka Trump has 34 trademarks in China.
The President said in a surprise announcement on May 13 that he was working with Chinese President Xi Jinping to save jobs at the Chinese telecommunications company, ZTE. The company was left paralysed after American officials forbade American companies from selling their chips, software and other goods to ZTE for violating trade controls. Trump's announcement was widely seen as a potential peace offering to Beijing as the United States and China threatened each other with tariffs on hundreds of billions of dollars worth of trade.
Just before and after that announcement, Ivanka won some long-sought trademarks.
Six days before the announcement, China approved five of Ivanka's trademarks, according to data from China's trademark office. Then, on May 21, China awarded Ivanka two more trademarks in snacks, spices and bleaching preparations.
Experts said the timing appeared to be a coincidence, given how quickly Ivanka won her previous trademark requests, though they differed on whether she appeared to receive special treatment.
Trump applied for six of the trademarks in March 2017. She applied for the seventh even earlier, in May 2016. China's trademark office usually takes up to 18 months to approve trademarks, said Charles Feng, head of the intellectual property division at the law firm East & Concord Partners.
"From application to registration, this is very fast," he said.
Laura Young, a trademark lawyer at Wang & Wang, said she did not see anything unusual about the timing. She pointed out that under Chinese law, the trademark office should complete its examination of a filing within nine months, and that some of her clients get decisions within a year.
Still, Ivanka's fame is likely to have helped her with the trademark approval process, according to Young. The first daughter has a large following in China, where she is lauded by many for her appearance and wealth. Her daughter, Arabella, has been seen by millions in a video where she signs in Chinese.
"When a person is famous, and the examiners say: 'Oh, I've heard of this person,' it can be decided more quickly than if the examiner is not sure and has to consult others or go to a committee," Young said.
New York Times
Source: Read Full Article