Nun facing extradition 'gentle and respectful of authority'
Australian nun Sister Patricia Fox was first detained for a day last week in the Philippines after President Rodrigo Duterte ordered her investigation for ''disorderly conduct''.
Now the 71-year-old is facing extradition within 30 days after the immigration bureau revoked her missionary visa on Monday for joining protest rallies.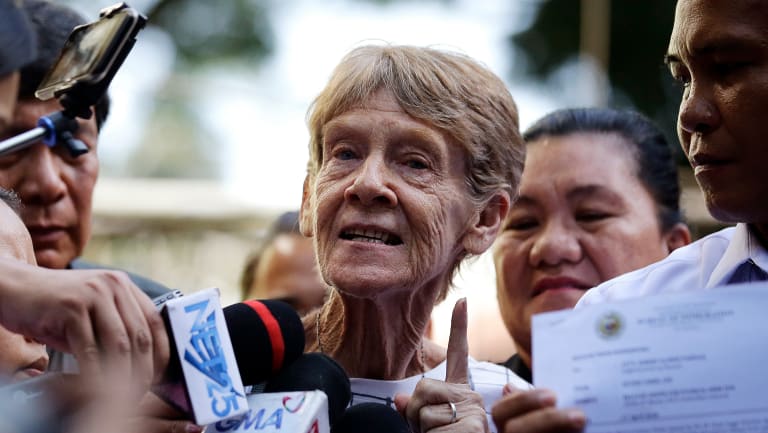 Australian missionary Sister Patricia Fox gestures as she is interviewed by reporters after she was released from custody at the Bureau of Immigration in Manila, Philippines.
But Sister Fox is not known for disorderly conduct among the other nuns at Our Lady of Sion in Melbourne. Sister Joan Mack who has known Sister Pat since primary school described her as ''happy go lucky'', gentle and good at tennis.
"Her work is her whole life. She has been there for a very long time and the people just love her," she said.
"Anyone can come to her with any of their worries and she will sit and listen. Patricia comes home to Melbourne each year. She tells us about the suffering, she's a very empathetic sort of person. Pat understands that poverty is a terrible thing.
"I can never understand how anyone would think she would be disorderly. Patricia wouldn't say anything against authority. She would certainly be very respectful of authority I would say as the person that I know."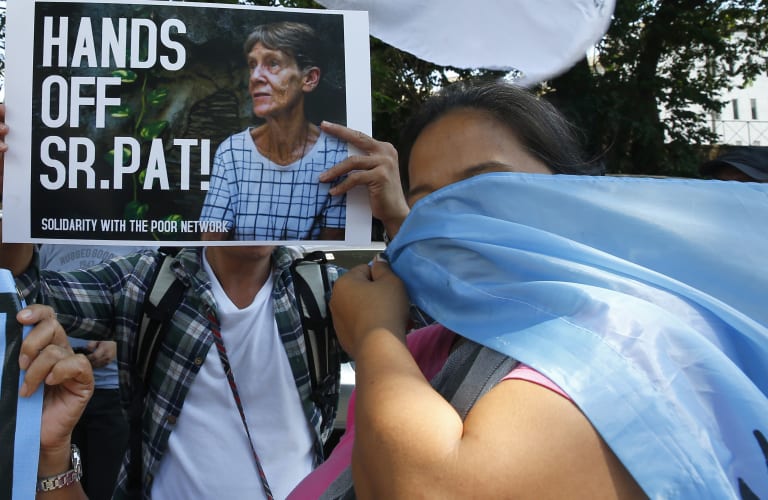 Supporters of Australian Roman Catholic nun Sister Patricia Fox.
She said Sister Fox, who plans to appeal the decision, would be devastated if she has to leave the Philippines.
"Over the years we knew something was going to happen," Sister Mack said. "She is a person with kindness and gentleness and courage and convictions. She really wants to do something to help these people. We are all very sad for her.
"I only have to go up the street, people know that I am a Sister of Sion, I was out this morning and three people said to me that they were praying for her."
Sister Fox attended Our Lady of Sion College in Box Hill. It encourages its young women to be concerned always for justice, truth, reconciliation and peace. Its mission statement even calls on them ''to actively seek to transform the world''.
That's what Sister Fox was doing when immigration came knocking. She was working with the Rural Missionaries of the Philippines living and working with the peasants in their struggle for agrarian reform. The work involves assisting organisations of farmers, agricultural workers, rural women, fisher folk and indigenous peoples as effective forces to work for their rights.
But President Duterte doesn't see it that way. He said in a speech to soldiers last week that he had ordered immigration to look into Sister Fox's political activities in the country.
"It's a violation of sovereignty," he said. "You do not have the right to criticise us. Do not insult my country."
Sister Mary Barbuto, Australian region co-leader of Our Lady of Sion, said her concern was for Sister Fox's wellbeing. "My concern is that the outcome will be good for all parties concerned – for Pat as well as the people she works with. Ultimately it is going to be the farmers and the fisher folk who will suffer, I think, more."
Sister Fox's brother, Kevin Fox, said he hoped the situation would turn out well in the end. He said: "She will be very sad, she does love the people of the Philippines."
Source: Read Full Article