Pasquale Lanciana jailed for 14 years over 1994 Armaguard hold-up
The mastermind of one of Melbourne's most notorious armed robberies, where bandits dressed as road workers hijacked an Armaguard van and stole $2.32 million, has been jailed for 14 years.
In May a County Court jury found Pasquale Lanciana guilty of armed robbery and other charges, after the five-member fake road gang stopped the van on June 22, 1994, handcuffed the three guards at gunpoint and drove them and the van through the side streets of Richmond.
Pasquale Lanciana, pictured outside the County Court earlier this year, has been jailed for 14 years.Credit:Justin McManus
After removing crates of cash, the gang left the guards handcuffed and blindfolded in the van. The Armaguard officers had that morning picked up money from the Reserve Bank in Melbourne and were driving to a depot when a gang member holding a Stop/Slow sign halted the van before it was to enter what is now the Monash Freeway.
Another gang member activated a concrete-cutting saw to distract the Armaguard driver, while two others opened the van's doors. One told the guards: "Don't f—ing move, this is a robbery. Just do as you're told and no one will get hurt."
A fifth gang member drove a vehicle behind the van to conceal the heist from other motorists.
Lanciana, 64, sat unmoved on Friday as Judge Michael O'Connell ordered a 10-year non-parole period in prison. The father of four, a former professional kickboxer and boxing trainer, is the only man ever charged in connection to the heist.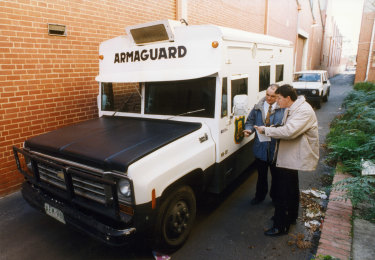 Police examine the Armaguard van after it was abandoned in the armed robbery in 1994.Credit:John Woudstra
Lanciana avoided suspicion for two decades but was investigated from 2014, and that year an associate – known as Witness O – recorded him saying: "I didn't do the robbery. I just organised it. I didn't do it."
That evidence was crucial at trial, where Lanciana was found guilty of armed robbery, false imprisonment and seven counts on money laundering. Under Lanciana's direction, Witness O swapped stolen banknotes for "clean" ones at banks in the months after the hold-up.
Lanciana also paid $400,000 cash for a Williamstown property in a deal arranged by solicitor John Anile, who was jailed last year. The jury in Lanciana's first trial, in 2019, failed to reach a verdict.
Judge O'Connell said the second jury's verdict showed it was satisfied of Lanciana's involvement, and the judge on Friday found that role was significant based on the amount of money laundered in the property deal, the remarks to Witness O and because all five gang members played important parts.
Pasquale Lanciana at the time of his arrest in 2016.Credit:Jason South
The trial failed to determine the specific roles of the gang members, how they obtained the key that opened the van doors and what they did with the loot, but Judge O'Connell said the crime was extremely serious given the sophisticated planning and military-style execution, its brazenness, the amount stolen and the impact on the victims.
Judge O'Connell said the circumstances of the heist might have "lent itself to a Hollywood film", the impact on guards Michael West, Robert Brewer and John Johnston was immense. The trio endured trauma for years afterwards and were regarded with suspicion by colleagues over an assumption they were involved.
"This offence had a marked effect on these men and those close to them," the judge said. The guards have all since died.
Mr Johnston told police at the time: "I feared for my life and I did as I was told. No person had permission to treat me in this manner."
Mr West's son, Craig, recalled at a hearing last month being eight years old when he began witnessing changes in his father, who became hyper-vigilant, paranoid and plagued by nightmares.
"My dad, being a big and strong fella, my all-time superhero, would wake up from night terrors screaming at the top of his lungs, sweating and crying uncontrollably, running and hiding behind furniture saying, 'Don't shoot, don't shoot'," Craig West wrote in an impact statement.
A family member of another guard wrote: "It changed him and it ruined our family."
Lanciana has past convictions for assault, cannabis trafficking and theft, and was once considered a suspect in the 1984 murder of his first wife, Maryanna, the court heard. That crime remains unsolved.
But character references said he was a dedicated and generous man who used to care for his elderly mother and now mentored and trained young inmates. The judge acknowledged he had been diagnosed with post-traumatic stress disorder and depression and there was a long period between being under investigation to his sentence.
Lanciana has already served almost three years prison, either on remand or awaiting sentence.
The Morning Edition newsletter is our guide to the day's most important and interesting stories, analysis and insights. Sign up here.
Most Viewed in National
From our partners
Source: Read Full Article