Suspected birth tourism site reportedly at center of New York City stabbing spree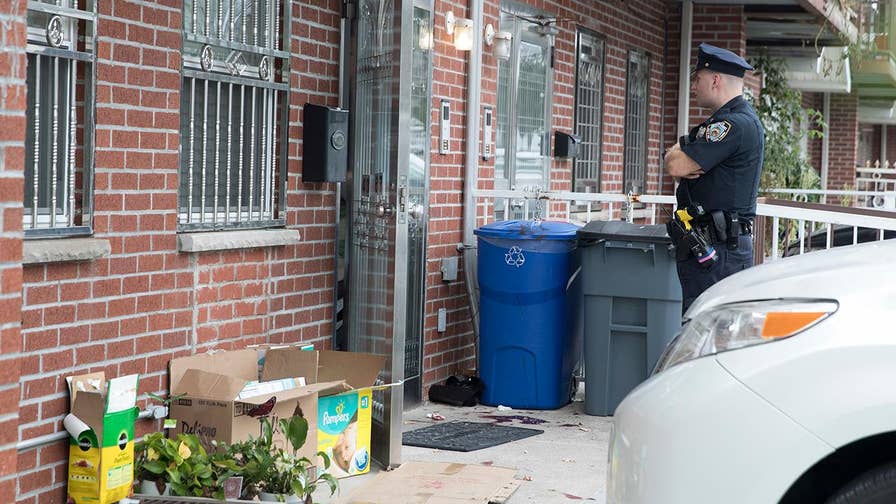 Woman charged with stabbing at Queens 'maternity hotel'
New York State Office of Children and Family Services investigating facility as a possible illegal operation after 52-year-old woman arrested for stabbing rampage that left three infants and two adults in critical but stable condition.
The illegal day care facility where two adults and three babies were injured in a stabbing rampage last week is reportedly suspected to be a "birth tourism" site for Asian women.
The New York City residence where Yu Fen Wang, 52, allegedly went on the stabbing spree — before police found her in the basement with a slit wrist — was housing nine babies at the time of the attack, police said.
But the mystery about why there were multiple infants at the Queens home at 3:30 a.m. has only grown since news of the assault broke.
A police officer stands guard at a house where five people were stabbed.
(AP)
According to multiple reports, the building was being used to house pregnant Asian women who sought to travel to the U.S. on tourist visas so their babies could be born and gain U.S. citizenship.
Sheng Long Peng, 70, told The New York Times on Friday he often saw the homeowner with groups of pregnant woman. Elizabeth Lee, 51, told the newspaper she saw women with suitcases arrive at the building in the Flushing neighborhood at least twice per week.
"We think it had something to do with immigration and citizenship," a law enforcement source told The New York Times. "It had something to do with their desire to have the kids as American citizens and it would eventually help the parents."
The facility offered month-long intensive mother-baby care called "zuo yue zi," which roughly translates to "sitting the month," according to the New York Post. A community source told the newspaper most of the women come from China.
"Ninety percent of them in these centers come from China," the community source told the New York Post, adding the women were recovering after giving birth in New York. "They don't advertise. It's word of mouth."
The scene where five people were stabbed in New York City.
(AP)
The Queens building was charging women $4,600 to stay for a month, plus baby supplies, according to the New York Post. An investigator said birth tourism sites had mostly been located in Los Angeles until about 2016.
In 2015, federal officials busted 37 California locations that were offering similar accommodations. At that time, Chinese nationals paid up to $80,000 for the sole purpose of giving birth in the U.S. to obtain citizenship for their children.
An estimated 40,000 babies were born to couples posing as tourists each year, according to Fox News reporting from 2015. The U.S. is one of the few countries in the world that automatically grants citizenship to any child born in its borders, regardless of the parents' nationality. Lying to obtain a visa to enter the U.S. under false pretense is illegal.
Investigators weren't aware the Queens home was suspected of being a birth tourism site, a law enforcement official told The New York Times.
Yu was charged with five counts of attempted murder. A meat cleaver and butcher knife were found on the scene at the time of her arrest.
Ryan Gaydos is an editor for Fox News. Follow him on Twitter @RyanGaydos.
Source: Read Full Article