Trump dodged the real heroes, but may yet come unstuck
Sometimes, you don't get the hero you want. You get the hero you deserve.
Special counsel Robert Mueller.
Daniels has been at the heart of one of the most persistent scandals of the Trump administration. Trump lawyer Michael Cohen arranged to pay her $130,000 for her silence about an alleged sexual encounter between Donald Trump and Daniels that occurred just a few months after Melania Trump gave birth to their son. The danger to Trump is not the scandal itself – none of his bad acts have damaged him with his base – but that the payment likely violates US federal election law.
After the Stormy Daniels story broke in January, it seemed likely to quickly disappear. After all, Trump has a long and public history of infidelity, and given how little the allegations of sexual assault and harassment damaged him, new allegations of a consensual affair seemed to carry little risk.
But the Daniels affair has had some staying power, in no small part thanks to her savvy – even Trumpian – approach to media. She moves effortlessly across various media platforms, from Twitter to television news and entertainment shows.
Stormy Daniels during an appearance on "Saturday Night Live".
Crass and unfiltered on social media, she shifts into serious mode for news interviews, carefully detailing her interactions with the President and his associates. And just this weekend she popped up on Saturday Night Live, the show Trump tends to hate-watch, then bash on Twitter. She used the platform not just to make a splash but to directly challenge the President, suggesting he resign from office.
Yet unlike Trump, Daniels has yet to be caught in a lie. Her story never shifts. She comes across as a person with nothing to hide – an image reinforced by the fact that googling her name with the safe-search feature turned off reveals that she really has nothing to hide.
And unlike Trump, she managed to hire a capable attorney to represent her claims. Michael Avenatti, slick and media-hungry, may come off as an ambulance chaser, but his appearances keep Daniels in the news and have yet to do anything to harm her case. That sort of competence stands in sharp contrast to Trump's rotating cast of lawyers, each more ham-fisted and bumbling than the last.
The other looming threat to the Trump administration is James Comey, the FBI director fired for refusing to publicly clear the President from involvement in Russian election interference. Comey comes off as careful and composed, a serious man for serious times. His famous memos are the sort of documents you'd expect from a man who cares deeply about facts, detailing every aspect of his interactions with first candidate and then President Trump. He regularly invokes Reinhold Neibuhr, his favourite theologian (it's safe to say Trump does not have a favourite theologian), and presents himself as devoted protector of the law.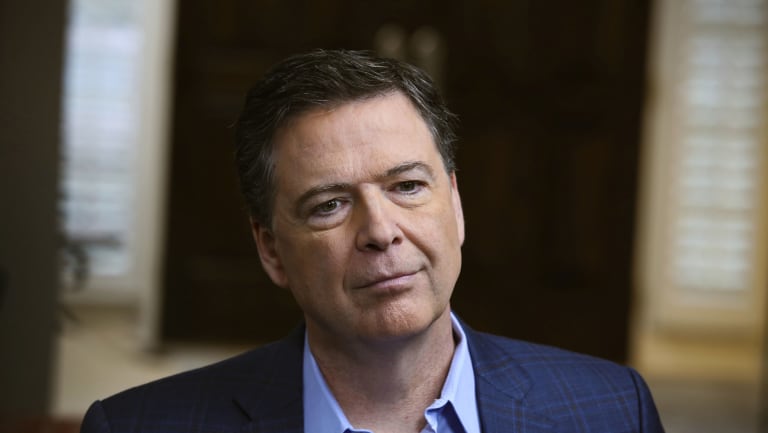 Former FBI director James Comey.
But take a step back, and Comey's Trumpian features emerge. He is a man keenly invested in protecting and manipulating his public image, even at the cost of his professed goals. Though he has repeatedly declared himself apolitical, he inserted himself into the 2016 election on multiple occasions, violating FBI guidelines to do so. Rather than wait for the Mueller investigation to conclude, he rushed to publish his memoir, a book so full of ponderous and self-important descriptions that the Washington Post's in-house satirist immediately penned a piece mocking it.
It is no doubt true that Comey hopes to advance many serious and important things, but it is likewise clear that first and foremost, he wishes to advance himself. There is nothing more Trumpian than that.
Still, there is something poetic about the tag-team of Daniels and Comey. They differ from Trump in crucially important ways, but they thrive in the same conditions that brought him into power: a hunger for the spotlight, a talent for manipulating the press, a commitment to self-advancement. That they are the two figures at the heart of the Mueller investigation, the pair that seem to pose the greatest risk to Trump, is exactly as it should be.
The American people had an opportunity for better heroes. We were sent Khizr and Ghazala Khan, a father and mother who lost their son in the Iraq War only to be attacked by then-candidate Trump. We were sent a dozen women who risked everything to come forward with their tales of sexual assault and harassment at the hands of the candidate. But despite their testimony, Trump was elected, and now we're left with the heroes we deserve.
Nicole Hemmer is an Age columnist based in the United States.
Source: Read Full Article