Trump 'doing very well' in hospital, White House doctor says
President Donald Trump is "doing very well" at Walter Reed National Medical Centre after being hospitalised there for coronavirus, his White House doctor said on Saturday.
"I feel like I could walk out of here today," Trump told doctors, according to White House physician Dr Sean Conley.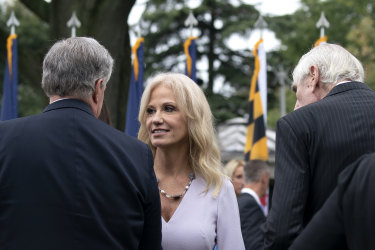 Kellyanne Conway, senior adviser to the US President, has also tested positive to COVID-19.Credit:
It's not known how or when Trump contracted coronavirus.
He presided over a crowded Rose Garden event last Saturday to announce his Supreme Court nominee Amy Coney Barrett.
Several Republican lawmakers and GOP leaders who attended that event have since tested positive for the virus.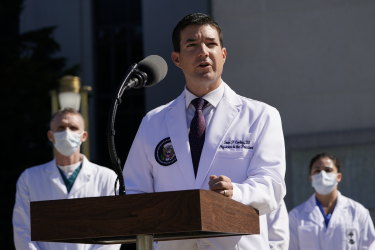 Trump's physician briefs reporters at Walter Reed National Military Medical Centre on Saturday.Credit:
Trump later appeared at the first presidential debate with Democratic rival Joe Biden in Cleveland on Tuesday. Neither wore masks during the debate but were standing six feet apart.
Biden, who is 77, has so far tested negative for the illness.
Tribune Content Agency
Most Viewed in World
Source: Read Full Article