Trump pulls out of Iran nuclear deal, triggering global concern
New York: President Donald Trump has pulled the United States out of the Iran deal, one of the biggest foreign policy moves of his presidency and a decision that will have repercussions in every corner of the globe.
After months of threatening that he would abandon what he called "the worst deal ever made", Trump confirmed the seemingly inevitable at 2pm on Tuesday (4am Wednesday AEST).
President Donald Trump shows a signed memorandum confirming the US withdrawal from the Iran nuclear deal.
He referenced a recent claim by Israel's Prime Minister Benjamin Netanyahu that Iran had run a secret nuclear weapons program, in violation of the agreement.
Even if Iran complied with the accord, the regime could be on the verge of a nuclear breakout due to the accord's "totally unacceptable" sunset clause which could see the agreement end in as little as 10 years, Trump said.
"If I allowed this deal to stand, there would soon be a nuclear arms race in the Middle East," he said. "Everyone would want their weapons ready by the time Iran had theirs."
He left the door open to negotiating a better deal with Iran.
Trump's decision was "akin to a soccer player turning around and booting the ball into his own goal deliberately," said Democrat Senator Chris Murphy, a member of the bipartisan foreign relations committee.
He predicted that Iran would now feel "more emboldened" in its more nefarious activities, and European nations would try to hold the deal together by offering to increase economic activity with Iran.
However, officials in Iran have given mixed signals. Some have said the deal is pointless without American involvement but President Hassan Rouhani, who was heavily invested in the deal, indicated a willingness to stay in the accord without the US.
"Iran is a country that adheres to its commitments, and the US is a country that has never adhered to its commitments," he said in a press conference shortly after Trump's announcement.
Nicholas Burns, a former US ambassador to NATO and former lead US negotiator on Iran's nuclear program, said the withdrawal was "reckless" as it would isolate the US and strengthening anti-Western hardliners in Iran.
"I don't see what's in this for the US," he said. "It seems [Trump] is just intent on, again, tearing something down that President Obama built up, just as with the Paris Climate Change [Accord] and Trans-Pacific Partnership.
"He tears down international agreements and yet suggests nothing to put in their place. That's weak leadership."
However, Republican senator Tom Cotton said he supported Trump not "stand[ing] idly by on a deal that only, at best, postpones Iran's nuclear weapons capability".
On the 2016 presidential campaign trail, Trump repeatedly promised to pull out of the "insane" deal.
"It's one of the worst deals I've ever witnessed, and I've witnessed some beauties," he said earlier this year.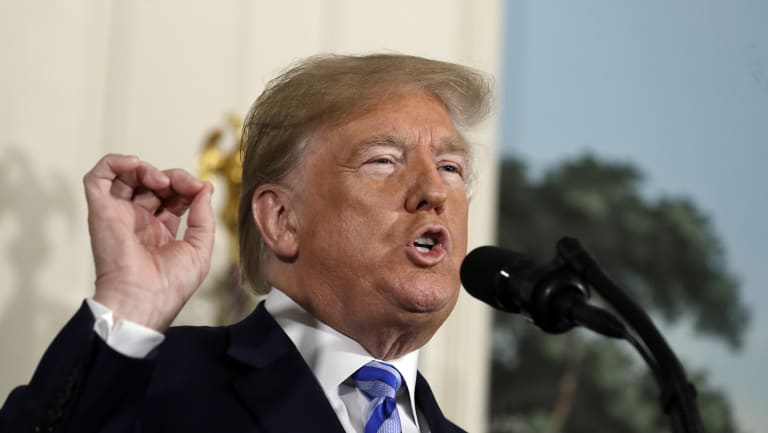 Trump said the deal did nothing to stop Iran's involvement in terrorism and had not brought peace to the region.
The President's own aides had persuaded him twice last year not to take this step, the New York Times reported.
However, internal resistance subsided considerably in recent months after Trump appointed two vociferous anti-Iran deal advocates – John Bolton and Mike Pompeo – as national security advisor and secretary of state, respectively.
European leaders, including French President Emmanuel Macron and German Chancellor Angela Merkel, conceded that the deal with not perfect but was too dangerous to dump.
They had lobbied Trump intensely and attempted to craft improvements that would satisfy him.
But Republican strategists said the writing was always on the wall when Trump made the withdrawal an election promise as intrinsically linked to his persona as building a wall on the Mexico border.
"I don't see how he can be Trump and stay in," Jim Hanson, a Trump ally and head of the right-leaning Center for Security Studies, told the LA Times ahead of the announcement.
The Iran nuclear pact was signed after two years of negotiations involving the US and a further 10 years of negotiations prior to US involvement.
Source: Read Full Article