Twitter killers: Japan's children snared by social media crime
Last February, a 14-year-old girl arrived at a Tokyo train station to meet Ryusei Nakama, a 21-year-old ramen shop worker from the city's bustling harbourside Shinagawa neighbourhood.
Nakama, who was later arrested on suspicion of kidnapping, had contacted the teenager four days earlier on Twitter, saying he wanted to "shelter her" after learning about the girl's abusive father, he later told police. Along with another 18-year-old male, she spent more than 10 days in his apartment.
Japan's national police chief says rates of social media-related crimes are "alarming".
A month earlier, 28-year-old Asahi Shimbun newspaper deliveryman Kazunari Saito had raped and attempted to murder a teenage girl he became acquainted with online.
Saito had lured the girl, who was allegedly suicidal, into his residence and strangled her with a plastic rope. According to Saito the girl, who managed to escape the following morning, said she "wanted to die" on Twitter.
Crimes like these are not uncommon in Japan. According to the latest data from Japan's National Police Agency (NPA), close to 1000 minors – mostly 15 to 17-year-old girls – were victims of social media-related crimes in the first half of 2017 alone. The number is "on the rise", said NPA chief Masayoshi Sakaguchi. "The situation is alarming."
Of the 919 cases – which included 20 incidents of rape and assault, 350 violations against child-protection ordinances, 289 cases of child pornography and 243 cases of child prostitution – more than 30 per cent were linked to Twitter. The previous year's report indicated that cases involving Twitter had more than quadrupled since 2014.
Some of these crimes begin in the commonplace – a young person running away from home. Every day, dozens of posts appear on Twitter with hashtags like "iede shojo" ("run away"), from mostly teenage girls looking for a place to spend the night. Many of their tweets include phrases like "I had a fight with my parents" and "is there anywhere I can stay?".
A car carrying "Twitter Killer" Takahiro Shiraishi leaves a Tokyo police station in November.
On March 25, one 14-year-old girl posted: "I'm currently in the city. My parents kicked me out and I'm looking for somewhere to stay. I only have ¥4000 (around $50) on me. I only need to stay one night, will someone please help me?"
For other young people living outside Japan's major urban areas, this "dangerous subculture" may also be a route to the big cities, said Professor Shinichi Ishizuka, head of the Criminology Research Centre at Kyoto's Ryukoku University: "Girls come to Tokyo to see Tokyo culture, youth culture."
Lurking on the other side of the Twittersphere are people like 37-year-old freelance programmer and photographer Konosuke Yokota, who is believed to have given lodging to several underage runaways.
Youth culture: a party in Tokyo's Shinjuku district. Runaways are often drawn to the bright lights of the capital.
He was arrested in 2010 on suspicion of paying a minor for sexual acts, and again in June 2016 for keeping a 16-year-old girl in his Tokyo apartment after she reportedly tweeted: "I have no money, is there anyone that can let me stay over?"
More than three weeks passed before she was found, after another runaway – a 16-year-old girl from Osaka who was also invited into Yokota's apartment – called the police.
"This classification of crime is traditional, but the method to commit [them] is new," said Professor Ishizuka. And "it is very difficult for police to control freedom of expression, freedom of interaction". This, he says, "is a new problem" for Japan.
Other minors take to Twitter with the hashtag "enjo kosai" to find "compensated dates" – a thinly-veiled euphemism in Japan for child prostitution.
Stories like these are routine in Japan's crime-hungry media. In late 2016, 35-year-old businessman Takayuki Hirakawa was arrested when a 15-year-old girl he met on Twitter reported him to authorities after he didn't pay her a promised ¥40,000 for sexual acts at a hotel in Nerima, in Tokyo's west. Hirakawa, who once gave a lecture on protecting minors from sexual abuse to a Tokyo primary school PTA, confessed to police that he had "committed similar acts before".
The following year, 39-year-old temp worker Haruomi Onishi was arrested for paying a 16-year-old girl he met on Twitter ¥20,000 for sexual acts at a hotel in Kasukabe, outside of Tokyo. A month after that, 51-year-old high school teacher Tadatomo Ebihara was arrested for paying another 16-year-old girl he met on Twitter ¥16,000 for sexual acts at a karaoke parlour in Saitama prefecture.
But the role of Japanese social media in luring vulnerable young people burst into the national spotlight towards the end of 2017 after a string of gruesome murders in Zama, a quiet suburb outside of Tokyo.
An image of Takahiro Shiraishi on Japanese TV. He was arrested after severed body parts were found in picnic coolers in his apartment.
Takahiro Shiraishi, 27, was arrested on suspicion of killing nine young people aged between 15 and 26, whose mutilated remains were found throughout his apartment.
Shiraishi – soon dubbed the "Twitter Killer" – lured his victims by targeting young people who took to the social media platform expressing suicidal thoughts.
A screengrab of the Twitter account @hangingpro, used by "Twitter Killer" Takahiro Shiraishi to lure his victims.
Portrayed on one account as a scarred, noose-necktie-wearing manga character, Shiraishi described himself as a hanging expert, offering to "help people who are really in pain". "Please DM me anytime," he disquietingly wrote on @hangingpro.
In one post, Shiraishi tweeted: "Bullying is everywhere, in school and at work. There must be many people in society who are suffering after attempting suicides, thought their cases are not reported in the news. I want to help such people."
His victims included Hitomi Fujima, a 26-year-old divorced mother of one; and 15-year-old Kureha Ishihara, who apparently sent out one final tweet – complaining about homework – before she went missing last August.
Police discovered Shiraishi while investigating the disappearance of 23-year-old Aiko Tamura, who was hanged after tweeting: "I want to die, but doing so alone is terrible. I'm looking for someone to die with me."
Japan's Chief Cabinet Secretary Yoshihide Suga.
Shiraishi was finally apprehended when police used Twitter to lure him into a fake meeting. When they entered his house, they found the severed heads of his victims rotting away inside water coolers, some covered in cat litter.
Responding to Shiraishi's "extremely dirty trick to lure victims and murder them", Japan's Chief Cabinet Secretary Yoshihide Suga promised that the Abe government would "take steps to prevent this happening again".
But despite current laws safeguarding minors, internet services like Twitter are broadly protected under Article 21 of Japan's constitution, which prohibits censorship.
"The Japanese legal system makes it difficult to tackle the problem," said Yushi Okajima, an associate professor at Chuo University's Faculty of Policy Studies. "If you try to remedy the negative aspects of Twitter, it would also take away some of the positive ones."
Authorities largely rely on cyber patrols and volunteers to flag online misconduct. This includes monitoring sites like Twitter, which allows its users to sign up anonymously and does not require age verification.
The Internet Hotline Centre Japan is one group that works with national police to receive and direct reports of online abuse. In 2016, they claimed to have logged close to 280,000 reports ranging from child pornography to broader misconduct such as promoting illegal substances – around 30,000 more cases than in the previous year and close to twice as many as in 2014.
In 2008, the government sought to curb crimes stemming from online dating services by revising a 2003 law requiring Japanese dating sites to prohibit sexual content involving minors and verify their customers' ages. It was an apparent success: only 42 crimes were recorded in 2016, according to NPA data.
Another forthcoming effort will require smartphone providers to activate filtering mechanisms for customers under 18 from June this year. The measure follows a similar initiative by the popular messaging app LINE – which also appears in the NPA's soon-to-be-released annual report – restricting the ability of users under 18 to search for or be searched by others.
For its part, Twitter claims to have suspended at least 75 per cent of those Japanese users in violation of child sexual exploitation laws during the second half of 2017 before the user made their first tweet, using Microsoft PhotoDNA image technology and complaints received. That number rose from 50 per cent in the first half of the year, Twitter says.
"We take a proactive approach to combat child sexual exploitation on our platform," a spokesperson told Fairfax Media by email. "Twitter has a zero-tolerance policy for child sexual exploitation and we remain steadfastly committed to preventing the sexual exploitation of minors everywhere."
Japan remains one of Twitter's largest and fastest-growing markets, with around 45 million users. Earlier this year, the company reported a 34 per cent rise in sales from the previous year to over ¥11 billion (over $130 million) during the last three months of 2017.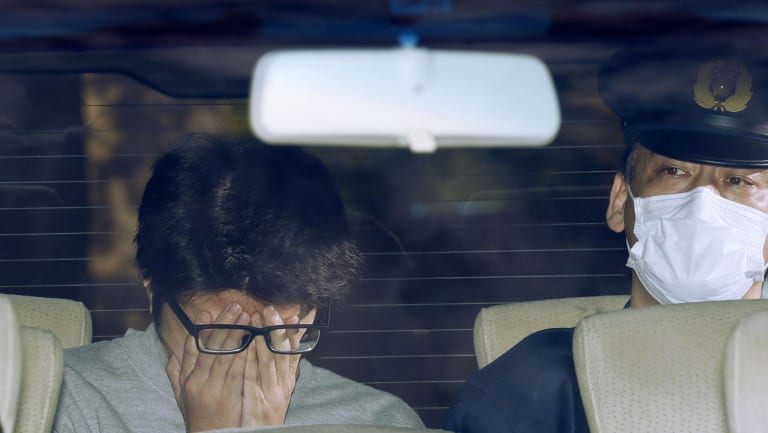 Takahiro Shiraishi, dubbed the "Twitter Killer", leaves a Tokyo police station to face prosecutors in November.
Speaking in Tokyo just days after Shiraishi's arrest, Twitter CEO Jack Dorsey told the Japanese public broadcaster NHK that the company needs to "take on a responsibility to make sure [the] tool is being used in positive and healthy ways". At around the same time, Twitter announced revisions to their rules to ensure that users do not "promote or encourage suicide or self-harm" on the platform.
Twitter's rules also state that the company will "permanently suspend accounts promoting or containing updates with links to child sexual exploitation". According to their terms:
"We do not tolerate child sexual exploitation on Twitter. When we are made aware of links to images of or content promoting child sexual exploitation they will be removed from the site without further notice and reported."
Despite this, 2018 has shown little sign of the growing trend being contained. This month, a 48-year-old night school manager was arrested for paying a middle-school boy ¥5000 for sexual acts in a Tokyo parking lot. Predictably, they met on Twitter.
"Safety got away from Twitter," one former Twitter vice-president was quoted as saying recently. "It was Pandora's box. Once it's opened, how do you put it all back in again?"
Lifeline 13 11 14; MensLine 1300 789 978; Beyondblue 1300 224 636
Source: Read Full Article