Whodunit: conspiracies swirl in strange case of Russia spy poisoning
Salisbury: After Sergei Skripal, her Russian neighbour, was poisoned by a military-grade nerve agent, Lisa Carey pricked her ears for any information about this bizarre series of events.
Three and a half months later, Carey, 45, a resident of Salisbury, where the attack on the former Russian spy occurred, has come to a firm conclusion: Russia's president, Vladimir Putin, whom Britain holds responsible for the poisoning, would never have ordered an assassination on the eve of a national election or the World Cup.
Personnel in hazmat suits walk away after securing the covering on a bench in the Maltings shopping centre where former Russian double agent Sergei Skripal and his daughter Yulia were found critically ill.
Putin is "not a silly man", she says. If he wants someone dead, she added, they end up dead. "Someone stitched him up," she wrote recently. "Whoever did this made it look like Putin did it."
Though Carey's opinion is not a common one in Salisbury, she's not alone, either.
"We are force-fed the answer that it was the Russians, no two ways about it," read a letter to the editor in a recent edition of The Salisbury Journal. Many more express a shrugging sense of resignation, that the facts of the case may never be clear.
During the days after Skripal and his daughter, Yulia, were found unconscious, the British government seemed to be winning the public relations war, mobilising its allies in a united front against Russia.
Prime Minister Theresa May's government presented its case for Russia's guilt, and by the end of March 25, countries had lined up in support, expelling more than 100 Russian diplomats. In a YouGov poll released April 3, three-quarters of Britons were relatively confident that Russia was responsible.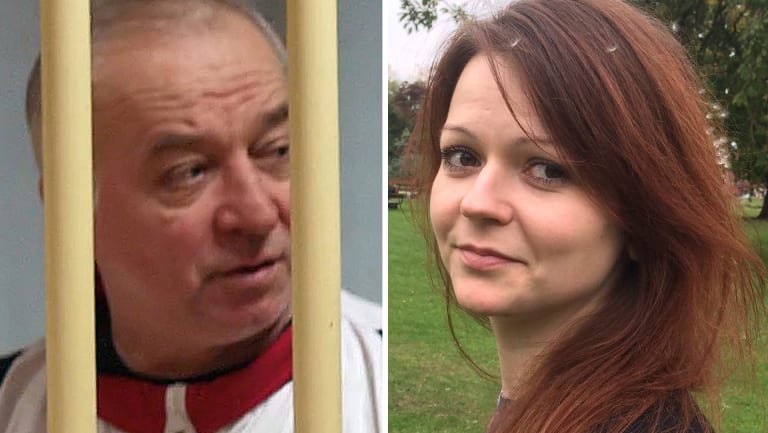 Poisoned: Russian ex-spy Sergei Skripal, 66, and his daughter Yulia Skripal, 33.
In the weeks that followed, though, Britain's control over the narrative slipped away.
As the British authorities went silent on the progress of their investigation, English-language Russian outlets flooded social media with more than a dozen alternative theories: The United States had poisoned Skripal to deflect attention from Russia's geopolitical successes; Britain did it to deflect attention from Brexit; the nerve agent had been accidentally released from a chemical weapons laboratory nearby; a drone did it; Yulia Skripal's future mother-in-law did it.
This blitz of scepticism came to dominate social media conversations. In early April, the Atlantic Council found that four of the six most-shared English-language articles on the case came from Kremlin media outlets. The theories are seeding doubt, even in Salisbury.
"It's really peculiar the Russian government is going out and saying all this stuff, and, generally speaking, there is no response from the British government," said Matthew Dean, leader of Salisbury's City Council and owner of the Duke of York, a local pub.
Though the vast majority of people in Salisbury say they are satisfied with Britain's explanation, Dean said, there are also "huge numbers of people who say, 'My goodness, there are a lot of unanswered questions.'"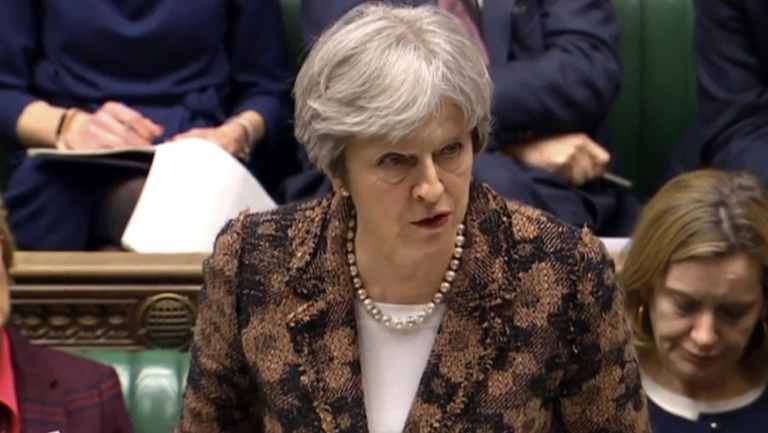 "Highly likely" Theresa May speaks in the House of Commons in London.
After the jarring news that a nerve agent had been brought to Salisbury, its community leaders hewed to that most English of strategies: Keep calm and carry on. Ceri Hurford-Jones, managing director of Spire FM, a local radio station, said he had been keen to wind down daily coverage of the Skripal investigation, in part because the reporting was hurting Salisbury's tourist business.
"Here on the ground there is no motivation for us to go out and ask questions because we want to get on with our lives," he said, adding that most everyone he knew accepted the government's explanation.
"We are quite a parochial town," he said. "There is an innately trusting side of us. I think that is a good thing about us, that we trust our government. We don't look for conspiracies around the corner; it's just not our way."
But along Salisbury's shopping streets, residents and businesspeople compare notes on the questions that remain unanswered.
Many express bafflement about the condition and whereabouts of Detective Sergeant Nick Bailey, who was exposed to the nerve agent while trying to help the Skripals. Bailey has remained out of sight since he was released from a 2 1/2-week hospitalisation in late March.
Others fret about the ducks that used to gather on the Avon River near where the Skripals collapsed, saying they must have been quietly culled. (Dean, the City Council head, says they simply migrated downstream.) Others wonder why some places the Skripals went on the day of the poisoning, but not others, were cordoned off for safety reasons.
"It's almost like this part that's missing between what we're being told and what happened," said Richard Coleman, 45, owner of Greengages Cafe. He added that he remains confident that Russia "or some disreputable organization" was behind the attack. In its approach to transparency, he added, Salisbury is "a very typical English town."
"They will only open up when they're really forced to do it by a superior power," he said. "It's kind of the British reserve. We never ask questions. We just accept what we're told."
Some question why Sergeant Nick Bailey, the police officer who came to the aid of the Skripals, has not been seen since the poisoning.
Analysts say it is nearly impossible to measure the effect of Russia's campaign to discredit the British explanation in the case. Britons' trust in their institutions is declining, in some cases as a result of other events such as Britain's support of flawed intelligence before the war in Iraq or last year's devastating fire in Grenfell Towers.
Russia's campaign in the Skripal case aims to further undermine trust in the authorities, said Ben Nimmo, a fellow in the Atlantic Council's Digital Forensic Research Lab.
Just as it did after the shooting down of a Malaysian airliner in eastern Ukraine in 2014, the Kremlin targeted aggrieved social groups — not difficult to find in the years since the 2008 financial crisis — and capitalised on the disciplined silence of Western investigators, filling the vacuum with alternative theories.
"It doesn't have to follow the dictates of the news cycle; it follows the dictates of the Kremlin," Nimmo said. "If nobody else is talking about it and the Kremlin is, there will be this drip-feed effect; it will gradually erode public confidence in whatever the target is."
Carey says she is a "little person," suspicious of the government on many issues, and she has never once looked at a Kremlin-produced news outlet.
Her scepticism is shared by many of Salisbury's cabdrivers, many of whom are immigrants from Eastern Europe and South Asia. Boris Kanev, a Bulgarian, said he had become convinced of the Russian case during a visit home in April, when he watched Russian-language television coverage.
When he returned home, he said, he found many in Salisbury who shared his doubts.
"The English people believe it's the Russians," he said, but "all those other British people, the Scottish, the Irish, the Welsh," were more sceptical. "To be honest with you, they don't trust England," he said.
New York Times
Source: Read Full Article