Young mum who suffered heart attack while visiting premature baby has brain damage
Brain damage has been confirmed for a young New Zealand mum who suffered a heart attack while visiting her premature baby in hospital.
North Shore resident Kate Meldrum gave birth to daughter Ruby on May 6 after 26 weeks and five days gestation, with Ruby weighing just 530 grams.
The 29-year-old then suffered a ruptured heart valve while visiting Ruby in Auckland City Hospital's NICU on May 21 and was rushed into emergency open-heart surgery.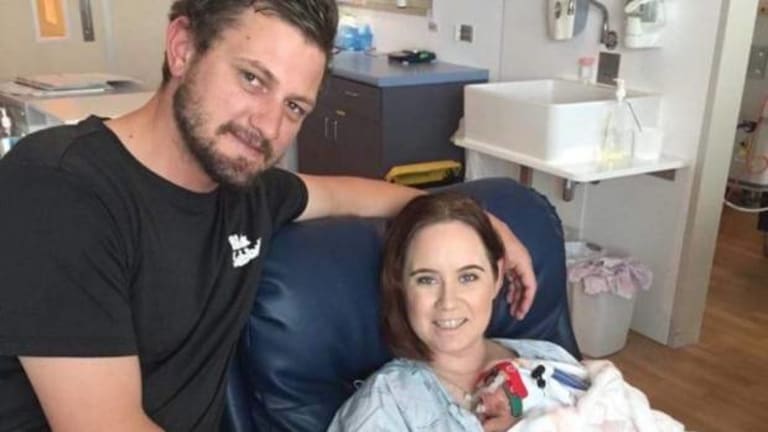 Kate Meldrum with partner Joe Turner and daughter Ruby in the NICU, prior to Meldrum's heart attack. 
Meldrum's sister Steph Everest said brain damage was confirmed after an MRI scan.
"It is to a few different parts of the brain," Everest said.
"It was probably the most traumatic thing any of us have ever experienced.
"We all had so much hope … and to get news like that about someone you love most in the world, it breaks you. It really does."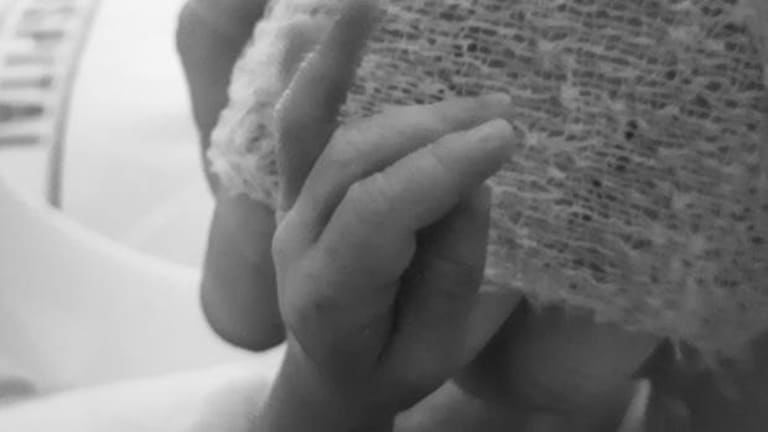 Kate Meldrum holding her daughter Ruby's hand during a visit.
Everest said Meldrum was able to communicate with family by nodding and shaking her head.
She was aware of who Ruby was and had visited her in the NICU about four times.
"It's a bit of a production to get Kate up there but she knows who Ruby is and asks to see her which is fantastic," Everest said.
"We just have to hope that they can be the little family they're meant to be."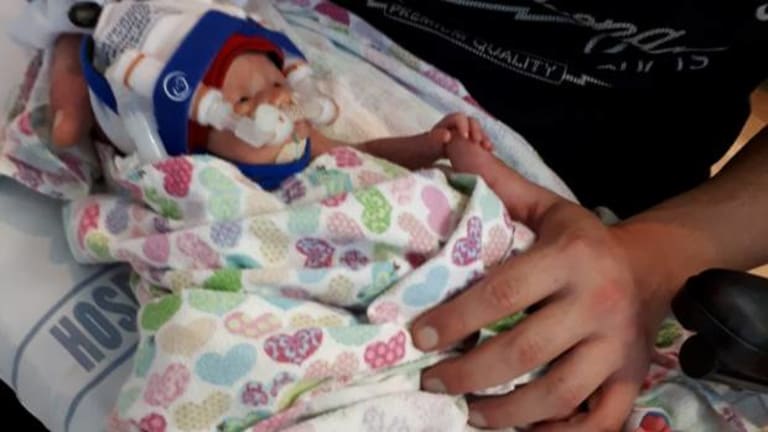 Joe Turner visiting daughter Ruby in the NICU.
Everest said baby Ruby was doing well and had doubled her birth weight, putting her at about 1.14kg.
"She's doing really well with her breathing and getting a lot bigger," she said.
Everest said it was likely Ruby would be in the NICU for another eight weeks but no plans were in place for when she would go home.
"It's hard to plan ahead when there is a lot of uncertainties," she said.
"We are hopeful for any kind of future. A couple of weeks ago we didn't know if Kate was even going to wake up.
"She's come so far and I am so proud of her. But she's got a hell of a long way to go."
Everest said the family was still working through the news of Meldrum's brain damage.
"Hopefully we will get a positive outcome once she has had time to recover and heal.
"It's going to be a long journey and we are prepared for that and we've had to prepare ourselves for this. It would be nice if she magically wakes up like a fairytale. Nothing quite works like that unfortunately."
A Givealittle page set up to support Meldrum's partner Joe Turner had raised more than $34,000.
Everest said it had been a humbling experience.
"We receive messages from strangers most days saying we are in their thoughts and their prayers.
"It's really amazing. It really is. It just shows what kind of community we live in."
Stuff.co.nz
Source: Read Full Article