Zelensky asks U.S. companies to help reconstruct Ukraine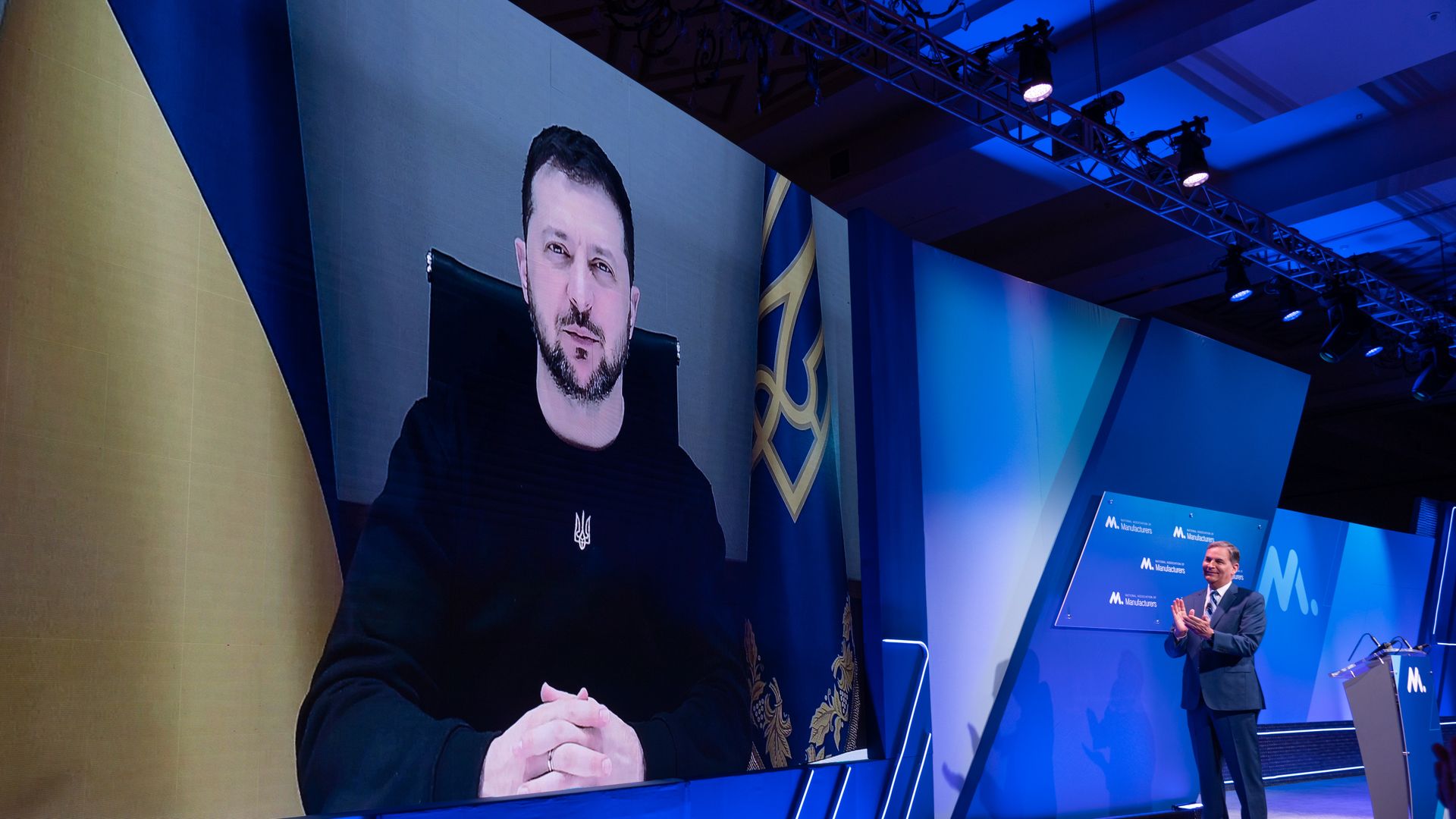 Ukraine President Volodymyr Zelensky addresses the National Association of Manufacturers board. Photo: David Bohrer, NAM
Ukrainian President Volodymyr Zelensky exhorted American businesses to begin investing in the country's reconstruction, even before its war with Russia is over.
Driving the news: Zelensky made his remarks Tuesday morning to the National Association of Manufacturers (NAM) board in a live speech listened to exclusively by Axios.
"We are calling on all businesses to come to Ukraine and to leave the Russian market," Zelensky said in a brief message. "American business has every opportunity to take a leadership position both in the reconstruction of the Ukraine economy and infrastructure."
Why it matters: In addition to the tremendous loss of life, the devastation in Ukraine has wreaked havoc on the country's economy.
The World Bank estimated in September that Ukraine's reconstruction needs had already reached $349 billion.
"We need to restore hundreds of thousands of infrastructure and social facilities, residential buildings, whole cities, industries, productions," Zelensky said.
What they're saying: "Manufacturers in America will continue to stand with Ukraine," NAM CEO Jay Timmons told Zelensky. "We will be there."
Zelensky urged American companies not to wait for the war to end to begin investing in Ukraine.
"So that by the time we restore peace your hard work has already yielded results," he said.
The bottom line: Zelensky reiterated his belief that "democracy will defeat tyranny," saying Ukraine will repel Russia and "restore the full power of international law."
Source: Read Full Article