Lindsay Hubbard Claims Carl Radke 'Called' Summer House Producers to Orchestrate On-Camera Breakup
The two were supposed to be married this month, now Hubbard says she was left "blindsided" and "humiliated" by her ex — adding she no longer feels "comfortable sharing a house with him" going forward.
It might get a little tough to film Summer House going forward, as Lindsay Hubbard no longer wants to share space with her ex, Carl Radke, after he "completely blindsided" her with a split just months before their planned wedding.
The two were set to tie the knot on November 17, but those plans went down the drain after Radke called off their engagement back in August. While it was initially reported the breakup was filmed, Hubbard claimed in a new interview that Radke went out of his way to make sure that happened — even after the show had allegedly wrapped production on the next season.
"It was absolutely humiliating. It would've been one thing if this conversation happened over the summer during the normal filming schedule. But for [Carl] to call up producers and then set up cameras and manipulate me into sitting down [so he could break up with me] after we'd already wrapped is scary," she told Us Weekly. "The whole world found out within 30 minutes of me."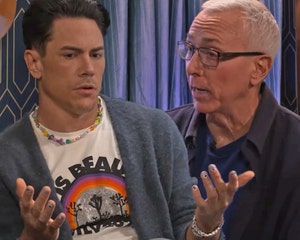 Watch Dr Drew Pinsky Share Tom Sandoval's Narcissism Test Results
"I was completely blindsided," she continued, claiming Radke "blew up my entire life" without even giving her a real explanation why. "I was crying, I was angry, and I had to find closure on my own. Now I'm at a place where I feel really good about moving on."
Leading up to the breakup, Hubbard claimed they had some "normal arguments" but nothing "so drastic as to break up." She also said she noticed his "demeanor and tone changed" and "a lot of combativeness and aggression on his end" before he called things off.
Hubbard has since given her ring to a jeweler to sell — "to make up for all the lost money on the wedding" — and lives in the apartment they once shared. She added that the two have had one "quick in and out conversation" since the breakup, but said she had no desire to "sit through a conversation with somebody who has no empathy or realization or self-awareness to understand what he did."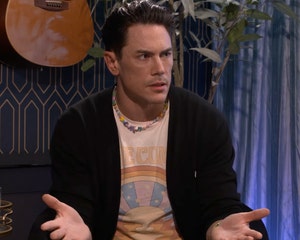 Tom Sandoval Details 'Living Like a Fugitive' Amid Vanderpump Rules Scandal
Speaking about her future with the show, Hubbard said she currently "would not feel comfortable sharing a house with him after he did" and feels she "can never trust him again." She added, "The way that he called the producers and set up the cameras — [he] blindsided me and humiliated me in such a public way. I'm not comfortable at this point in time."
While the show's next season has apparently filmed already, it's unclear how producers will handle future installments if two of their leads refuse to film together. Hubbard said the door is "one thousand percent closed" to being with Radke romantically or even having him as a friend. "Maybe in 10 years I'll consider being an acquaintance," she added.
The two are both set to appear at BravoCon over the weekend, with a panel scheduled for the show's entire cast on Friday afternoon.
Source: Read Full Article